2014 NFL Draft: Week 4 Stock Report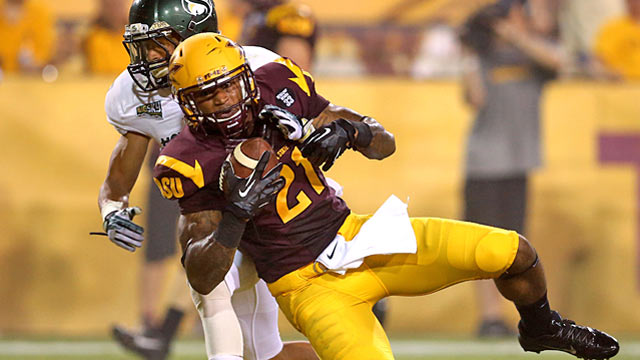 NFL Prospects who HELPED themselves this weekend:
DE/OLB Vic Beasley, Clemson
A former tight end, Beasley moved to defensive end last season and led the team in sacks (8.0) despite not starting a game and playing only 288 snaps. He was a breakout candidate entering 2013 and certainly hasn't disappointed, showing off his athletic skill-set against NC State last Thursday. Beasley finished the contest with five tackles, 3.0 tackles for loss, 3.0 sacks, 2 pass break-ups and a forced fumble, helping the Tigers edge the Wolfpack, 26-14. He was able to be productive with his explosive first step and closing burst to finish in the blink of an eye. Beasley is a flexible athlete with very easy COD (change of direction) skills, showing a strong plant foot to start outside before redirecting and bursting inside to the pocket. He is very active and aware, playing with little hesitation and processing information quickly. Beasley has strong hands and good arm length, using his limbs to attack the chest of blockers to force them on their heels. A lean-muscled rusher, he needs to spend more time in the weight room and get stronger to better convert speed to power off the edge and shed blocks once engulfed at the point. But when he goes up against blockers in space, it's not even fair. Beasley reminds me of a mix of Bruce Irvin and Barkevious Mingo, which is high praise as both are former first round picks, but he has flashed that type of potential as a pass rusher.
QB Derek Carr, Fresno State
It's easy to dismiss him because he's "just another Carr from Fresno State" but that fact only makes Derek Carr even more intriguing as a NFL prospect. He showed off his big arm against Boise State on Friday night, leading the Bulldogs past the Broncos for the first time since 2005. Carr has above average arm strength and velocity with a quick release and "gunslinger" mentality. He is a good athlete with some deceiving quickness and toughness as a ballcarrier. Carr loves to "arm" everything and needs to improve his touch, knowing when the situation calls for a fastball and when it doesn't. He needs to improve his pocket feel and confidence and seems to avoid contact at all costs, but after seeing his older brother get beat up in Houston, who could blame him? Carr definitely has some bad habits (tends to forget about his base and lower half), but his tape includes a lot of impressive, NFL throws. Add to the conversation that he is a mature, focused kid who loves to watch film and grew up around the game and he definitely has the attention of NFL scouts.
ILB Shayne Skov, Stanford
Skov looked like one of the bright up-and-comers as an underclassman, but in his return from ACL surgery last season, Skov just didn't look the same. He played through pain but it did some damage to his NFL draft stock, bringing him back to Stanford for his senior season. Skov finally looks back to his old self and has been a key cog in the dominating Cardinal defense, specifically the front-seven. He has very good first step quickness as a blitzer and plays extremely fast, showing nonstop effort for all four quarters. Skov is playing much more patient and confident this season, breaking down with the read/react awareness to put himself in position to make plays on ballcarriers. He is a physical striker, aggressively takes on blocks and making himself known to the offense. Skov has some past durability issues and needs to prove to be reliable off the field, but he plays with swagger and is as smart as a whip. It's good to see him back to his old form.
WR Jaelen Strong, Arizona State
A JUCO transfer, Strong has emerged as the Sun Devil's No. 1 receiving option through three games in 2013. He had a career performance against Stanford on Saturday, recording 12 receptions for 168 yards and a touchdown and ranking him among the nation's leaders in catches per game (8.0). A Philadelphia native, Strong plays the game like a basketball post player boxing out and going up for a rebound. And it should come natural to him as the son of John Rankin, the second highest scorer in Drexel men's basketball history who died in 2003 after a bout with Leukemia. Strong was recruited strong out of high school, but didn't have the grades and was forced to go the JUCO-route, finally ending up in Tempe this summer. He is off to a quick start at Arizona State and has clearly established himself as the team's top receiving option. Strong has an excellent blend of size and speed and definitely passes the eye test with long arms and very good leaping ability, giving him a large catching radius. He uses terrific body control and adjustments to reel in off-target throws and should only get better as just a redshirt sophomore.
Prospects who HURT themselves this weekend:
QB Tajh Boyd, Clemson
Widely considered the top senior quarterback prospect for the 2014 NFL Draft, Boyd started strong with a very good performance in Clemson's win over Georgia, but he was very up-and-down against NC State. He appeared to be pressing and tried doing too much against the Wolfpack's defense, which threw off his timing and forced him to hold the ball way too long. Boyd is a smooth, flexible athlete with good body thickness as a runner, but his mechanics tend to break down outside the pocket, which throws off his ball placement. He finished 24-for-37 (64.9%) for 244 yards and three touchdowns, which looks like a solid day's work, but he struggled with his accuracy in this game, especially on deep ball attempts. Boyd is a vocal leader and although it wasn't a great performance, he still helped the Tigers escape Raleigh with a road ACC win. But when NFL teams watch his game tapes, the Clemson-NC State match-up won't be one that proves to next level decision-makers that he should be one of the first players drafted next May.
CB Bene Benwikere, San Jose State
The San Jose State defense couldn't stop the Minnesota ground attack on Saturday, giving up 353 rushing yards and six rushing touchdowns. But the Spartans allowed only 71 yards passing, so it was a good showing for Benwikere, one of the better senior cornerback prospects, correct? Not so fast, my friend. Benwikere, who has very average speed, was beat deep on several occasions, including down the seam when he lined up in the slot. He showed that his tackling technique needs work as he failed to consistently wrap and finish, often simply throwing his shoulder at his target and not completing the mission. He has natural hips and smooth body movements, but opens his body too early off the snap and often gets turned around in coverage. Benwikere also needs to keep his wits in the heat of the action as he was called for a penalty for grabbing the Minnesota receiver's helmet, a clear frustration play. He has some next level skills, but Saturday's performance wasn't a particularly strong one for the senior.
Other Draft Notes:
- Texas defeated Kansas State Saturday night in Austin, 31-21, but the news wasn't all positive as senior OLB Jordan Hicks will miss the rest of the season due to a ruptured left Achilles tendon. He is the Longhorns' current leader in tackles (41) and one of the leaders on defense, but his season is prematurely over for the second straight year due to injury.

An Ohio native, Hicks was a five-star high school recruit and decided to spurn several Big Ten and SEC schools to play collegiately at Texas. He has shown flashes that have attracted NFL attention, but he hasn't been able to stay healthy. Hicks missed the final 10 games of last season due to a hip injury and was granted a medical redshirt. The junior could petition for another season of eligibility, but he needs to stay healthy and stay on the field before scouts can buy into his potential at the next level.