2014 NFL Draft: Auburn OT Greg Robinson entering NFL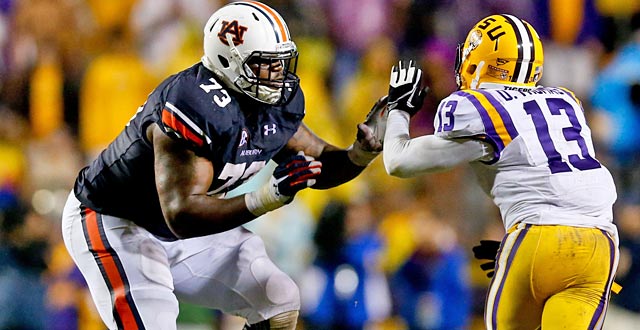 Auburn left tackle Greg Robinson will enter the 2014 NFL Draft.
The ninth overall prospect available according to NFLDraftScout.com, Robinson said following Monday's national championship game loss that his decision became more difficult because of the defeat.
But Tuesday, Robinson said he would make the jump and confirmed he received a first-round grade from the NFL draft advisory board. Texas A&M's Jake Matthews is the top-ranked player and offensive tackle according to NFLDraftScout.com.
Robinson is the second-ranked offensive tackle and projected as a top-10 pick.
Position coach J.B. Grimes said Robinson could be the best blocker he's ever had in three decades of coaching, and told Robinson he could be the No. 1 pick in 2015.
At 6-5, 320, Robinson ran in the 4.9 range at Auburn's testing day in the spring. His vertical is between 28 and 30 inches.
"We've got his feet where they need to be, we've got his body position where it needs to be as far as his pad level," Grimes said. "He's really fundamentally with his feet pretty good, but we have not got his hands where I want them yet. And if there is one thing we have got to fix -- if I had a chance to do that -- it would definitely be his hands, especially in pass protection."