2014 NFL combine: Jadeveon Clowney passes first test at weigh-in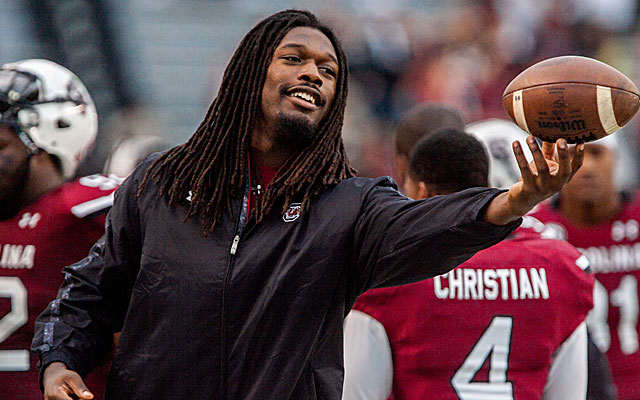 More Draft: NFL Mock Drafts | Prospect Rankings | NFL combine workout results
While the buzz in Indianapolis remains centered on Texas A&M quarterback Johnny Manziel and Missouri defensive end Michael Sam, the best player in the 2014 draft -- South Carolina pass rusher Jadeveon Clowney -- began his assault on their limelight simply be weighing in Saturday morning.
Clowney was listed at 6-foot-6, 274 pounds on his official bio for the Gamecocks and proved close to that this morning, officially coming in at 6-foot-5 1/4 and 266 pounds. He was registered with 34 1/2 arms and an 83" wingspan.
Clowney's physical dimensions are exciting because he combines them with incredible explosiveness and overall athleticism. According to CBSSports.com's Bruce Feldman, Clowney weighed nearly 10 pounds more a year ago and was clocked at 4.54 seconds in the 40-yard dash and registered a 38-inch vertical jump -- numbers virtually unheard of for players of his size and position.
Because of his remarkable athleticism (and the attention he's gained because of it), eye-popping results in the 40-yard dash and vertical jump aren't likely to actually boost his grade for scouts.
A more important test for Clowney will be the bench press, which not only tests upper body strength but endurance. Given the questions surrounding Clowney's work ethic and commitment, his results in this test could play a real role in where he is ultimately drafted.
Clowney won't dominate in this test the way he might in others. Frankly, considering his arm length, finishing middle-of-the-pack (among defensive ends) would be fine. Similarly built defenders like Julius Peppers (6-6, 283), Jason Pierre-Paul (6-5, 270) and Robert Quinn (6-4, 265) posted 24, 19 and 22 reps, respectively and obviously they've enjoyed plenty of success in the NFL.
As important as the bench press will be in providing quantitative evidence of Clowney's commitment to the weight room, the most important thing he needs to do this week in Indianapolis is impress teams during interviews. The tape speaks for itself; Clowney is the most talented player in the draft. To earn the top pick of the draft, however, teams will have to be convinced that he's willing to work hard to maximize his potential.
Clowney and the rest of the defensive linemen will only be going through measurements, medical testing and media interviews today. Their workouts begin Saturday.