2014 NFL combine: Teddy Bridgewater won't throw at combine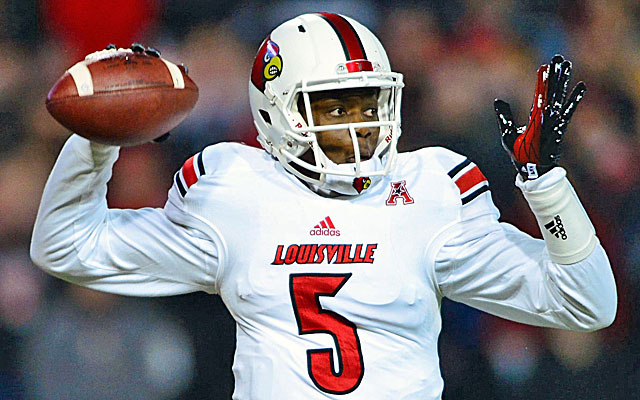 More Draft: NFL Mock Drafts | Prospect Rankings | NFL combine workout results
Louisville quarterback Teddy Bridgewater has decided not to throw Sunday during the passing drills, he announced Saturday to the assembled media at the 2014 NFL Combine.
Bridgewater joins Texas A&M's Johnny Manziel and Fresno State's Derek Carr as projected first-round quarterbacks who are electing to wait until their respective pro days to throw for scouts, leaving the spotlight on Central Florida's junior Blake Bortles, who has already announced his plans to fully participate this week.
Quarterbacks often elect not to throw at the combine, citing the comfort they feel in passing to their own receivers in pro day workouts. Assuming that Bridgewater performs well there, his decision not to throw in Indianapolis isn't likely to have a negative impact on his grade.
Bridgewater, the No. 3 overall prospect on NFLDraftScout.com's board and the highest-rated quarterback, is considered the safest of this year's passers due to his intelligence, accuracy and experience in a pro-style scheme.
Scouts also appreciate that Bridgewater performed well in high pressure situations, leading the Cardinals to victories over a highly talented Florida defense in the Sugar Bowl two years ago and Miami in the Russell Athletic Bowl in the final collegiate game of his career.
In 39 career games at Louisville, Bridgewater threw for 9,817 yards, which is third most in the UofL annals, while his 72 career touchdown passes also ranks as third best in school history. He completed a school-record 68.3 percent of his passes and had just 24 interceptions in 1,142 career pass attempts.
Size is a concern with Bridgewater, who measured in at 6-feet-2 1/8 and 214 pounds on Friday.
It is also noteworthy that Bridgewater still hasn't met with the media. Most of the other quarterbacks, including Manziel, Bortles and Carr met spoke with the press Friday. It isn't yet known if Bridewater's absence to this point is due to other obligations at the combine or if his medical testing has gone longer than anticipated.