2014 NFL combine: Johnny Manziel runs official 4.68-second 40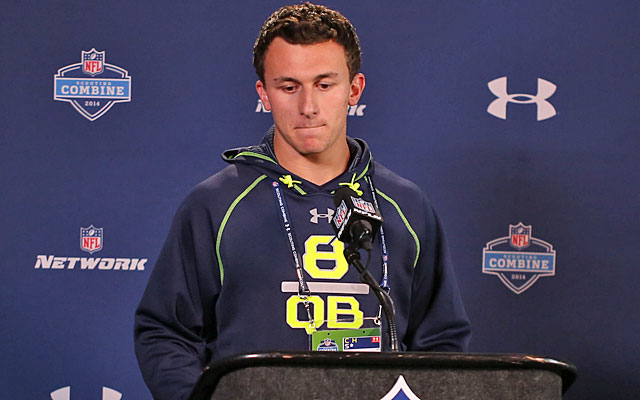 More Draft: NFL Mock Drafts | Prospect Rankings | NFL combine workout results
INDIANAPOLIS -- Texas A&M quarterback Johnny Manziel confirmed Sunday morning that he has ample speed, perhaps enough to override concerns about his 5-foot-11 frame.
Manziel ran 4.63 seconds in the 40-yard dash and on his second attempt clocked 4.56.
His "official time" of 4.68 puts him in the same range with several top quarterbacks in recent years, including Andrew Luck and Cam Newton.
Luck was clocked at 4.66 and 4.59 on his two 40s at the Combine; Newton's time was 4.59.
Manziel was thought to be faster by a wide margin than the two other candidates to be the top quarterback drafted in May. Louisville's Teddy Bridgewater did not run. Central Florida's Blake Bortles was timed unofficially at 4.93.
Most important for Manziel will be the numbers that measure short-area quickness but his explosiveness and improvisational skills to win on unrehearsed plays with sharp decisions and natural playmaking ability is easily identified on film.
His 10-yard split of 1.59 displays the pure acceleration to outrun most defensive players and certainly enough to beat front-seven types to the spot. Typically, a 1.60 is considered a target split for running backs, wide receivers and cornerbacks according to a chart used by NFL teams. Arizona running back Ka'Deem Carey also put up an unoffical 1.59 10-yard on Sunday.
Bridgewater was the lone quarterback who opted not to run the 40. He will only participate in the broad jump Sunday, waiting for his March pro day to complete a full workout.
Zach Mettenberger (LSU) and Aaron Murray (Georgia) did not participate in athletic testing or position drills because of knee injuries.
---
2014 NFL combine results: 40-Yard Dash (Quarterbacks)
(u) denotes unofficial time
Logan Thomas, Virginia Tech - 4.61
Stephen Morris, Miami - 4.63
Connor Shaw, South Carolina - 4.66
Johnny Manziel, Texas A&M - 4.68 (4.56 u)
Derek Carr, Fresno St. 4.69 (4.65 u)
Jordan Lynch, Northern Illinois - 4.76 (4.72 u)
Tajh Boyd, Clemson 4.84 - (4.75 u)
Bryn Renner, North Carolina - 4.87
Blake Bortles, Central Florida - 4.93 (4.81 u)
AJ McCarron, Alabama - 4.94 (4.91 u)
Dustin Vaughan, West Texas A&M - 4.95
Jimmy Garoppolo, Eastern Illinois - 4.97 (4.93 u)
Tom Savage, Pittsburgh - 4.97
David Fales, San Jose St. - 4.99 (4.94 u)
Keith Wenning, Ball State - 5.00
Jeff Mathews, Cornell - 5.26 (5.22 u)
Follow Jeff Reynolds on Twitter @ReynoldsJD