2014 Pro Days: Buffalo's Khalil Mack runs 4.53-4.55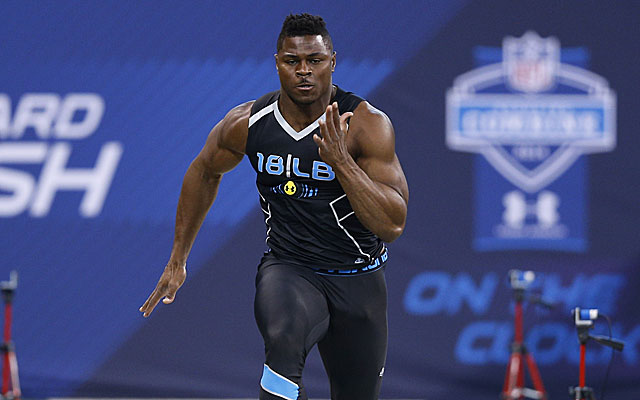 More Draft: Pro Day schedule | Mock drafts | Rankings | Big Board | Latest news
Buffalo outside linebacker Khalil Mack ran handheld times of 4.53-4.55 seconds at the school's pro day workout Tuesday with more than 20 teams represented, including two teams with picks in the top five.
Oakland Raiders general manager Reggie McKenzie, Cleveland Browns head coach Mike Pettine and Buffalo Bills general manager Kevin Whaley were on hand for Mack's morning workout during which he improved dramatically on a 4.65 "official" time in the 40 at the NFL Scouting Combine.
At 4.53, Mack (6-3, 251), matched the wow-provoking 40 time of Jadeveon Clowney, South Carolina's defensive end and NFLDraftScout.com's top-ranked player in the 2014 draft.
Because of minor hamstring tightness, Mack did not run a second 40 on Tuesday. Mack's game is his cannon-fire get-off, twitchy explosiveness and the combination on speed and strength to finish plays and get home.
Production, albeit at the MAC level, is not a question with Mack as it is with Clowney, one reason NFLDraftScout's Rob Rang reported in January that scouts felt the Buffalo pass rusher was a legitimate option for the top overall pick.
Mack set school records for sacks (28.5) and FBS marks for tackles for loss (75) and forced fumbles (16).
Pettine, who was defensive coordinator of the Buffalo Bills last season, said last week he was eager to get a look at Mack but had not had occasion to do so while in the region last year.
Follow Jeff Reynolds on Twitter @ReynoldsJD