2014 NFL Draft: Winners, losers, surprises in combine medicals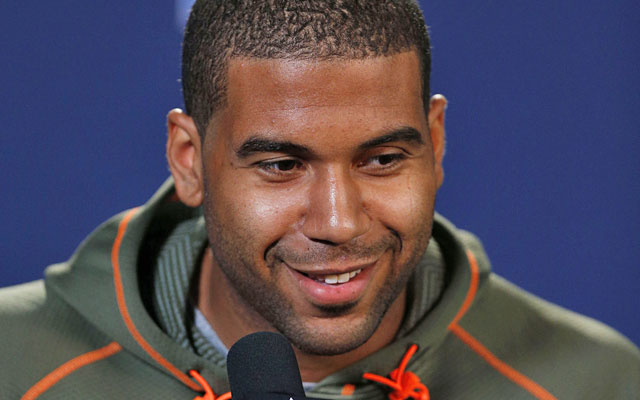 More NFL offseason: Mock Drafts | Prospect Rankings | Pro Days | Top free agents
The athletic tests generate all of the attention but the most important test each athlete faces during the annual scouting combine is undoubtedly the extensive medical examination.
Players can opt out of the athletic testing. They cannot with the medical testing, which begins with a visit to a local Indianapolis hospital for x-rays the day each arrives at the combine and carries over to the next day for the most thorough physical examination of their lives. This isn't a case of just testing to see if a prior ligament tear or broken bone healed correctly. Players are given an internal medical examination, as well, checking for irregularities of the heart, lungs, kidneys, liver. Players are required to provide a urine sample, which, of course, is used to determine if a player has taken any banned substances but can also help doctors identify any number of other issues.
This focus on the medical testing is the final entry of a nine-part series from NFLDraftScout.com taking a closer look at each combine event, shifting the spotlight to some athletes who might otherwise have slipped through the cracks of coverage from the week in Indianapolis.
The Event: The medical exams are split over two days, making it the longest "test" players take in Indianapolis. Each player is asked to take an internal medical exam as well as an orthopedic exam (bones, joints, etc.). Linemen are required to have an additional x-ray of their spine. Players with a history of injuries may require significantly more testing than others. Players unfortunate enough to have a medical issue red-flagged by NFL doctors can be abruptly pulled from workouts, as was the case with several top prospects in 2014.
The Results: The results of any athletic tests can be sorted by name, position, size, school or event here. The medical results are kept secure by the NFL and the individual teams and only rarely are details leaked. Teams generally rely on a scale of 1-5 to gauge prospects' short- and long-term health. Players given a low grade of 4 or 5 are often completely removed from a team's board.
The Winners: Players earning a high grade during the medical testing won't necessarily move up draft boards but durability is certainly a key teams use in making their final choices on draft day among similarly ranked players.
As such, the players who may have helped themselves most during the medicals were those who never underwent a surgery despite playing a lot against top competition and those who have undergone a surgery and are progressing well.
Georgia quarterback Aaron Murray (ACL), LSU quarterback Zach Mettenberger (ACL), North Carolina offensive tackle James Hurst (broken leg) and Utah pass rusher Trevor Reilly (meniscus) are three potential top-100 prospects "on track" toward full recovery, according to a league source.
The Losers: There were a number of players red-flagged at the 2014 combine due to pre-existing medical conditions. In each case, individual teams will rely on their trainers and surgeons to determine a medical grade, which can play a significant role in where or if the club would select the player in the draft.
Alabama offensive tackle Cyrus Kouandjio (knee), Auburn pass rusher Dee Ford (back), TCU cornerback Jason Verrett (labrum), Washington tight end Austin Seferian-Jenkins (foot) have all earned spots in CBSSports.com's first-round mock drafts at one point or another during the past few months. Medical exclusions from portions of the athletic testing at the combine have their respective draft stock in flux.
Ford's agent, Adisa Bakari, told The Sports Xchange that "there is nothing wrong with Dee and he will show it." There certainly didn't appear to be anything wrong when Ford posted eye-popping numbers at Auburn's Pro Day.
Verrett showed his grit during TCU's Pro Day March 6 with 19 reps of 225 pounds despite a torn labrum that will require surgery.
Seferian-Jenkins already underwent his surgery in the hopes he'll be able to work out for scouts before the draft.
They, like the others mentioned previously, are expected to be invited back to Indianapolis for medical re-checks.
The Surprises: A report from NFL.com said that Kouandjio flunked several teams' medical evaluations due to an "arthritic knee from failed surgery." Despite the fact that Alabama has often had players red-flagged in recent years, this news was a surprise given that Kouandjio never missed a game (or even a practice) over the past two seasons.
Renowned surgeon Dr. James Andrews disputed the report, characterizing the "wear patterns" on Kouandjio's knee as "real common on those big guys."