2014 NFL Draft DL capsules: Clowney starts on top of deep class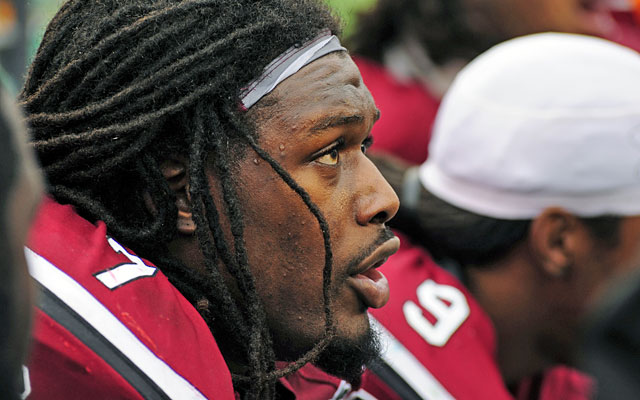 More NFL offseason: Mock Drafts | Prospect Rankings | Pro Days | Top free agents
Starting from the very top, which should be with South Carolina defensive end Jadeveon Clowney, the 2014 NFL Draft could be one of the most deceptive ever.

That deception is in depth perception, where despite the usual numbers of players at most positions, the quality of talent is much deeper than usual.

It all starts with Clowney, whose future greatness as a pro is not as obvious as his skills. He may or may not work out at his pro day Wednesday, which pretty much sums him up as the May 8 draft nears.

He dares teams to believe what they see. At the February combine what they saw was Clowney quantify his stunning physical ability. He checked in at 6-foot-5, 266 pounds and had a best 40-yard time of 4.51 seconds (although the announced time was 4.53), a vertical jump of 37.5 inches, 21 reps on bench and a 10-03 broad jump.

That helps explain those 13 sacks and 23.5 tackles for a loss in 2012. But based on his disappearing act with only three sacks last season, most teams consider Clowney something less than a what-you-see-is-what-you-get proposition.

Regardless, Clowney easily tops the usual-size list of draft-worthy defensive linemen -- approximately 21 ends and 22 tackles based on NFLDraftScout.com ratings.

But, like Clowney, these linemen are more talented, top to bottom, than any group in recent history.

He is the first of nine ends projected to be taken among the first 100 draftees and is one of three first-round prospects expected to be a dynamic NFL star. The other two are Missouri's athletic Kony Ealy and an Auburn's versatile Dee Ford.

The musclemen inside at tackle include 11 expected to go in the top 100 and as many as five in the first round, topped by Notre Dame's massive Louis Nix III, 331 pounds of humanity that is more substantial than the Golden Dome itself.

After watching the Seattle Seahawks' staunch defense disassemble the Denver Broncos' record-breaking offense in the Super Bowl, copycat NFL teams should have an increased appreciation for the higher level of helpful defensive talent available.

This is the first in a series looking at each position in the NFL Draft. Here is a closer look at the defensive linemen projected to be among the top 100 selected in this year's draft:


DEFENSIVE ENDS


Pos.Rank/Overall Rank/Player/School/Height/Weight/40 time/Proj. Round
(*=Undersclassman)

1/1. *Jadeveon Clowney, South Carolina, 6-5, 266, 4.53, 1
Clowney showed freakish pass-rush ability when he first lined up as a freshman. He still does, but the critical footnote is there is no improvement and he is being labeled enigmatic. Clowney has startling explosion, great inside moves, long arms, good strength, and is so athletic that he never bothered to learn techniques to improve his game. After all, God-given ability was good enough to get 13 sacks and 23.5 tackles for a loss in 2012. He began last season touted as the No. 1 prospect for the 2014 draft, but during his final, 2013 college dash for the cash, he had a foot injury, often seemed fatigued and managed a mere 3.5 sacks. For those who questioned Clowney's worth ethic, the player's own coach, Steve Spurrier, offered this underwhelming endorsement -- "He's OK." But Clowney checked into the combine at 6-foot-5 1/4, 266 pounds and showcased all that natural ability with a best 40-yard time of 4.51 seconds (although announced time was 4.53), a vertical jump of 37.5 inches, 21 reps on bench and a 10-03 broad jump.
Frankly: No secrets here. Clowney is a once-in-a-decade physical freak plagued by a ceiling that is so high that he will have to work hard to get close to his potential. But will he?

2/17. *Kony Ealy, Missouri, 6-4, 273, 4.92, 1
Former high-school standout as tight end, defensive end and a Missouri all-state basketball player who entered college at only 207 pounds. That athleticism is conspicuous in his burst off the line, quick spin moves and closing speed on whomever has the ball. He must continue to improve strength to disengage big NFL blockers, evidenced by his so-so 22 reps with 225 pounds on the bench at the combine. Some teams believe he shows instincts and range to be an OLB in the right 3-4 scheme and he showed good lateral agility in games and at the combine, where his 3-cone drill was fastest among defensive linemen (7.11 seconds).
Frankly: Showed versatility as defensive end and inside pass rusher and stock soared this spring as some teams bought into his potential use at linebacker. Ealy is very good, but must continue to improve overall, especially in strength, to live up to lofty expectations against a steady diet of athletic NFL blockers.

3/29. Dee Ford, DE, Auburn, 6-2, 252, 4.59, 1
This Ford has a non-stop motor and is a likeable team leader on and off the field. Medically excluded from combine workouts based on readings of remnant medical issues from a 2011 procedure on his back, Ford put on a show at his pro day that confirmed his game production and validated his boasting -- both of which were considerable. His intense focus was obvious at the Senior Bowl and then by dropping eight pounds in 10 days before his pro day. At 244 pounds, looked like a classic convertible -- able to move from a 4-3 defensive end to a destructive 3-4 outside linebacker or hybrid pass rusher if necessary. His fluid athleticism helped get 14.5 stops for a loss last year, including 10.5 sacks. His pro day show included a 35 1/2-inch vertical jump, 10-foot-4-inch long jump, 29 reps of 225 pounds on the bench press and a 40-yard time of 4.59 seconds.
Frankly: Absent back problems, this is the kind of guy coaches want as a vocal and physical leader. Ford can be a persistent playmaker who can become the most prolific, long-term investment of any defensive lineman in this draft, including the enigmatic Clowney.

4/43. *Scott Crichton, Oregon State, 6-3, 273, 4.84, 2
Take-charge team player who leads verbally and by example, an obvious result of strong family foundation with two parents working multiple, low-paying jobs, including his father, Lucky, on an artificial leg. Crichton started 37 of the 38 games in which he played for Beavers and finished career with 165 tackles, 51 for a loss, and 22.5 sacks. Has good core strength, decent leverage, powerful hands and should be a DLE in an NFL 4-3 setup. Would need to add bulk for ballast as a 3-4 end.
Frankly: Tough, team-oriented player who is worth a high second-round pick and should transition into pro game quickly. Will be a persistent pest for blockers with his high-rev motor and active, violent hands.

5/44. Trent Murphy, Stanford, 6-5, 250, 4.86, 2
On-field play reflects off-field hobby -- steer wrestling. Murphy is country strong with great leverage and powerful hands that can hogtie or throw aside anything in reach. But, absent a lasso, he needs faster giddy-up in his get along. Impactful starter since 2011 and respected leader on a team of leaders. Missed final 10 games in 2010 with unknown leg injury. Maybe a steer kicked him.
Frankly: Needs to fit system, and vice versa. Superman if allowed to play in a phone booth, but possibly an NFL Clark Kent if expected to cover too much area.

6/52. Kareem Martin, North Carolina, 6-6, 272, 4.72, 2
When a player has all the physical ability necessary, but plays up to apparent potential only in his senior year, scouts raise a red flag. Martin had a classic red flag 2013 senior season with 20 tackles for a loss, including 11 sacks, after registering only four in each of two previous seasons. He sustained interest with excellent workouts and game at the Senior Bowl. Still, his value is as limited as his range, which is such that he may only be an asset as a base left end in a 4-3 alignment, where his strength can be disruptive.
Frankly: An NFL team should have specific need and believe he wasn't a one-season college wonder before spending a valuable second-round pick for a run-strong defender in a pass-happy league.

7/70. Marcus Smith, Louisville, 6-3, 251, 4.68, 2-3
While several defensive ends hope to prove they are able to double as an outside linebacker, Smith already has shown he can do that and more. How about an emergency quarterback? OK, it would need to be a real emergency, but he began college as a QB in 2010, moved to OLB within a week, then to DE in 2011. He eventually became Mr. Versatility on the front seven. He can drop, but seems more effective moving forward than he does in space.
Frankly: A maybe, baby. Reliable Jack of all trades, master of none who lacks exceptional speed (4.66 in 40 yards), athleticism or strength (23 reps with 225 pounds on bench).

8/80. Jackson Jeffcoat, Texas, 6-3, 247, 4.63, 2-3
Son of former Dallas Cowboys/Buffalo Bills star Jim Jeffcoat, Jackson is struggling to live up to the high expectations foisted upon descendants. Came back from injury-shortened 2012 to become the only FBS defensive lineman to lead his team in tackles last season while collecting a dozen sacks (59 career). Played with hand down and has dropped into coverage often enough to show ability to cover in an underneath zone. His fastest 40-yard clocking at combine was 4.61 seconds and his explosion was measured with a 36-inch vertical jump. Increased strength each year and must continue to do so (only 18 reps with 225 pounds on bench).
Frankly: What you see may be only a hint of what you get. Solid, hard-working player with great blood lines and possibly a big upside.

9/90. *Demarcus Lawrence, Boise State, 6-3, 251, 4.80, 3
Lawrence may have come out a year too early as he tries to cash in on a 2013 season in which he led the Mountain West Conference with 20.5 tackles for a loss and 10.5 sacks. That followed a similar 2012 with 13 TFL and 9.5 sacks, which followed one year in junior college. He has good explosion and closing ability, but is not as fast, strong or refined as scouts prefer.
Frankly: Interesting package of goods. College scheme found ways to create mismatches with him, which showed his versatility, but revealed no single trait that would be transcendent in the NFL. He will need to show that the sum of his parts can consistently add up to more than face value.
DEFENSIVE TACKLES
Pos.Rank/Overall Rank/Player/School/Height/Weight/40 time/Proj. Round
(*=Undersclassman)

1/18. *Louis Nix III, Notre Dame, 6-2, 331, 5.42, 1
Brick-strong body with nimble feet, Nix came off a solid 2012 season overweight entering 2013 and missed two games with knee tendinitis that should be monitored. He eventually played well enough to boost previous (2012) fourth-round draft projections up to first round. Plays with a high-rev motor that he needs to control to last four quarters, but is a highly coachable player and great teammate. Grew up with a football-sized family as the oldest of 11 siblings.
Frankly: He won't win sprints, finish marathons or be invited to compete in Dancing With the Stars, but whoever doesn't take him in the draft will watch him maul their offensive linemen two at a time for years.

2/21. Aaron Donald, Pittsburgh, 6-1, 285, 4.68, 1
Nicknamed Tiny only because of his height (or lack of, measured 6-foot, 3/4 inches at combine), Donald was the most dominant defensive college football player in 2013 after totaling 59 tackles, including 28.5 for a loss, 11 sacks, 16 QB hurries, four forced fumbles and a blocked extra point. He received the whole list of famous name awards to commemorate his season. Despite an array of schemes designed to slow him down, Donald was an unblockable force. He followed that season with great Senior Bowl workout and then stole the show at the combine where he blasted through 40 yards in 4.68, had a 32-inch vertical and benched 225 pounds 35 times.
Frankly: Can't miss, hyperactive disrupter dazes opponents at the snap with a dazzling John Randle-type skill set. Unlike Randle, who went undrafted then made Hall of Fame, Donald will begin his career as a first-round pick.

3/22. *Timmy Jernigan, Florida State, 6-2, 299, 5.06, 1
Oft-used reserve started only two games before 2013, then he finally received the chance to show he can consistently use his bullish strength to take on double teams and be disruptive inside. Jernigan has violent, active hands and does a good job with the usual moves (rip, swim), but has short arms (31 5/8) and must learn to disengage more quickly to avoid being detained by NFL linemen with, ah, good hands.
Frankly: Relentless pest will be an immediate, in-opponents-face, trouble maker for the team fortunate enough to grab him in the first round.

4/26. RaShede Hageman, Minnesota, 6-6, 310, 5.02, 1-2
Physically, Hageman has it all and then some, with a combination of brute force and quick feet that draws comparisons to J.J. Watt, the 2012 NFL Defensive Player of the Year (Houston). Former prep standout as tight end and basketball star, moved to the defensive line during his redshirt freshman season and literally grew into the position. After a dozen foster care homes, Hageman was adopted by lawyer couple, worked to overcome youthful anger issues and now, acknowledging his three-year-old son as a stabilizing factor, is ready to become a 24-year-old NFL rookie.
Frankly: All due respect to dramatic and impressive ascent in tough life, Hageman remains a boom-or-bust prospect. He has ability to be one of the best in the game, but will need the right team environment to make this work for all concerned.

5/40. *Stephon Tuitt, DT, Notre Dame, 6-6, 312, 4.92, 1-2
Intriguing bull of a prospect with plenty of natural ability that is enhanced by the attitude of an under-equipped overachiever. That may be the result of strict upbringing by mother, Tamar Bartlett, a deputy sheriff who demanded discipline. After starting slowly last year following sports hernia surgery, Tuitt had six of his career total 20 sacks. An interception last year and previous 77-yard fumble return TD reflect background as prep tight end. Surgery March 1 for a hairline fracture in his foot prevented him from working out at the combine or his pro day, although he did show his ample strength by hoisting 225 pounds 31 times on the bench.
Frankly: Quick, tough, massive man who will give his best, which should be worth at least a high second-round pick and a shot at being one of the most reliable interior defensive linemen in the NFL.

6/56. Dominique Easley, Florida, 6-2, 288, 4.93, 2
If health weren't a concern, Easley might be discussed as a potential top-10 pick, according to NFLDraftScout.com's Dane Brugler. But after two ACL tears, both on non-contact plays, durability is a major red flag. He came back from a left ACL in 2011, then blew out his right ACL last September. A healthy Easley has exceptional get-off quickness, constantly playing on the other side of the line of scrimmage.
Frankly: Buyer beware. In a draft awash with talent, some team will need to have a special feeling for Easley to spend a high pick based on potential not attained due to multiple, non-contact injuries.

7/65. Will Sutton, Arizona State, 6-0, 303, 5.36, 2-3
After missing the 2011 season for academic reasons, Sutton's play the next two years made that off-field issue, well, academic. He earned the Pac-12 Pat Tillman Defensive Player of the Year in both 2012 and 2013. Sutton has a compact build that gives him leverage advantage over most NFL offensive linemen. He has a knack of timing the snap and shows an explosive burst to slip through gaps. His father, Mickey, was a defensive back and punter for the Rams, Packers and Bills, 1986-90.
Frankly: Has the ability to fill a need and serve as a reliable starter at the minimum and those quick feet he inherited could give him longer career than dad had as a punt returner.

8/72. *Kelcy Quarles, South Carolina, 6-4, 297, 5.03, 2-3
Opponents focused on containing teammate Jadeveon Clowney (No. 1 ranked DE, player in draft) in 2013, so Quarles used his long arms, thick frame and explosive first step to abuse single coverage. He earned All-SEC First Team honors from the league's coaches and The Associated Press after finishing the regular season with a team-high in tackles-for-loss (13.5) and sacks (9.5).
Frankly: Not a sure thing, but some team will take him on the come, believing he will hone skills and awareness that are currently adequate, but not consistently near their point of potential.

9/78. *Ego Ferguson, LSU, 6-3, 315, 4.98, 2-3
Played as a reserve until his junior season last year when he took advantage of opportunity to collect 58 tackles, 3.5 for a loss and one sack. Ferguson flashes enough ability to make it seem that he should, could, would be more productive if -- fill in the blank. He is stout from head to toe with enough quickness, flexibility, strength and length to invite use at multiple up-front positions.
Frankly: Ferguson appears to be journeyman pro football material with a somewhat robotic manner that will get him only so far against an NFL full of great athletes.

10/83. DaQuan Jones, Penn State, 6-4, 322, 5.35, 2-3
God-given height, weight, quickness offer a massive foundation on which to build a great career. After shedding about 25 pounds to add stamina, he led the team in 2013 with 11.5 tackles for loss (minus-42 yards), had three sacks and a fumble recovery. Has the ability to get low and own a wide piece of real estate against two good blockers and when there is only one blocker he can dominate. Jones is just beginning to realize his potential and the value of hard work.
Frankly: Back in the day when rookies weren't expected to do too much too soon, players like Jones were golden. With patience and continued conditioning, some team could steal a future standout.

11/95. *Anthony Johnson, LSU, 6-2, 308, 5.24, 3
Interesting talent, starting with ability to sing National Anthem, as he did in high school, to others singing his praise for persevering when his family was displaced by Hurricane Katrina. So quick off the line he sometimes appears to jump the snap. Once he gets that mass moving, blockers have hell to pay. Has relied on natural ability and needs work on everything from basics (stop standing straight up!) to the fine points of foot and hand movement.
Frankly: A keeper. Put him on a team with savvy vets to challenge him and teach him the ropes and then reap the rewards.

Frank Cooney, founder and publisher of The Sports Xchange and NFLDraftScout.com, covered the NFL and the draft since the 1960s and is a selector for the Pro Football Hall of Fame.