2014 NFL Draft: Bridgewater to Vikings?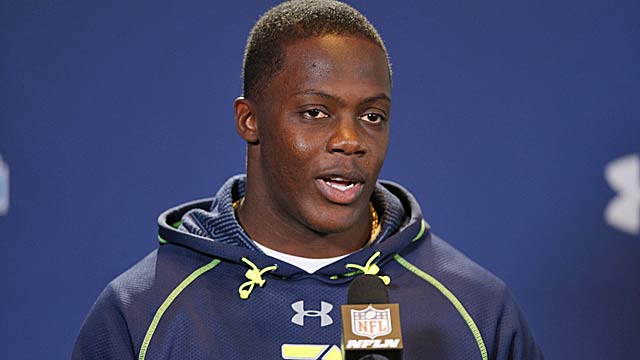 More Draft: Mock drafts | Rankings | Big Board | Latest news
Louisville quarterback Teddy Bridgewater worked out for the Minnesota Vikings on Saturday and stuck around for an extended visit with the team through Monday.
The multi-day trip is the latest signal from the Vikings that quarterback is again a priority in the 2014 draft. The Vikings pick eighth overall and the 2012 Big East Offensive Player of the Year could still be available.
He had a below-average showing at his March 17 pro day in Louisville with Vikings head coach Mike Zimmer and general manager Rick Spielman present.
Spielman said in February that the Vikings are taking a very close look at the position despite investing in multiple passers in recent years.
Minnesota re-signed quarterback Matt Cassell to a two-year contract in March, but 2011 first-round pick Christian Ponder could be traded or released. The 12th overall pick has been inconsistent in two-plus seasons as a starter.
Before drafting Ponder, the Vikings last invested a first-round pick in a quarterback when they selected Daunte Culpepper with the 11th overall pick in 1999.
Bridgewater is the top pro-style quarterback in the draft. While many analysts openly pounded the sledgehammer after Bridgewater's pro day, he is the top available quarterback on Dane Brugler's latest top 100 and is projected by NFLDraftScout.com as a top 10 pick.
With the Cardinals, he operated under center -- especially early last season -- and out of the shotgun. Offensive coordinator Norv Turner offered one of very few positive reviews of Bridgewater's on-campus workout, saying he was "pretty good." Turner's offense utilizes play-action and downfield throws, and deep accuracy was one concern voiced by scouts in attendance at Bridgewater's March throwing session.
Some compare Bridgewater's QB skill set to former No. 1 overall pick Alex Smith, who was a Turner pupil in San Francisco. If the Vikings are comfortable with what they saw from him at their facility in Eden Prairie last weekend, the marriage makes sense. If not, there is no reason for Spielman and Zimmer to repeat the panicked Ponder mistake.
Fresno State's Derek Carr and Eastern Illinois' Jimmy Garroppolo are options for the Vikings if they choose to move back in the draft or follow Spielman's recent history of trading back into the first round for multiple picks. The Vikings dealt back into the first round each of the past two years, adding wide receiver Cordarrelle Patterson (29th overall) last year and safety Harrison Smith (29th) in 2012