2014 NFL Draft: Indianapolis Colts Spotlight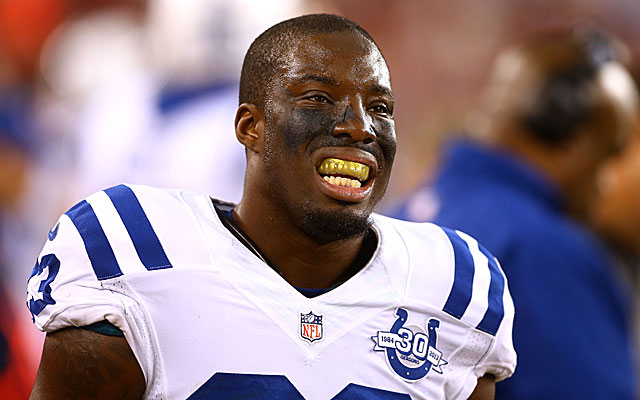 2014 NFL DRAFT TEAM SPOTLIGHTS: ARI | ATL | BAL | BUF | CAR | CHI | CIN | CLE | DAL | DEN | DET | GB | HOU | IND | JAC | KC | MIA | MIN | NE | NO | NYG | NYJ | OAK | PHI | PIT | SD | SF | SEA | STL | TB | TEN | WAS
2014 NFL Draft: Indianapolis Colts Spotlight
This is the eighth of a team-by-team series, analyzing five prospects that each team should consider in the 2013 NFL Draft.
Flashier numbers posted by Peyton Manning and Adrian Peterson over the past two seasons certainly warranted their selections as league MVP, but one could make a case that no player has been more critical to his team's success during that time than the Colts' young star quarterback Andrew Luck.
His numbers haven't been extraordinary. He actually scored one more touchdown in his rookie season (28) than he did a season ago (27). His development has been swift, however, as evidenced by the interceptions thrown as a rookie (12) getting cut in half in his second season and his guiding the Colts to the AFC South division championship, including regular season wins over the Seahawks, 49ers and Broncos.
Luck's spectacular first two seasons in the NFL are all the more impressive considering the relative lack of talent playing around him. Colts' general manager Ryan Grigson aggressively traded away the club's 2014 first round pick to Cleveland for running back Trent Richardson in an attempt to provide Luck some help. Unfortunately, the former No. 3 overall pick struggled to pick up the offense and plodded more than over-powered in his first season in blue, averaging just 2.9 yards per carry - the third consecutive year in which his average has sunk.
Grigson and head coach Chuck Pagano are adamant that Richardson will prove worthy of the No. 24 overall selection that they spent in acquiring him.
"The sky is the limit for Trent," Pagano told reporters at the combine. "Having a full offseason with us ... we all know he underwent a minor procedure to clean up a shoulder that he got. We think the sky's the limit for Trent. This will be an important offseason for him and everyone on our roster."
Of course, addressing a defense that finished 20th in the NFL in total yards remains the top priority for Pagano, who was signed to be the Colts' head coach after serving as defensive coordinator with the Baltimore Ravens. Millions spent to keep cornerback Vontae Davis and lure defensive lineman Arthur Jones (who played under Pagano at Baltimore) and linebacker D'Qwell Jackson (Cleveland) should help a unit that was just as reliant on star pass rusher Robert Mathis (NFL-best 19.5 sacks) on the defensive side of the ball a year ago as they were on Luck on offense.
Fortunately for the Colts, the 2014 crop is deep enough that Grigson and Pagano should be able to find players to help, despite currently having just five picks at their disposal, their first being No. 59 overall.
"Looking at our draft board in the meetings we had with the scouts, it's heavy with juniors up near the top and that's going to push down some of those seniors and push down some of those players who would have been taken higher," Grigson said at the Combine. "So I think just good scouting 101, just draft common sense, you would assume there are going to be players in those middle rounds that's going to be heavy with talent that maybe in other drafts you wouldn't have been able to get."
Indianapolis Colts' 2014 draft picks: 59, 90, 166, 203, 232

Primary needs: S, OLB, DE, OG, NG

General manager: Ryan Grigson, third year
Five draft picks that clicked:
• QB Andrew Luck, 1st overall, 2012
• WR T.Y. Hilton, 92nd overall, 2012
• OT Anthony Castonzo, 22nd overall, 2011
• S Antoine Bethea, 207th, 2006
• WR Reggie Wayne, 30th overall, 2001

Five players who should be on the Indianapolis Colts' draft radar:
Player, school (overall rating, position rating)
FS Terrence Brooks, Florida State (71, 3): While the Colts made some strong moves in free agency, the loss of steady homegrown product Antoine Bethea (to San Francisco) makes finding a cover safety to pair with hard-hitting LaRon Landry an obvious priority. Brooks' relatively slim frame (5-foot-11, 198) and lack of interceptions could push him into the deep second round but he's a fluid, instinctive centerfielder with speed to burn.
NG Daniel McCullers, Tennessee (108, 13): For Pagano's (and defensive coordinator Greg Manusky's) 3-4 scheme to improve against the club's No. 26th overall ranking against the run, the Colts must get bigger and more physical at the line of scrimmage. At 6-foot, 340 pounds, holdover Josh Chapman certainly possesses the square, powerful frame to handle nose guard duties but he hasn't been as effective as hoped yet after the team selected him in the fifth round two years ago. At a staggering 6-foot-7, 352 pounds, Mt. McCullers certainly would add some beef to the middle. If available in the third round, the Colts might find his size, strength and upside too much to ignore.
OLB Devon Kennard, Southern Cal (155, 14): Adding another edge rusher to complement Mathis and 2013 first round pick Bjoern Werner certainly is a need as no team was more reliant on their star to get to the quarterback than the Colts. Inside linebacker Jerrell Freeman finished second on the team with 5.5 sacks a season ago and while the team remains very high on Werner's progress, pushing him an athletic edge defender like Kennard makes sense. Rangy, physical, versatile and coming off of the best season of his collegiate career as an stand-up pass rusher in former NFL defensive coordinator Clancy Pendergast's 3-4 alignment, Kennard could be a nice Day Three surprise for some lucky club.
OG Jon Halapio, Florida (168, 10): While defense will almost surely be the priority on draft weekend, adding physicality to the offensive side of the line of scrimmage remains a need. Halapio isn't a spectacular athlete but he's a four-year starter who gets by on toughness, strength and determination.
CB Terrence Mitchell, Oregon (27, 214): At 5-foot-11, 192 pounds, Mitchell sports a solid frame as well as the physicality and tenacity to make the jump to the NFL. He's a gamble, as Mitchell occasionally extends his arms to slow down receivers but he's athletic, instinctive and a big play candidate who stepped up in 2013 to snare a career-high five interceptions.