2014 NFL Draft: New York Jets Spotlight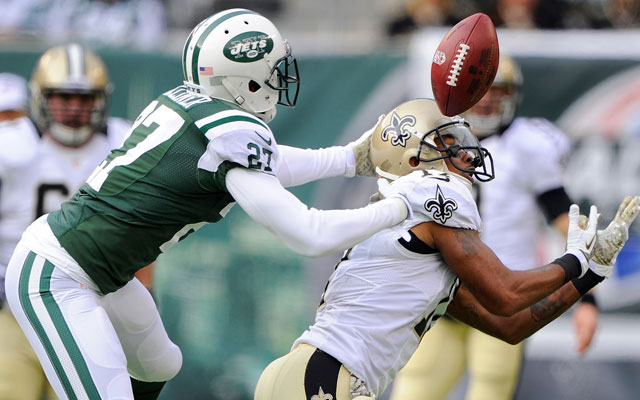 2014 NFL Draft: New York Jets Spotlight
2014 NFL DRAFT TEAM SPOTLIGHTS: ARI | ATL | BAL | BUF | CAR | CHI | CIN | CLE | DAL | DEN | DET | GB | HOU | IND | JAC | KC | MIA | MIN | NE | NO | NYG | NYJ | OAK | PHI | PIT | SD | SF | SEA | STL | TB | TEN | WAS
This is the 16th of a team-by-team series, analyzing five prospects that each team should consider in the 2013 NFL Draft.
The familiar J-E-T-S, Jets, Jets, Jets chant will be echoing throughout Radio City Music Hall even more often than normal this year with the club possessing an NFL-leading 12 draft picks.
This is in addition to a boom-or-bust off-season for Rex Ryan and general manager John Idzik who added quarterback Michael Vick, running back Chris Johnson and wideouts Eric Decker and Jacoby Ford to the roster. Right tackle Breno Giacomini didn't get the attention of the offensive skill position signings but he proved a reliable run blocker in Seattle and his physicality should serve him well on a Jets' offensive line led by Pro Bowlers D'Brickashaw Ferguson and Nick Mangold. Vick and Johnson are no longer elite but if anyone can coax a big season from them, it might be the charismatic Ryan.
The Jets, of course, are hoping that Geno Smith makes the improvements in his second NFL season to render Vick an after-thought. Smith showed signs of developing into a winning quarterback as a rookie, helping the Jets win three of their final four games by throwing seven touchdowns against just two interceptions during that span. If he fails to show improvement, however, the 34-year old Vick still has the arm and athleticism to be successful when surrounded by talent. Given the run-heavy, defensive-oriented game plan which helped Mark Sanchez reach the AFC title game twice, that might be enough to put the Jets right back into playoff contention.
If the Jets are going to compete in the AFC East, however, the defense must improve. Sheldon Richardson was a standout from day one, earning the NFL's Defensive Rookie of the Year. Fellow first round pick Dee Milliner, on the other hand, struggled for much of his first season in the pros. To be fair Milliner did finish on a high note, intercepting three passes in his final two games and earning the AFC's Defensive Rookie of the Month for December. With the Jets allowing veteran Antonio Cromartie to leave via free agency, however, Milliner will now be expected to step up his game considerably.
As such, while adding other weapons on offense is certainly a priority, New York could once again be targeting defense early on draft day.
New York Jets' 2014 draft picks: 18, 49, 80, 104, 115, 137, 154, 195, 209, 210, 213, 233
Primary needs: CB, TE, WR, S, OLB
General manager: John Idzik, second year
Five draft picks that clicked:
• DL Sheldon Richardson, 13th overall, 2013
• DL Muhammad Wilkerson, 30th overall, 2011
• CB Darrelle Revis, 14th overall, 2007
• ILB David Harris, 47th overall, 2007
• OC Nick Mangold, 29th overall, 2006
Five players who should be on the New York Jets' draft radar:
Player, school (overall rating, position rating)
CB Darqueze Dennard, Michigan State (14, 2): The Jets nabbed Milliner, the 2013 Thorpe Award winner, with the No. 9 overall selection a year ago and may find this year's recipient still on the board with the 18th pick. Physical, instinctive and best-suited to play in a press-heavy scheme like the one Ryan employs, Dennard would be an ideal match. He may lack the elite speed scouts love but he plays fast due to good instincts and smooth change of direction. Further, he's poised when the ball is in the air, showing very good hand-eye coordination to either intercept the pass or at least break it up.
OLB Jeremiah Attaochu, Georgia Tech (48, 5): Few players enjoy career-seasons 11 years into their NFL career but that is precisely what Calvin Pace accomplished for the Jets a season ago, notching 10 sacks, second only to Muhammad Wilkerson's 10.5. For his efforts the Jets rewarded Pace with a two-year deal in March and boast 2012 first round Quinton Coples on the other side. If the Jets want reinforcements at the position, they may need to spend an early pick as rush linebacker lacks the depth of receiver or offensive tackle. The 6-foot-3, 252-pound Attaochu is well-versed in rushing the passer after starring in Tech's 3-4 scheme but remains a bit rough around the edges, too often biting on fakes and needing to improve his strength to rip through blocks. He has the long arms and explosive burst worthy of developing, however, and would offer nice value at the mid-way point in the second round.
S Deone Bucannon, Washington State (82, 2): While cornerback may be the greatest area of concern for the Jets, improving at safety is also a priority. Strong safety Dawan Landry is a solid, no-nonsense run-stuffing presence but is far from a standout. Free safety Antonio Allen flashes but was replaced by Ed Reed late in the season and with the former Pro Bowler now a street free agent, the Jets could be on the search for an upgrade. Bucannon is aptly named as he plays as if shot from a cannon, exhibiting startling closing speed and a big-hitting mentality. His improved ball-skills (school record 15 career interceptions) and leadership ability (three-time captain) is likely to appeal to any team looking for a potential day one starter in the deep patrol and therefore if he's available in the third, the Jets would be wise to pounce.
WR Josh Huff, Oregon (136, 21): The Jets are expected to make wide receiver a priority but given their bounty of selections and the unique depth of this year's most gifted positional group, it may not occur until Day 2 or even Day 3. Further, while adding an elite playmaker like LSU's Odell Beckham Jr. (as I've projected here) certainly would make life easier on the Jets' quarterbacks, Ryan and offensive coordinator Marty Mornhinweg aren't likely to suddenly ditch their conservative approach. The 5-foot-11, 206 pound Huff is well-built and offers good overall athleticism, including burst, agility and the strength to acclimate quickly to the NFL. He will drop his share of easy passes while attempting to make defenders miss before securing it but possesses the hand-eye coordination and wide radius to extend to make the dazzling grab. Huff is hardly just a function of Oregon's offense, standing out against top competition at the Senior Bowl.
TE A.C. Leonard, Tennessee State (316, 18): Kellen Winslow II nearly made as much noise off the field as he did on it for the Jets, catching just 31 passes for 388 yards and a pair of scores in 2013. His contract was allowed to expire and the Jets' current depth chart at the position is heavy on relatively slow-footed security blankets (like incumbent starter Jeff Cumberland) rather than seam threats. Adding a playmaker to attack the middle could, in fact, be a target as early as the first round as the club recently visited with North Carolina's Eric Ebron, whose dynamic athleticism and personality could make him a fit with the Jets. Should the team elect to wait, Leonard is a diamond in the rough candidate who could surprise. Like Ebron, Leonard boasts undeniable athleticism. The University of Florida-transfer wowed during Combine workouts, registering a 4.50-second time in the 40-yard dash and a 10'8" broad jump. He snatches the ball out of the air and his compact 6-foot-2, 252-pound frame makes him a bullish threat after the catch. Leonard's off-field issues could push him deep into the draft but for a team willing to roll the dice, he could prove a steal.