2014 NFL Draft: Modest talent pool at running back, tight end positions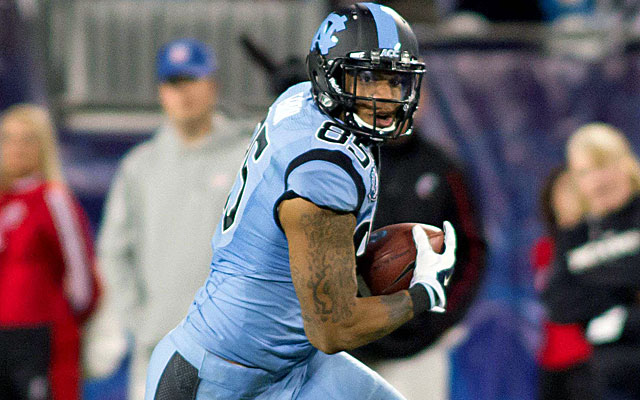 More NFL offseason: Mock Drafts | Prospect Rankings | Pro Days | Top free agents
After being spoiled by a surprising surge of talent for several years, teams are looking at a modest crop of tight ends available in the 2014 NFL Draft.
According to ratings by NFLDraftScout.com, there is only one first-round prospect for the second consecutive year -- North Carolina's talented Eric Ebron being the class of the '14 crop.
The 2014 running back class also continues a negative trend with none expected to be taken in the first round for the second straight year. Auburn's prolific Tre Mason figures to be the first runner taken, probably in the middle of the second round.
The rather obvious nose-dive of former Alabama star runner Trent Richardson, the No. 3 overall selection in the 2012 draft, may reflect a change in appetite or offensive style rather than a downturn in available talent.
Richardson was traded by the Cleveland Browns to the Indianapolis Colts last year for a single first-round draft pick.
That does show a stark shift in value, talent or style in a league that once treasured running backs. The New Orleans Saints -- well, headstrong coach Mike Ditka -- swapped all draft picks in 1999 to move up to No. 5 overall and take Texas' Heisman Trophy-winning running back Ricky Williams. NFL history also marks huge, multi-player, franchise-altering trades involving Ollie Matson and Herschel Walker, another Heisman winner.
In seeking cause and effect for this shift away from runners -- or at least some interesting banter -- it should be pointed out that college football produced only two running backs as Heisman Trophy winners this century -- USC's Reggie Bush in 2005 and Alabama's Mark Ingram in 2009.
Football is a quarterback's world and the other positions have become mere support staff.
At tight end, that quarterback-supporting position revitalized in recent years by prolific stars with the New England Patriots, Saints, San Francisco 49ers and others, the focus is on big, strong mobile athletes who can catch. Blocking is optional.
Ebron, a former defensive end, reflects that focus but is a long way from deserving the over-reaching comparisons to 49ers tight end Vernon Davis, who measures about the same as Ebron's 6-4, 250.
Davis, the No. 6 overall pick in 2006, ran 40 yards in 4.38 seconds, soared 42 inches in the vertical jump and benched 225 pounds 33 times and scares opponents.
Ebron's results pale at 4.56 seconds, 32 inches and 24 reps while his inconsistencies scare his own team. He does have exceptional athletic skills however, but to avoid disappointment scouts must keep their expectations in check, their descriptions realistic and just be patient.
There should be a glut of talented tight ends headed to the NFL in the next few years.
Here is a closer look at the tight ends and running backs projected to be selected in the NFL draft among the top 100 as rated by NFLDrafScout.com.
Note: Pos. Rank/Overall Rank/Player/Position/School/Height/Weight/40 time/Proj. Round
TIGHT ENDS
1/11. *Eric Ebron, North Carolina, 6-4, 250, 4.60, 1
A former prep and early college defensive end, Ebron has the ability to create size/speed mismatches as a receiver. He needs to bulks up to be more effective and aggressive in his overall game. He is talented but unpolished even after setting school tight end single-season records last year for receptions (62), receiving yards (973) as well as career receptions (112) and career receiving yards (1,805). Frankly: Ebron has some underdeveloped high-level skills and if he puts them together he should become a weapon in some NFL teams passing game, but only as a receiver because his blocking ability is limited.
2/38. *Jace Amaro, Texas Tech, 6-5, 265, 4.74, 1-2
Amaro set the NCAA record for single-season total receiving yards and yards per game by a tight end (1,352/104 per). A big, fluid athlete, Amaro lined up mostly in the slot and used his thick body to gain position in coverage and used his large, soft hands to attack the ball in the air. He is a balanced route-runner and dangerous after the catch, even if defenders get both hands on him.
Frankly: If you are looking for somebody to create a size/speed mismatch in that inside slot, as he did in college, Amaro's your man. But if you are looking for a tight end who can help with in-line blocking he is the wrong candidate.
3/51. *Austin Seferian-Jenkins, Washington, 6-6, 262, 4.75, 2
AS-J is a massive target and goes after the ball with excellent body control that reflects his time spent as a basketball player for the Huskies. Although not as physically dominant as his size suggests, especially as blocker, he becomes an imposing runner with ball in his hand. Convicted of DUI after single car accident last March, was suspended one game and dedicated time talking to groups about drinking and driving. He finished last season as the Mackey Award winner as top college tight end.
Frankly: AS-J is a wild child who has been difficult to handle on and off the field. If he matures and focuses on a more consistent effort, AS-J could be as productive as any tight end in this draft.
4/62. *Troy Niklas, Notre Dame, 6-7, 270, 4.86, 2
Niklas began as an edge defensive player at Notre Dame and has only two years of experience at tight end. But his upside was obvious after emerging as a surprise star following the departure of Tyler Eifert (first round, Bengals, 2013). Niklas will become the seventh member of the NFL's Matthews family to be drafted. After cousin Jake Matthews (OT, Texas A&M) is taken in the first round, Niklas will be the fifth Matthews relative in NFL history to be selected in the first two rounds.
Frankly: Considering shared genetics with uncle (Hall of Fame OT) Bruce and 2014 draft classmate and cousin Jake Matthews (Texas A&M OT), it's no surprise that Niklas has excellent blocking skills. He could become the best blocking tight end in the NFL. He is a deceptively good receiver, but is still a work in progress.
RUNNING BACKS
1/45. *Tre Mason, Auburn, 5-09, 207, 4.50, 2
Runs bigger than he measures, using quick feet and a one-cut-and-go approach. Lacks OMG speed, but is fast enough to be all-the-way threat on most plays. Mason leaves Auburn after rushing for more than a 1,000 yards each of the past two seasons, including his 1,816 yards in 2013, a mark that broke Jackson's record of 1,786 yards set in 1983 and earned him SEC Player of the Year honors. His father, Vincent, was a member of the hip-hop group De La Soul.
Frankly: After watching diminishing returns in the NFL from a few recent star runners out of the SEC, it is difficult to get excited about the latest prospect. Mason has already taken a beating and could use more bulk to help hold up as a pro, but he does seem to have instincts, decent speed and the necessary toughness to be an NFL starter.
2/54. Carlos Hyde, Ohio State, 6-0, 230, 4.66, 2
North-south runner blasted for 1,527 yards last year, the first running back for an Urban Meyer-coached team to rush 1,000 yards in a season. More impressive, he did it despite missing first three games on suspension for an altercation with a woman in a Columbus nightclub last summer. "I go out every game with the mindset that I have to make up for those three games," Hyde said in October. "That suspension ... really hurt."
Frankly: Reliable in terms of ball security and consistent chunks per carry, but lacks both elusiveness and good-bye speed. So he must take this seriously, including avoiding weight problems that plagued him early in college, or his pro career will go pffft.
3/58.*Bishop Sankey, Washington, 5-10, 209, 4.49, 2
Sankey's total seems better than the sum of his parts. He shows an impressive jump-cut and rarely takes flush hits. Durable player who never missed a game and was voted team captain as a junior. Despite inconsistent offensive line and quarterback play in 2013, Sankey broke Corey Dillon's single-season school rushing record with 1,870 yards and scored 20 touchdowns in 13 games.
Frankly: Hard-working son of an Air Force sergeant is a respected team leader who has the physicality and mentality to be a starter in the NFL.
4/65. *Jeremy Hill, LSU, 6-1,233,4.66, 2-3
Hill is a big, slashing runner with good initial quickness, a decent second level burst then only average top speed. He rushed for 1,401 yards last year, second-most in school history as his 6.9 yards per carry set an SEC record. In 2012 he became the first true freshmen to lead LSU in rushing since Justin Vincent did it in 2003. Off-field issues include two arrests, one on sexual assault charges that he pled out to a misdemeanor and the other after a bar fight in August of last year.
Frankly: Hill is almost as good as he thinks he is, but can help a power running offense if he decides to work at his trade and understand how to contribute as a team member.
5/87. Andre Williams, Boston College, 5-11, 230, 4.56, 3
Williams emerged as a senior when he led the nation in rushing yards with 2,177, the 16th player in FBS history to hit the 2k mark. However, he was more of a strong, reliable opportunist than a dazzling stylist as he maximized huge openings behind great blocking.
Frankly: Well-built, focused, powerful runner with instincts and toughness to keep the chains moving or run out the clock, but a mystery as a receiver after catching only 10 passes in four years of college.
6/88. *Terrance West, Towson, 5-9, 225, 4.54, 3
West covered a lot of rough road to overcome his tough home neighborhood in Baltimore. That included missing a couple of years of football, including one when he sold shoes. Walked on at Towson and last season led team to an FCS national championship game against North Dakota State. West pounded the ball relentlessly between the tackles to lead all FCS players with 2,519 yards rushing and 41 touchdowns last season. Has a son, Brendan.
Frankly: Give him a chance and West will give you his best and hopefully he has enough tread left to crank out a few more miles after carrying 780 times the last three years.
-- Frank Cooney, founder and publisher of The Sports Xchange and NFLDraftScout.com, covered the NFL and the draft since the 1960s and is a selector for the Pro Football Hall of Fame.