2014 NFL Draft: Amazing array of pro-ready talent at wide receiver
More NFL offseason: Mock Drafts | Prospect Rankings | Pro days | Top free agents
Numbers are only a hint of the depth of talent at a position that is often believed to be full of great prospects. But this time, in the 2014 NFL Draft class, the wide receiver talent is off the charts. Honest.
According to projections by NFLDraftScout.com, and just about everybody else paying attention, there could be as many as seven wide receivers taken in the first round of the draft on May 8, led by Clemson's slick Sammy Watkins.
By the end of Round 2, 13 wide receivers could be called; after three rounds, 18 could be named; through four rounds, 22 and, well, depending on whose list you look at, more than 50 wide receivers are considered to have enough ability to be drafted. Maybe more.
After Slick Sammy, the parade of top wide receivers includes Texas A&M's brutish Mike Evans, LSU's nifty Odell Beckham Jr., Oregon State's Sonic Boom, Brandin Cooks, and USC's talented Marqise Lee, who is almost lost in the first-round shuffle after his name was once on the Heisman Watch list.
This group is so talented that a player with the fastest verifiable 40-yard time in Indianapolis combine history is almost a footnote, doing his best to hang on to a spot in the overall top 100.
That would be Dri Archer of Kent State, rated No. 99 overall. The 5-foot-8, 173-pound running back/wide receiver/returner was timed in 4.16 seconds in 40 yards by one of the official handheld clocks at the Indianapolis combine in February.
His announced time was 4.26 seconds, which reflects his fastest so-called electronic time. That time is created when the clock is started by hand on the player's first motion and stopped when the player crosses an electronic beam.
Electronic times of that sort were first used at the combine in 2000 and the best-of list is topped by East Carolina running back Chris Johnson at 4.24 seconds in 2008. He had that same time electronically and by handheld.
But in a world of comparing apples-to-apples as best we can, Archer's time is the best ever recorded at an Indianapolis combine, period. The timing method -- started and stopped by hand -- is the same one that dates back forever, including 1986 when Auburn's Bo Jackson was timed in 4.21 seconds by Tom Braatz, the former general manager of the Atlanta Falcons and Green Bay Packers.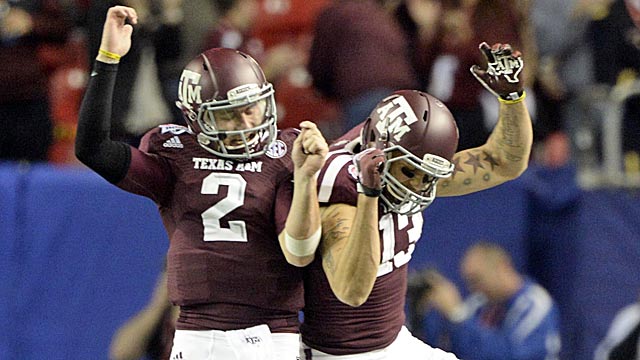 Before Archer's 4.16 this year, the fastest time at Indianapolis was 4.21 seconds by LSU wide receiver Trindon Holliday (2008) and Texas wide receiver Marquise Goodwin (2010). Clemson wide receiver Jacoby Ford had a 4.22-second hand held time in 2010.
Here is a closer look at the wide receivers projected to be selected among the top 100 as rated by NFLDrafScout.com, including the fastest man in Indianapolis combine history hanging on at No. 99:
Rank (Overall/Position)/Player/School/Height/Weight/40 time/Proj. Round
1/4. *Sammy Watkins, Clemson, 6-1, 211, 4.43, 1
Watkins keeps his elite speed under total control to deceive defenders with a startling ability to shift gears and direction faster than a NASCAR driver faced with an 11-car pileup. That makes him dangerous after the catch -- which he accomplishes with the precision hands of a surgeon -- and as a returner. As a true freshman in 2011, he caught 82 passes for 1,219 yards and 12 scores and added more than 1,000 yards rushing and returning. After a 2012 impacted by a two-game suspension (marijuana possession), Watkins exploded again in 2013, catching 101 passes for 1,464 yards and 12 touchdowns and closed out his prolific Clemson career with a dominating 16-catch performance in the Tigers' dramatic victory over Ohio State in the Orange Bowl.
Frankly: His dazzling display of foot and handwork makes Watkins a big play waiting to happen. Still, he can improve overall game by working on route running that wasn't a priority in his gimmicky college offense and by increasing strength to fend off NFL jams.
2/9. *Mike Evans, Texas A&M, 6-5, 231, 4.53, 1
Huge target with great hands and the physicality and attitude to take on the toughest and mouthiest of cornerbacks. Like his college battery-mate, quarterback Johnny Manziel, Evans has not convinced everybody his talent and production can be sustained at the next level. His big body, long-striding style and strong hands worked well in college, but he must learn to create more separation in the NFL, where his size won't give him as much of an advantage and his route running will need to be more precise.
Frankly: Basketball was his first love and that explains excellent hands and ability to go get the ball in a crowd. Based on his rugged football style, Evans must have fouled out of a lot of basketball games, but NFL defenders and officials won't let him arm bar and push off.
3/15. *Odell Beckham Jr., LSU, 5-11, 198, 4.43, 1
Great genetics are obvious for Beckham, whose father was a star running back at LSU and mother, the former Heather Van Norman, a six-time All-American and national champion sprinter for the for the Lady Tigers. Little wonder Beckham is smooth afoot and an explosive return man. Although game scouts thought he lacked elite speed, his best time in 40 yards at combine was 4.40, which is plenty fast. He's less than average in height, but has vertical jump of 38.5 inches. Last season he caught 59 passes for 1,152 yards and eight touchdowns and returned punts.
Frankly: Beckham should step in and star quickly. Rare wide receiver combination of outstanding natural ability and great attitude, natural elusiveness and still willing to get physical.
4/20. *Brandin Cooks, Oregon State, 5-10, 189, 4.33, 1
Cooks was the Biletnikoff Award winner as best wide receiver in college after leading the FBS with 1,730 yards on 128 catches last year, following a 2012 season with 1,151 yards on only 67 catches. Known as Stockton, California's Sonic Boom, Cooks was an explosive sprinter and football player since high school. Lacks ideal size, but is a tough character who never missed a game at any level.
Frankly: In the approximate words of a former wide receiver, just get him the damn ball. Then watch the show because Cooks is fast, shifty, elusive, entertaining and productive.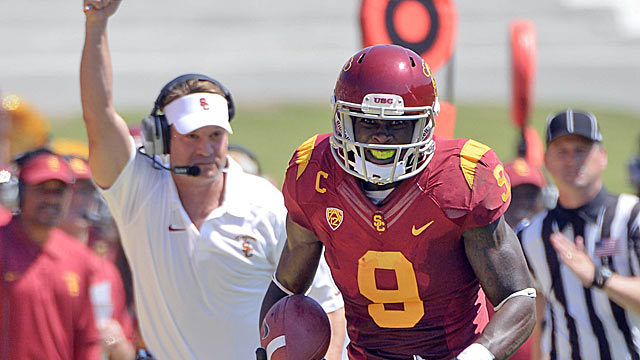 5/27. *Marqise Lee, Southern Cal, 6-0, 192, 4.52, 1-2
As a freshman phenom in 2011, Lee put his amazing athletic skills on display and looked the part of a top-three pick destined for future Heisman discussions. He is an elite athlete who could do it all, and maybe still can. But with less complementary talent and myriad physical maladies, his last two years were less spectacular. Still, this is a tough kid from a tougher background filled with gangs, killings (brother was murdered) and family challenges (father is deaf). He never complained, just used his skills as a ticket out. And now it is time to get the ticket punched.
Frankly: The image of Lee toying with defenders in 2011 is hard to forget. If he can play back to that level, Lee will be a steal anywhere beyond the middle of the first round.
6/36. *Allen Robinson, Penn State, 6-3, 220, 4.60, 1-2
Fluid athlete for his size with room to get stronger. Deceptive acceleration with sharp cuts to be a dangerous catch-and-go pass catcher. Physical ball-carrier with balance and body strength to shake off defenders and pick up chunks of yards after contact. Has shown return ability. Reset his own school mark in 2012 with 97 catches for 1,432 yards. His combined 174 receptions and 2,445 receiving yards the past two years both rank No. 3 in Big Ten history for consecutive seasons.
Frankly: If there is such a thing as a blue-collar receiver, Robinson is that guy. He knows the whole pro-style pass route tree from experience in Penn State's offense and although he lacks the speed most teams want, he is a big man with enough explosion to go 39 inches in the vertical jump.
7/40. *Donte Moncrief, Mississippi, 6-2, 221, 4.40, 1-2
Moncrief is a big man with the footwork of a little guy, enabling him to maneuver his large body into a position where he can make the catch against quicker, faster defensive backs. His 156 catches, 2,371 receiving yards and 20 touchdowns are all third-best all-time in the Ole Miss record book.
Frankly: Ready, willing and able to surprise cornerbacks with excellent route running that makes him more dangerous more often than receivers who rely mainly on speed. He will also do damage as a blocker in the running game.
8/43. Jordan Matthews, Vanderbilt, 6-3, 212, 4.46, 2
Cousin of the legendary Jerry Rice, Matthews is a better football player than he is an athlete. He led the SEC with a gaudy 19.0 yards-per-catch average last season with above average speed that is more deceptive than sudden. His size allows offense to scheme favorable matchups. Career totals: SEC's all-time leader with 262 receptions and 3,759 receiving yards.
Frankly: For what it's worth, Matthews is bigger and faster than cousin Jerry Rice, which helps eliminate the shock value of him catching 201 passes over the last two seasons. Now, if he can manage to hang around the NFL for 19 years perhaps the family comparisons will continue.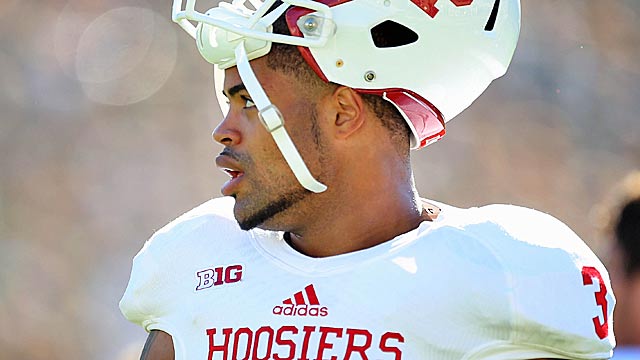 9/45. *Cody Latimer, Indiana, 6-3, 215, 4.44, 2
Tough, physical specimen who reflects skills learned in his first love, basketball. He has great hands, a natural ability to get body position on defenders and that 39-inch vertical leap helps him win a lot of jump balls. His stock has soared since he recovered from left foot surgery and ran 40 yards early in April somewhere between 4.38 and 4.44 seconds for scouts who previously considered him little more than a possession receiver.
Frankly: His 72 catches for 1,096 yards last year, mostly while battling a bad left foot, were usually on short tosses, which helped label him as a West Coast offense prospect. But his size, speed, strength and hands should do well in any system.
10/53. *Martavis Bryant, Clemson, 6-4, 211, 4.42, 2
Introducing the other Clemson receiver (with a nod to teammate Sammy Watkins, the No. 1 ranked receiver in this draft). Bryant actually introduced himself dramatically as a sophomore when he averaged a gaudy 30.5 yards on 10 catches. The average would have been more, but he ran out of field and scored four touchdowns. Last season he caught 42 passes for 828 yards (19.7 per) and in his finale against Ohio State in the Orange Bowl, two of his catches went for touchdowns.
Frankly: Not the surest hands, but this long-limbed speedster can take the top off a defense and find the end zone either on a long sprint or as a big target in the red zone. Psst, Martavis, those throat-slashing gestures that caused trouble last September are illegal in the NFL, too.
11/58. *Kelvin Benjamin, Florida State, 6-5, 240, 4.61, 2
A monster receiver who will command extra defenders despite the fact that he is crude and unpolished. Benjamin has average quickness, but shows a natural ability to get separation. He doesn't consistently use his hands and allows too many balls to get to his body and drops more passes than he should. Showed immaturity and bad habits as a freshman and although work ethic has improved he has a ways to go.
Frankly: Never mind he has a lot to learn, Benjamin is a size, speed, strength mismatch for any single defender. So even until he learns how to be a true No. 1 receiver, put him out there and he will torture defenses even as a work in progress.
12/67. *Davante Adams, Fresno State, 6-1, 212, 4.56, 2-3
Adams had extraordinary stats against ordinary talent as the favorite target of highly rated quarterback prospect Derek Carr in Fresno State's spread offense. Adams caught 233 passes for more than 3,000 yards the last two years, including leading the nation with 131 grabs in 2013. Well-built, aggressive, natural hands catcher who makes himself a larger target with that leaping ability that allowed him to soar 39.5 inches in the vertical jump.
Frankly: Adams is a 21-year old third-year sophomore who shows his smarts by leaving college the same year as his prolific quarterback. Regardless of competition level, he didn't drop the ball in college and it's hard to believe he will start doing so as a pro.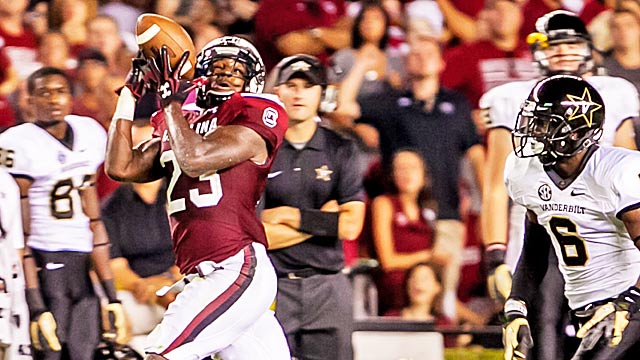 13/76. *Bruce Ellington, South Carolina, 5-9, 197, 4.45, 2-3
Ellington was a basketball-football starter in college who graduated in December and is forgoing his senior year to play for pay in the NFL. He plays with the sudden athleticism expected of a basketball point guard and gets football defenders in a bad position quickly both as a receiver and a returner. Closed out his college football career in dramatic style with six catches for 140 yards and two touchdowns and a nine-yard TD pass to Connor Shaw in a 34-24 Capital One Bowl win over Wisconsin.
Frankly: Short in height, but not in talent. Ellington is a natural athlete who excelled as a high school quarterback (state championship), college point guard, receiver and returner. Use him as a returner and slot receiver and he should excel while focusing on only one sport.
14/90. *Paul Richardson, Colorado, 6-0, 175, 4.40, 3
Extraordinarily quick, fluid, finesse athlete who is fun to watch if you are not a cornerback in single coverage. Richardson showed his ability to run hard and get open often again in 2013 after missing 2012 following a torn ACL in the spring. Last year he caught 83 passes for 1,343 yards and 10 touchdowns receiving. Father, Paul, was a wide receiver at UCLA and with several NFL teams.
Frankly: Richardson was exceptionally productive despite a lack of complementary talent on his team, getting first downs on 51 of his 83 catches and averaging 47 yards on his 10 touchdown plays last year. Yes, 47 yards, damn near half the field.
15/96. Jared Abbrederis, Wisconsin, 6-1, 195, 4.50, 3
Slick receiver who has a knack for finding even small windows in a zone defense and if the window closes he is shows tenacity to go get the ball. Lacks speed that will invite any sort of special coverage, but will give fits to faster, more athletic defenders tasked with trying to cover him without help. Former high school quarterback who made team as a walk-on and coaches had to find a way to use his athleticism and competitiveness. Married, devout Christian with one son.
Frankly: Anybody out there remember Bobby Chandler (USC, Buffalo, Oakland)? He was a former high school quarterback who was 1970 Rose Bowl MVP as a wide receiver, then used his zone-busting skills to lead the NFL in receptions from 1975-77 with 176. He was a great guy who left us too soon, of cancer in 1995. Watching Abbrederis, I thought of Chandler.
16/99. Dri Archer, Kent State, 5-08, 173, 4.26, 3
Archer is instant danger who can get to the end zone as fast as anybody who has ever played the game. Anybody. Really. He has the fastest time ever clocked in 40 yards at an Indianapolis combine -- 4.16 seconds, although his announced time was 4.26 seconds. He was used in college as a running back, wide receiver and as a returner who scored four touchdowns on kickoffs and would have scored more but teams kicked away from him. An injury marred senior season (ankle)lends credence to concerns about his slight frame and durability.
Frankly: Yes, Archer is small and probably fragile. But he's bigger and faster than Trindon Holliday (5-5, 170, Broncos in 2013) and you can't hurt what you can't catch. OK, go ahead and say it -- right now Al Davis is trying to communicate with son Mark to draft this kid.
--Frank Cooney, founder and publisher of The Sports Xchange and NFLDraftScout.com, has covered the NFL and the draft since the 1960s and is a selector for the Pro Football Hall of Fame.