2014 NFL Draft: Houston Texans Spotlight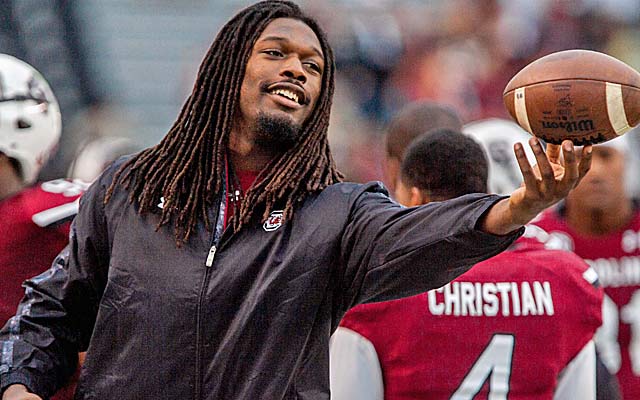 2014 NFL DRAFT TEAM SPOTLIGHTS: ARI | ATL | BAL | BUF | CAR | CHI | CIN | CLE | DAL | DEN | DET | GB | HOU | IND | JAC | KC | MIA | MIN | NE | NO | NYG | NYJ | OAK | PHI | PIT | SD | SF | SEA | STL | TB | TEN | WAS
This is the 32nd of a team-by-team series, analyzing five prospects that each team should consider in the 2014 NFL Draft.
From playoff contenders to the No. 1 overall pick. The last year has been a whirlwind for Texans' players, coaches, executives and of course the fans. Former head coach Gary Kubiak and starting quarterback Matt Schaub were the sacrificial lambs, now in different cities for 2014. Bill O'Brien is the new man in charge and it's safe to say he wouldn't have accepted the job unless his voice was going to be the loudest when it comes to the decision-making of the draft.
As the owners of the No. 1 overall pick, Houston controls the 2014 NFL Draft. Freakish talent Jadeveon Clowney is considered the favorite because he is the most talented prospect, but when you weigh the South Carolina pass rusher's football character into the equation, could the Texans surprise everyone and go with Buffalo's Khalil Mack? Maybe.
A trade down is also in the cards, depending on what offer Houston is willing to accept. They likely aren't getting a future first round pick, but could gain extra picks this year in the 2nd, 3rd, 4th rounds, which in this draft class, are like gold. And if the Texans trade back a few spots, then quarterback is very possible (Blake Bortles).
Only 24 hours away from the 2014 NFL Draft and the Texans are still very much a mystery at No. 1. And I'm sure they wouldn't want it any other way.
Houston Texans' 2014 draft picks: 1, 33, 65, 101, 135, 141, 177, 181, 211, 216
Primary Needs: QB, OLB, NT, DE, RT
General Manager: Rick Smith, 9th season
Head Coach: Bill O'Brien, 1st season

Five draft picks that clicked:
• DE J.J. Watt, 11th overall, 2011
• OT Derek Newton, 214th overall, 2011
• LB Brian Cushing, 15th overall, 2009
• OT Duane Brown, 26th overall, 2008
• WR Andre Johnson, 3rd overall, 2003
Five players who should be on Houston's draft radar:
(overall rating, position rating)
DE Jadeveon Clowney, South Carolina (1, 1): If the Texans stick at No. 1, I do think Mack is a possibility, but I'm still leaning Clowney as the player they won't be able to pass up here. Clowney had his best season in 2012 as a sophomore with career-bests in tackles (54), tackles for loss (23.5) and sacks (13.0), earning First Team All-SEC and All-American honors. He entered 2013 with high expectations, but he saw a lot more attention and his junior statistics failed to match his freshman production (when he had only one start), finishing with just three sacks. Clowney is freakishly athletic for his size with the first step burst and ability to convert speed to power that makes him a disruptive force, but he does have some maturity and effort concerns -- teams are more concerned with his practice habits and effort between games rather than his in-game effort. He has been the best player on the field his entire life, through high school and college, but that will change in the NFL -- will he push himself to reach his full pro potential? Clowney has immense natural ability and rare physical talent to be the No. 1 overall pick and instant NFL sack artist, but the other factors create some doubt.
QB Teddy Bridgewater, Louisville (13, 3): It's conceivable that the Texans could draft the top two players on my draft board: Clowney and Bridgewater. With the first pick in the second round, Houston could stay and see which quarterback falls to them or possibly trade into the late first to secure that guy. And Bridgewater might be that player. He played in a very conservative, pro-style offense at Louisville and earned his degree in three-and-half years. Bridgewater is grounded, mature and stands in the face of pressure and had to deal with adversity early in his life when at age 14 he found out his mother was diagnosed with breast cancer. His lack of prototypical build and streaky deep accuracy will scare some teams, but he displays polish and refinement and makes it look easy at times because of his ability above the neck, efficient pocket movements and natural accuracy. Bridgewater is reminiscent of a taller, slender version of Russell Wilson because of his football-focused, humble and driven attitude, along with his mobility and placement on the run -- a very natural passer who has the mental aptitude and arm talent to be a long-term NFL starter.
LB Marcus Smith, Louisville (61, 6): More pass rush? More pass rush. There is no such thing as too much when it comes to finding players who can put pressure on the opponent's backfield and Smith would be an interesting fit in Romeo Crennel's defense. Although starting his Louisville career at quarterback, he emerged as the Cardinals' defensive MVP as a senior with 18.5 tackles for loss and 14.5 sacks, earning First Team All-AAC honors as the conference's Defensive Player of the Year. He lacks physically imposing size or strength, but his initial burst along with his active hands and energetic play style allows him to be effective, whether rushing the pocket or dropping into space. Smith will find himself locked up and needs to better disengage and develop his pass rush moves, but he is scheme versatile and would give Crennel options.
DT Justin Ellis, Louisiana Tech (98, 11): With Earl Mitchell in Miami and the Texans searching for more of a wide-bodied nose tackle for their 3-4 scheme, Ellis could be in play for them in the fourth round. An under-the-radar high school recruit, Ellis redshirted in 2009 and barely saw the field in 2010 before becoming a sophomore starter in 2011. He took a step back in 2012, but had his best year as a senior with 48 tackles, including 5.5 for loss, earning All-CUSA Honorable Mention honors. Ellis is a wide-bodied rusher and uses his ball quickness and snap anticipation to surge past blockers before they can set up, making him a tough guy to square up and slow down. He looks like a 0-technique who should be a man-eating run stuffer, but is also an upfield penetrator who is a handful to control as a pass rusher. Ellis is scheme-versatile to play a two-gapping NT role or as a 3-technique who wins with initial burst.
OG John Urschel, Penn State (246, 15): The past two years, O'Brien had the opportunity to coach Urschel at Penn State and in the late rounds, the two could be reunited. He sat on the bench until O'Brien was hired, starting every game at right guard as a junior and senior. Urschel was a solid player in college, but may be better known for his impressive classroom intelligence with a 4.0 GPA and multiple math degrees and even taught three math classes (Geometry, Trigonometry and Vector Calculus) in 2013. He is a short-area blocker who does his best work in a phone booth due to his limited range and athleticism, but he competes on each snap and understands body placement to seal and finish. Urschel probably isn't a next level starter, but he should be able to hold onto a roster spot.