2015 NFL Draft: Michigan State Preview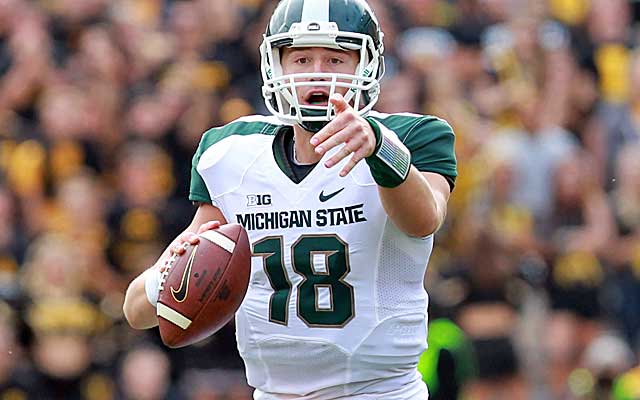 As he enters his eighth year as the Spartans' head coach, Mark Dantonio has put the rest of the country on notice that Michigan State is an ascending program with Sparty posting double-digit wins three of the past four seasons. The Spartans finished the 2013 season with a school-record 13 wins, a Big Ten Championship and Rose Bowl victory, but produced only one draft pick in the 2014 class (CB Darqueze Dennard). However, that also means that several starters are back in East Lansing this season, including several All-Conference candidates and prospects who are graded highly by NFL scouts.
On a national level, Michigan State isn't considered one of the top football factories for producing NFL talent, but the Spartans have had at least one player drafted every year since 1940, a streak that falls just shy of Michigan (1938) for tops in the Big Ten. The Spartans top prospects for the 2015 class are mostly underclassmen, but it's not unrealistic to think that Michigan State could be the most represented Big Ten team in the 2015 NFL Draft.
Michigan State's NFL Draft-Eligible prospects to watch in 2014:
DE Shilique Calhoun, RS Junior (6-4 | 250 | 4.72 | #89)
Last season Michigan State was forced to replace their top pass rusher (William Gholston) and Calhoun stepped up to the task in his first year as a starter, leading the Spartans with 14.0 tackles for loss and 18 quarterback hurries. He finished the 2013 campaign as the Big Ten Defensive Lineman of the year and garnered several All-American votes. Calhoun has a fluid lower body and bends well off the edge with natural flexibility to curve the arc. He is coordinated in space to easily change directions and keeps his feet well, protecting against cut blocks. Calhoun isn't as strong as he looks right now and is missing a power element to his game as he's too easily slowed or stonewalled at contact. He loses the leverage battle too often and his ball awareness tends to run hot/cold, but he does an excellent job playing the edges and holding contain. Calhoun isn't yet a polished product and his hand use needs coached up to improve his shed technique and rush ability, but he does a nice job using his length to jolt blockers. He shows a lot of promise as a future early draft pick if he can continue to develop as a junior.
QB Connor Cook, RS Junior (6-3 | 218 | 4.89 | #18)
I'm excited to study the progress of several prospects in 2014, but Cook might be at the top of that list – he has a lot of room to improve and he's pretty darn good right now. After redshirting in 2011 and serving as a back-up in 2012, he started 13 games last season, finishing 12-1 and posting passing numbers that ranked among the best in the Big Ten. Cook clearly has the confidence and resilient attitude needed for the position and carries himself like a winner, something that rallies his teammates around him. He is a good-sized athlete for the position with enough mobility to handle the high volume of rollouts and bootlegs in the Spartan's pro-style attack. Cook has a quick set up and delivery with an easy release and top-shelf arm strength to make all the throws, displaying an arsenal of frozen ropes. He has functional downfield touch and controls his velocity well with fast eyes to see the field well on the move.
While he has a number of positives, there are almost as many negatives on his 2013 tape, albeit mostly fixable issues. Cook tends to ignore his footwork and lower half mechanics and with 58.7-percent completions, he has room to improve his ball placement, especially downfield. He is too willing to throw off balance before his body and feet are set and attempts to "arm" everything once moved from his original spot. Cook doesn't consistently play loose and has the bad habit of playing rushed, allowing himself to get frantic and firing without locating defenders. He appears to be constantly in controlled panic mode, keeping his eyes downfield with a survivor mentality. In the Super Bowl era, Michigan State hasn't had a quarterback drafted among the top-40 picks, but Cook is very capable of changing that fact. And his progression in 2014 will give us a better indicator of where he could land in the NFL Draft.
CB Trae Waynes, RS Junior (6-1 | 185 | 4.53 | #15)
The Spartans had only one player drafted last year with CB Darqueze Dennard landing in the first round, but his departure will be felt in the Michigan State secondary. However, Waynes will help cushion the loss and is now the top cornerback on the roster. A first-year starter last season, he finished his sophomore year with three interceptions and eight passes defended and quickly made a name for himself in the conference. Waynes is thin-limbed and is "all arms and legs" with his lanky build, clearly lacking ideal bulk and muscle definition. He is too easily pushed around by wide receivers, too much of an ankle biter in run support and needs to develop his functional strength, but plays with a chip on his shoulder and has the right mindset for the position. Waynes always keeps his eyes alert to quickly diagnose and break on break on the ball with natural ballskills to make plays. He needs to stay balanced in his transition and his technique tends to run hot/cold due to his tendency to bite the apple and freelance. As a sophomore, Waynes played like a young Kyle Fuller and if he can introduce more discipline to his game moving forward, he will have bright future in East Lansing and the NFL.
FS Kurtis Drummond, RS Senior (6-1 | 200 | 4.59 | #27)
Arguably the top senior prospect at safety for the upcoming class, Drummond is the top returning tackler for the Spartans in 2014, finishing last season with 91 stops, 3.5 tackles for loss, 10 passes defended and four interceptions, matching Dennard for the team-lead. Despite his toughness downhill, he doesn't have an ideal body type with a lean-shaped frame and average muscle tone throughout. Drummond needs to consistently finish once he makes contact, but understands pursuit angles and anticipates the action well, playing with a non-hesitant and aggressive demeanor. He shows the coordinated body control to flip-and-stick to hang with receivers vertically, using his heady instincts and quick eyes to make natural adjustments. Drummond has the ballskills to make acrobatic plays on the ball with very good timing and coordination. He exhibits top confidence on and off the field and is well respected by his coaches and teammates, also making impact plays on special teams coverage. Drummond is the most consistent Big Ten defensive back I've seen on tape so far and is very much in the competition to be the first senior safety drafted next spring.
RB Jeremy Langford, RS Senior (5-11 | 206 | 4.49 | #33)
With Le'Veon Bell leaving school early for the NFL, the Spartans were forced to replace his production last season with several unproven players in the backfield. Most Michigan State fans had never heard of Langford and with only 23 career rushing yards to his name, it's tough to blame them. But he emerged as not only the most reliable and efficient back, but also the best all-around player at the position. Langford finished the 2013 season with 1,422 rushing yards and 18 rushing scores, six more than Bell had in 2012. He runs low to the ground with excellent pad level and energetic feet, getting the most out of every carry with a workhorse mentality. Although he lacks ideal ankle flexibility to be overly shifty, Langford has a little shake-and-bake to him to extend runs, keeping his legs pumping through contact. He takes a moment to get back up to full speed after gearing down and needs to show better patience with a bad habit of running into his own blockers. Langford really shines in areas where most young backs struggle like pass protection, reliability in the screen game and also the ability to get stronger and better as the game goes on. Although he's probably the third-best back in the Big Ten behind Wisconsin's Melvin Gordon and Nebraska's Ameer Abdullah, Langford is the type of prospect that grows on you and the gap behind Gordon and Abdullah isn't as big as most think.
Other Michigan State prospects worth watching:
RB Nick Hill, RS Senior (5-8 | 198 | 4.40 | #20)
Although Langford is "the guy" for the Spartans in 2014, Hill shouldn't be dismissed as a viable NFL prospect and a player who could turn some heads when he gets his carries. Hill doesn't look like much, but his athleticism grabs your attention and it wouldn't surprise me if NFL scouts leave East Lansing with high marks and possibly draftable grades on him.
WR Tony Lippett, RS Senior (6-2 | 191 | 4.52 | #14)
The team leader in receptions a year ago, Lippett finished last season with 44 catches, 613 receiving yards and two scores and with Bennie Fowler no longer on the roster, the Detroit native is expected to be the top receiver for the Spartans. The Michigan State receiving crew lacked consistency last season, but Lippett has the talent to break through that negative suggestion.

WR DeAnthony Arnett, RS Junior (5-11 | 175 | 4.51 | #5)
A former four-star high school recruit, Arnett started his career at Tennessee, catching 24 passes as a freshman in 2011, but he transferred to Michigan State in summer of 2012 so he could be closer to his ailing father. Arnett had only three catches in 2012 and redshirted last year so the production has yet to match the hype, but coaches and scouts are expecting a big jump for him in 2014.
OT Jack Conklin, RS Sophomore (6-5 | 326 | #5.21 | #74)
A Freshman All-American last season, Conklin is still only a teenager, but he's on the NFL radar after a solid first season as the Spartans starting tackle. He walked on and redshirted in 2012 before starting 13 games last season, 10 at left tackle and three on the right side. Conklin has an overachieving mentality and refuses to be out-worked on the football field, in the weight room or in life in general.
DE Marcus Rush, RS Senior (6-2 | 245 | 4.68 | #44)
When William Gholston was at Michigan State, Rush provided a nice compliment rushing the passer on the other side. And with Shilique Calhoun now wreaking havoc on Big Ten passers, Rush is again providing cover fire from the other side. He enters his senior season with 27 starts under his belt and excellent career production (27 tackles for loss, 11 sacks) that helps his pro resume.
LB Taiwan Jones, Senior (6-2 | 25-0 | 4.83 | #34)
Michigan State has to replace two starters at linebacker and a pair of leaders from last year's No. 1 defense (Denicos Allen, Max Bullough), leaving Jones as the lone returning starter at the linebacker for the Spartans. He is expected to move inside to replace Bullough at MLB in 2014 and has the inside power and diagnose skills to break down the action and make stops.