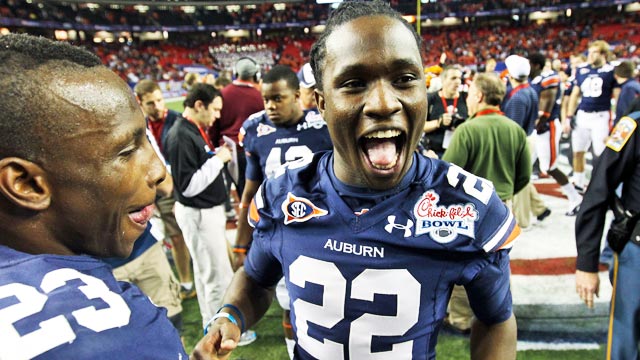 INDIANAPOLIS -- Onterio McCalebb has a simple but lofty goal at the NFL Scouting Combine: Wake up Sunday morning, thank God for the blessings in his life and this opportunity to work out in front of every NFL team, and then go out and run the fastest 40-yard dash time ever recorded here.
It may seem a bit far-fetched, as McCalebb, an undersized running back from Auburn, wasn't even originally scheduled to be at the combine, had to claw his way first to the Senior Bowl, and then earn a late spot on the invite list. But don't doubt him, his will or his desire. He's overcome far greater odds and obstacles to even reach this point, and he is singularly focused on making his dreams continue to come true.
"It's just a blessing to even be here," said McCalebb, whose family was torn apart by drug use, who was taken from his mother's custody in fourth grade, and who was homeless at one point. "There are a lot of people who don't have the chance to do this, to be here with every NFL team, and it's a blessing for me to be here."
But McCalebb is far from content just showing up. He's spent the last few months on campus in Auburn training intently, trying to harness his speed into beating the mark of 4.24 seconds set by Titans star running back Chris Johnson back in 2008.
More on NFL Combine
Columns

---

Related stories
"I want to be the fastest person to ever run at the combine," McCalebb said without a hint of boast, but with serious conviction. "I think I can do it."
To McCalebb, nothing but a time in the "low 4.2s" would amount to having a good day, and few players will have more riding on any particular event during this entire combine. McCalebb is very small (5-foot-10) and at 168 pounds he is the lightest player at the combine. Even with the league using more spread and pistol formations -- which McCalebb used with Cam Newton to help win a national championship at Auburn a few years ago -- he is tiny by any standard, which is why people I spoke to projected him to be taken on the third day.
Of course, if McCalebb accomplishes his goal on Sunday, then teams will look at him with renewed vigor and his stock will begin to rise. Speed. It's been perhaps the one constant in McCalebb's complicated past. He's always been speedy, faster than all the other kids.
"I have been fast all of my years, ever since I can remember," McCalebb said. At the high school games, back in Fort Meade, Fla., where McCalebb grew up but rarely returns now, when he and the other grade school kids gathered outside he always blew past everyone else, even the older kids.
But life was very tough.
McCalebb said he was taken from his mother's custody in fourth grade because of her drug abuse, and was raised by his grandmother for a spell. His father was not a part of McCalebb's life up until that point, but then helped raise him through middle school, though his father had legal problems of his own. With his father incarcerated, in high school McCalebb lived with teammates at times and also a family friend. There were times when a place to sleep and electricity were viewed as a luxury, and he endured this nomadic existence with the goal of one day getting out of Fort Meade.
"I went through a lot of tough things growing up," McCalebb said. "But I always wanted to follow my dreams. There was a lot of talk that I couldn't make it to college, or finish college, and I proved them wrong."
McCalebb began getting noticed after returning two kicks for scores as a sophomore, setting the Florida State record for return yards in a game and helping his team win a 1A title. As a senior he rushed for nearly 2,000 yards with 27 touchdowns.
Besides being a standout football player at Fort Meade High School, McCalebb was a track star, one of the dominant runners in the highly-competitive state of Florida. He was named the Lakeland Ledger Track and Field Athlete of the Year in both 2007 and his senior season of 2008. And he did this at a school with no real track facilities.
After commitments with West Virginia (where coach Rich Rodriguez bolted for Michigan) and Rutgers fell through, McCalebb became smitten with Auburn, spurning the large Florida schools closer to home, longing to get away. And he qualified fully, but then was unable to start school in the fall of 2008 on a technicality, when his test results failed to arrive by the Aug. 18 deadline.
"I was pretty upset when I heard about that, but at the same time, everything happens for a reason," McCalebb said. "God can be testing you at that time."
Staying around Fort Meade until January was not an option, and McCalebb did not want to go to a junior college, so he ended up attending Hargrave Military Academy in Virginia, 14 hours away. The Auburn coaches urged him to find somewhere to play, and he ended up "on lockdown," as McCalebb puts it, at Hargrove.
There was uber-discipline, every hour of the day accounted for with a strict schedule. There were no girls and any violations would be met with stiff penalties, like walking in circles for hours out in the sun. "You pretty much felt like you were in jail," he said. "But it teaches you discipline. It teaches you to be a man."
McCalebb excelled at Hargave, starring in football that season and enrolled early at Auburn, finally on a college campus. He leaves Auburn after his senior season, ranking 15th all-time in rushing for the Tigers, sixth in receptions by a running back, and his average of 8.5 yards per carry in 2010 stands as a single-season school record.
He fell in love with the campus and the people in the sleepy town, and favors life there with Samaria Terry, his girlfriend of two years who is still a student at Auburn.
"Auburn is a very special place," he said. "I'm so glad I chose to go there. I'm going to miss it ... I don't go back home too much. A lot of people back home are rooting for me now, but there are a lot of people back there too still hoping I don't make it, who never thought I could make it this far."
NFL teams will become more aware of McCalebb's story as the months progress toward the draft. His speed alone will land him on some roster, and from there McCalebb believes his fight and determination will carry him. All he wants is a chance, a chance that didn't seem possible not that long ago, and his message for NFL decision-makers is in many ways as simple as his goal here in Indianapolis.
"I have a nice personality," McCalebb said. "I'm a great kid that came from nothing, who is just trying to prove himself in the NFL and play the game I love. And I'll do anything to win."