The annual scouting combine gives talent evaluators their best opportunity for an apples-to-apples comparison of the top prospects in the country.
Some prospects, like Tennessee wide receiver Cordarrelle Patterson or Arkansas-Pine Bluff offensive tackle Terron Armstead, took full advantage of the opportunity to demonstrate their athleticism. Others, like Patterson's former teammate Da'Rick Rogers or Southern California wideout Robert Woods, impressed just as much in the interview process.
Of course, there were others whose workouts and interviews raised more questions.
The Big Board isn't a mock draft. There is no attention given to team needs or the selection order. It is simply a ranking of the 64 best draft-eligible prospects for the 2013 NFL Draft before we get consumed by the annual data overload from player workouts.
Underclassmen are denoted with an asterisk (*).
1. *Luke Joeckel, OT, Texas A&M: Having earned all-conference recognition all three years of his career, including first-team All-SEC honors and winning the Outland Trophy in 2012, the baby-faced Joeckel is already a proven star who is just going to get better as he grows into his frame. Before blasting Joeckel too much for running the 40 in 5.30 seconds, recall that the last offensive tackle to be drafted No. 1 overall, Jake Long, was timed at 5.22 seconds.
2. *Jarvis Jones, OLB, Georgia: In a draft in which everyone is projecting numbers based on upside, Jones actually produced. It was Jones, not Jadeveon Clowney, who led the country in sacks (14½), tackles for loss (24½) and forced fumbles (seven) and he accomplished this despite missing two games (Kentucky, Florida Atlantic) due to injury. Jones was similarly dominant in 2011, his first on the field for Georgia after transferring from USC. Some teams are reportedly red-flagging Jones due to spinal stenosis. Multiple teams I spoke with in Indianapolis, however, told me Jones passed their medical tests.
3. Eric Fisher, OT, Central Michigan: While Fisher was impressive vs. Michigan State and Iowa in 2012, scouts had some reservations until a dominating performance against top competition at the Senior Bowl and a stellar performance in Indianapolis. With the foot quickness, balance and length to be a blindside pass protector, it isn't out of the question to think the more physically mature Fisher could overtake Joeckel as the top tackle on some boards.
4. Chance Warmack, OG, Alabama: Warmack didn't do much at the combine but frankly he didn't have to -- he ranks among the safest prospects in the draft. Warmack has explosive functional power as a drive blocker and has the quick feet and balance to provide stellar pass protection, as well.
5. *Dee Milliner, CB, Alabama: Milliner emphatically put to bed any concerns about his straight-line speed in 4.37 seconds at the combine, answering the only question scouts had about his game. Tough, physical and with prototypical size (6-feet, 201) for the position, Milliner is the elite pass defender in this draft and a legitimate top-five candidate.
6. *Sharrif Floyd, DT, Florida: With so many talented defensive linemen playing in the SEC, Floyd didn't generate the buzz that his talents warranted until recently. Used predominately at defensive end a year ago, the 6-3, 303-pound junior was moved back inside to his more natural defensive tackle position in 2012 and stepped up his play, earning first-team all-conference honors with 46 tackles, including a team-high 13 tackles for loss. While his Gators lost the Sugar Bowl to Teddy Bridgewater and Louisville, Floyd was dynamic, sacking the mobile sophomore quarterback twice and showing scouts flashes of untapped potential.
7. *Cordarrelle Patterson, WR, Tennessee: Of this year's skill-position players, Patterson presents the biggest "wow" factor. In his first season at the FBS level, Patterson (6-2, 217) dominated the SEC to the tune of 154.83 all-purpose yards a game, easily the most of any player in the power conference. He'll need to show more of a work ethic in the NFL than he demonstrated at Tennessee but I listened to his interview at the combine with great interest and believe he may be ready.
8. Star Lotulelei, DT, Utah: All of the wrong kind of attention was heaped upon Lotulelei in Indianapolis when news broke that he may have a previously undisclosed heart condition. As such, the Pac-12 star's stock could rest in the balance of the medical grades teams give him. However, when you consider that Lotulelei posted 42 tackles, 11 tackles for loss and five sacks despite facing constant double teams (and quite a few triple teams), it is easy to understand why he ranked as my top senior defender all year long.
9. Jonathan Cooper, OG, North Carolina: More athletic than Warmack and proving considerably stronger in Indianapolis than many had given him credit for (35 reps at 225 pounds), Cooper is a legitimate top-20 candidate whose value is increased by the fact that he can also play center.
10. Lane Johnson, OT, Oklahoma: Having seen action at QB, DE and TE during his time at Kilgore Junior College (Texas), Johnson had already proven his athleticism. The 6-6, 303-pounder showed just how athletic he is at the combine, clocking in at 4.72 seconds in the 40 and registering a 34-inch vertical jump. With only two years at tackle, including just one on the blind side, Johnson isn't as polished as Joeckel or Fisher but may have even higher upside.
11. Ezekiel Ansah, DE, BYU: Having only played football for three years -- and starting just one season -- the native of Ghana is as raw as it gets. Ansah is also as physically blessed as any prospect in this draft, demonstrating remarkable straight-line speed (4.63 in the 40) and fluidity (4.26 seconds in the short shuttle), considering his 6-5, 271-pound frame. Proving athletic enough to handle converting to outside linebacker or staying at defensive end, Ansah could earn top-five consideration if teams are convinced he's committed to the game.
12. *Bjoern Werner, DE, Florida State: Blessed with a quick first step, heavy hands and surprising instincts given the fact that the German native has played just five years of American football, Werner (6-3, 266) is the surest of this year's talented defensive line class. He does not have Ansah's upside but is currently a more polished and productive player, having earned the ACC's Defensive Player of the Year in 2012 with 18 tackles for loss, including 13 sacks.
13. *Xavier Rhodes, CB, Florida State: Possessing remarkable athleticism to go along with a rock-solid 6-2, 210-pound frame, no defensive back in the 2013 draft is in greater position to capitalize on the NFL's recent preference for bigger, stronger cornerbacks to fit press schemes than Rhodes. He intercepted eight passes over his career despite opponents largely ignoring his side of the field the past two years.
14. *Sheldon Richardson, DT, Missouri: Measuring in slightly smaller than expected at 6-3, 294 pounds, Richardson slipped down my board but remains one of the more intriguing defensive tackles in the 2013 class. He's the only defensive tackle I saw all year long hold up to the awesome Alabama interior offensive line, recording a game-high 14 tackles in that contest. He finished 2012 just four tackles behind linebacker Andrew Wilson as Missouri's leader with 75 stops, leading all SEC interior defensive linemen in this category.
15. *Keenan Allen, WR, California: An exceptionally highly regarded prep prospect who originally was going to sign with Nick Saban and Alabama as a safety before joining his brother (quarterback Zach Maynard) at Cal, Allen has virtually all of the physical characteristics to be a No. 1 receiver in the NFL. He is not the same caliber of athlete as Tennessee's Patterson but is a more polished player who has drawn comparisons to Green Bay's Jordy Nelson and Baltimore's Anquan Boldin for his sneaky speed, reliable hands and toughness.
16. Desmond Trufant, CB, Washington: While lacking the size and physicality of Millner or Rhodes, the 6-foot, 190-pound Trufant showcased a blend of speed and fluidity in Mobile to arguably rank as this year's top cover corner. If the last name sounds familiar, it should. Both of his older brothers -- Marcus and Isaiah -- are already cashing NFL paychecks as cornerbacks with the Seattle Seahawks and New York Jets. Desmond, in fact, matched Marcus' time in the 40 exactly, clocking in at 4.38 seconds to solidify his first-round stock.
17. Tavon Austin, WR, West Virginia: Some questioned if West Virginia's spread offense made Austin look faster than he really was but in clocking in at 4.34 seconds in the 40 at the combine, he provided numerical proof of his game-breaking ability. Some will peg Austin as strictly a slot receiver at 5-9 and 174 pounds. I see him as a matchup nightmare capable of lining up at receiver, running back and returner.
18. Geno Smith, QB, West Virginia: Smith has all of the physical traits scouts are looking for at quarterback, as well as the work ethic to build upon them. He also improved his completion percentage and TD/interception ratio in each of his three starting seasons, culminating in a senior campaign in which he completed a sparkling 71.24 percent of his passes and threw 42 touchdowns against just six picks. Smith didn't always play with the anticipation one might expect given his statistics and was less than stellar in high pressure situations. This potential red flag was brought up again in Indianapolis, where Smith was good, but not great, in passing drills.
19. Matt Barkley, QB, Southern Cal: While Smith has higher upside, Barkley is the most NFL-ready of this year's QB class, having starred for four seasons in the Trojans' pro-style scheme. He needs to prove his health as a shoulder injury sidelined him for USC's final two games, kept him out of the Senior Bowl and from participating in the combine, but it is worth noting that he measured in bigger (6-3, 227) than Smith (6-2, 218), which surprised many. While Barkley's interceptions doubled in 2012, USC's pass protection wasn't nearly as reliable as it had been earlier in his career and he had to keep pace with a leaky defense that hemorrhaged points. Barkley lacks elite traits but make no mistake, he's a first-round prospect as he stands and should he dazzle at his March 27 Pro Day, he could easily wind up as the first quarterback selected in the 2013 draft.
20. *Barkevious Mingo, DE/OLB, LSU: Mingo has the frame (6-4, 241 pounds) and athleticism to warrant top-10 consideration, but at this point he remains a largely unpolished product who relies on his natural tools rather than technique to make plays. Given Mingo's upside, it is easy to imagine him terrorizing NFL quarterbacks off the edge as a multi-dimensional defender. Considering his relatively pedestrian numbers (38 tackles, 8½ tackles for loss, 4½ sacks) this season, as well as the struggles of other former highly regarded LSU defensive linemen in the NFL, the general manager who selects him that high is rolling the dice.
21. *D.J. Fluker, OT, Alabama: Anyone who watched the Tide dismantle a talented Notre Dame defense in the BCS title game knows that Alabama's offensive line, including Fluker specifically, plays with great power. As such, ignore the fact that he "only" posted 21 bench-press reps at the combine. The 6-5, 339-pound Fluker shows plenty of explosion where it matters ... on the field.
22. Datone Jones, DE, UCLA: A few years ago Jones, at 6-4, 280 pounds, might have been considered a 'tweener. With defensive coordinators forced to adjust to the rapidly expanding offenses of today's NFL, however, Jones ranks as an intriguing hybrid defender who can hold up against the run as a base defensive end while beating interior lineman with his quickness if moved inside on passing downs. Jones racked up an impressive 19 tackles for loss in 2012 and has been equally impressive at the Senior Bowl and combine since.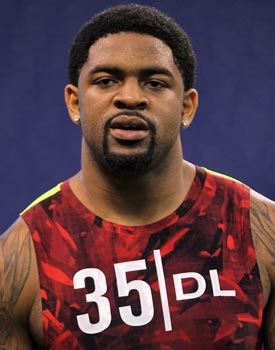 23. Jesse Williams, DT, Alabama:
With just 36 tackles, including 2½ for loss and a single sack in 2012, Williams' stat line isn't nearly as impressive as his combination of size (6-3, 323) power (30 reps) and straight-line speed (4.94). Experienced inside and out in the 3-4 alignment and projecting nicely at defensive tackle in a four-man front as well Williams is one of the safer, tougher defensive linemen in the 2013 draft.
24. *Damontre Moore, DE, Texas A&M: No player dropped further on my board due to his performance (or lack thereof) in Indianapolis than Moore, who proved both slower (4.95) and weaker (12 reps) than many of the prospects measuring much smaller than him (6-4, 250) at the combine. Moore has proven to be a playmaker at both defensive end and outside linebacker but the lack of preparation for the testing could be a sign that Moore's statistics were inflated by the Aggies' scheme and that he should have returned for his senior season.
25. *Tyler Eifert, TE, Notre Dame: With soft hands and excellent body control, Eifert is the prototypical security blanket and he eased concerns about his straight-line speed with a very respectable 4.68 time in the 40 at 6-6, 250 pounds. Eifert isn't the second coming of Jimmy Graham but he has the length and speed to be a challenging matchup and is experienced lining up wide as well as in the traditional in-line role.
26. Kenny Vaccaro, FS, Texas: Instinctive, athletic and tough, Vaccaro has many of the traits scouts are looking for, though he showed less than ideal speed at the combine (4.63) and isn't a natural ball-hawk. He does have the versatility teams need in today's game, as Vaccaro has starred as an in-the-box run-stuffer, single-high cover safety and even demonstrated the fluidity to handle nickel responsibilities. He carries some character red-flags, however, which teams will want to investigate.
27. Kawann Short, DT, Purdue: Snap-to-snap consistency has been an issue with Short throughout much of his career but he has also proven to be a natural playmaker, averaging 16 tackles for loss, 6½ sacks and three blocked kicks over the past three years. He then backed that up with a stellar week of practice at the Senior Bowl, legitimizing his first-round grade.
28. Dion Jordan, DE/OLB, Oregon: At a rangy 6-6 and 248 pounds, Jordan's length and explosiveness off the edge make him a matchup nightmare for opponents and he proved every bit the must-see athlete at the combine, as expected. Unfortunately, while this Jordan might be able to "fly" in shorts like Mike, he hasn't been as productive as his athleticism would indicate. Jordan struggled with various injuries throughout his career and this troubling tendency again arose at the combine where he announced that he would have to undergo surgery before the draft to repair a torn labrum.
29. Tyler Wilson, QB, Arkansas: Before the start of his senior season Wilson lost his head coach (Bobby Petrino) to scandal, his offensive coordinator (Garrick McGee) to another program (Alabama-Birmingham) and top three receivers to the NFL, so I'll excuse the fact that he wasn't quite as productive in 2012 as he was as a junior. He was impressive, however, during the all-important Senior Bowl practices and during the combine interview and throwing sessions. Wilson has the arm talent and both the physical and mental toughness to be a successful starter in the NFL.
30. *Robert Woods, WR, USC: Measuring in at a rock-solid 6-feet and 201 pounds and performing very well in the interviews and athletic drills at the combine, it was easy to see why scouts view Woods as one of the safest receiver prospects in this draft class. Woods isn't flashy but he's intelligent enough to handle playing virtually any of the receiver positions immediately, a rarity for a rookie.
31. Alex Okafor, DE, Texas: Despite being the obvious focus of every opponent's blocking scheme once talented teammate Jackson Jeffcoat was lost for the season with a torn pectoral muscle Oct. 13, Okafor earned first-team All-Big 12 accolades for the second consecutive season, posting a career-high 12½ sacks, including 4½ vs. Oregon State in the Alamo Bowl. Okafor showed better than expected burst off the snap and his trademark active, heavy hands to wreak havoc during Senior Bowl practices.
32. *Zach Ertz, TE, Stanford: Ertz proved to be quite a playmaker for the Cardinal but wasn't as impressive as I anticipated in Indianapolis, measuring in with shorter than ideal arms (31¾ inches) and proving less explosive (4.76 seconds in the 40, 30½-inch vertical jump) than his game tape indicated. His ability to threaten the seam keeps him just inside the first round on my board.
Second tier
33. *Johnathan Hankins, DT, Ohio State: In terms of pure talent, Hankins deserves to be ranked among the top 20 prospects in the country. Unfortunately, his motor too often appears to be in neutral rather than overdrive, something he didn't address well enough for my taste on or off the turf at the combine and is slipping down my board as a result.
34. *Kevin Minter, ILB, LSU: Instinctive and physical, Minter was the most dependable player on an LSU defense chock full of prospective NFL talent. With a 4.81-second time in the 40, I have reservations about his ability to remain on the field on third down in the NFL.
35. Larry Warford, OG, Kentucky: Overshadowed in this class by Warmack and Cooper, the powerful Warford is a legitimate top-50 prospect in his own right.
36. *Matt Elam, SS, Florida: An instinctive defender with a knack for making the big play in big games, everything about Elam's game is big ... except his 5-10, 208-pound frame.
37. Manti Te'o, ILB, Notre Dame: Te'o answered the tough off-field questions sufficiently for my taste but, like Minter, his lack of straight-line speed likely makes him a two-down run defender in the NFL.
38. *DeAndre Hopkins, WR, Clemson: A polished route-runner who plays with speed and physicality, Hopkins is earning first-round grades from some teams.
39. John Jenkins, DT, Georgia: Jenkins did not produce elite stats (50 tackles, two tackles for loss, one sack) but at 6-4, 346 pounds Jenkins certainly has the beef to clog running lanes and is experienced at both nose guard and defensive end in the 3-4 alignment.
40. Jonathan Cyprien, SS, Florida International: The ultra-physical Cyprien was dynamic in Mobile, erasing my previous concerns about his level of competition. A pulled hamstring in Indianapolis kept him from working out and thus, my concern over his straight-line speed remains.
41. *Eddie Lacy, RB, Alabama: Nursing a slightly torn hamstring, Lacy wasn't able to work out at the combine. If he can prove his speed at his March 13 Pro Day, however, he could join former teammates Mark Ingram and Trent Richardson as the top backs of their respective draft classes.
42. *Da'Rick Rogers, WR, Tennessee Tech: Rogers' significant off-field issues are a concern but he's clearly a first-round talent. I was impressed with the accountability he took in his interview at the combine and even more impressed with the all-around athleticism he demonstrated in timed drills and his positional workout.
43. Justin Pugh, OL, Syracuse: Whether he winds up remaining at left tackle or moving inside to guard, Pugh has the athleticism to go along with his 6-5, 307-pound frame.
44. Khaseem Greene, OLB, Rutgers: A safety turned linebacker, Greene is a turnover machine (played a role in 24 turnovers over his career), and a future NFL star as a 4-3 weakside linebacker.
45. *Alec Ogletree, ILB, Georgia: Ogletree has the athleticism to warrant top-15 consideration but his track record of inappropriate behavior is alarming.
46. *Eric Reid, FS, LSU: Terrific in run support but questionable instincts and fluidity could make him a liability in coverage in the NFL.
47. *Justin Hunter, WR, Tennessee: Hunter dropped too many big passes for my taste in 2012 but he's shockingly fluid for a 6-4, 196-pounder and could emerge as a Pro Bowl talent with greater concentration.
48. Phillip Thomas, FS, Fresno State: Thomas led the country with eight interceptions in 2012, returning three of them for scores. Instinctive and aggressive, he is the top ball-hawk of a strong safety class.
49. Johnthan Banks, CB, Mississippi State: Banks ran poorly at the combine (4.61) but has the length, physicality and aggression to be successful in a press scheme. His 16 career interceptions largely against SEC competition should not suddenly be forgotten because of a poor 40.
50. Cornellius Carradine, DE, Florida State: After tearing his ACL in November, 'Tank' Carradine will first have to prove his health to earn this lofty grade but the talent and effort on tape is enough to warrant taking the risk.
Just missed the cut
51. Margus Hunt, DE, SMU
52. EJ Manuel, QB, Florida State
53. Quinton Patton, WR, Louisiana Tech
54. * David Amerson, CB, North Carolina State
55. Arthur Brown, OLB, Kansas State
56. Sylvester Williams, DT, North Carolina
57. Terrance Williams, WR, Baylor
58. Terron Armstread, OT, Arkansas Pine-Bluff
59. Vance McDonald, TE, Rice
60. Markus Wheaton, WR, Oregon State
61. *David Bakhtiari, OT, Colorado
62. *Sam Montgomery, DE, LSU
63. Brandon Williams, DT, Missouri Southern
64. *Menelik Watson, OT, Florida State

Rob Rang is a Senior Analyst for NFLDraftScout.com, distributed by The Sports Xchange.