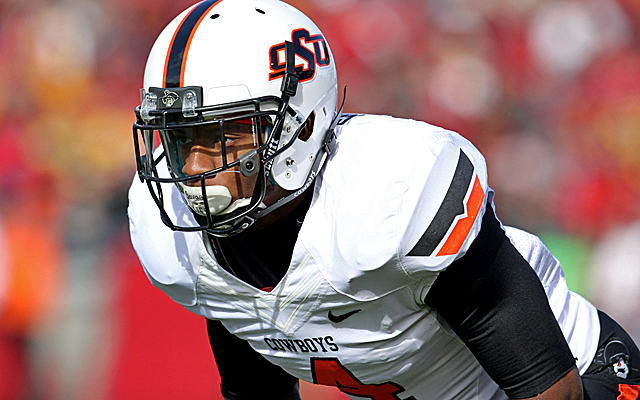 With quick-hitting passing attacks continuing to make a big impact on the NFL, defensive backs capable of blanketing receivers and tight ends have never been at more of a premium. The evidence is clear in draft trends, with seven defensive backs selected in the first round last April compared to only three two years prior.
The 2014 class appears to boast yet another bumper crop of defensive backs, highlighted by a strong group of senior cornerbacks including Michigan State's Darqueze Dennard, Oklahoma State's Justin Gilbert and TCU's Jason Verrett, and it could be enhanced by a number of highly regarded underclassmen (Ohio State junior Bradley Roby already intends to leave a year early, according to Buckeyes coach Urban Meyer).
The Big Board isn't a mock draft. There is no attention given to team needs or the projected selection order. It is simply a ranking of the 32 best prospects potentially eligible for the 2014 NFL draft. (* indicates underclassman)
1. DE Jadeveon Clowney, South Carolina (6-6, 268, 4.65)* -- Clowney has failed to live up to our astronomical expectations, but scouts aren't as concerned with his mediocre production as the media seems to be. When on the field, Clowney remains a dominating presence capable of making the game-changing play on each snap of the ball. He produced his best game of 2013 in a highly anticipated rematch with Tennessee left tackle Antonio Richardson on Oct. 19.
2. QB Teddy Bridgewater, Louisville (6-3, 220, 4.65)* -- In an era in which college quarterbacks' numbers are often inflated by short passes and relatively simplistic schemes, Bridgewater's sparkling production is due to Pro Bowl-caliber accuracy. His success (70.9 percent completion rate with 24 touchdowns against just three interceptions) comes out of a pro-style offense that forces him to make tough throws. Bridgewater's slight frame and level of competition are concerns.
3. OLB Anthony Barr, UCLA (6-4, 238, 4.73) -- A running back until last season, Barr exploded in 2012 to the tune of 21.5 tackles for loss and 13.5 sacks. He has had some flashy moments again this year but like Clowney, Barr hasn't been as good in 2013 as he was a year ago, struggling especially against Stanford and Arizona in recent weeks. Scouts rave about his work ethic and Barr is a terrific pass rusher, capable of beating tackles off the edge with speed and power.
4. QB Marcus Mariota, Oregon (6-3, 214, 4.52)* -- Only three redshirt sophomore quarterbacks have left early for the NFL over the past 23 years (Michael Vick, Tommy Maddox and Todd Marinovich), but Mariota's exciting skill set could force him to make a tough decision. He's blessed with a combination of size, speed and arm talent that compares favorably to San Francisco's Colin Kaepernick and he's much further along at a similar point in his collegiate career than the former Nevada star. Despite statistics that argue otherwise, however, Mariota isn't as accurate as Bridgewater and could improve his grade by returning for another season of college action.
5. OT Jake Matthews, Texas A&M (6-5, 305, 5.14) -- Any question about Matthews' ability to hold up at left tackle may have been answered with a dominating performance against Arkansas' speedy Chris Smith and Mississippi's powerful Robert Nkemdiche this season. The son of Hall of Famer Bruce Matthews, Jake proves the cliché true -- the apple doesn't fall far from the tree.
6. WR Sammy Watkins, Clemson (6-1, 200, 4.49)* -- Watkins was one of the few Clemson Tigers who appeared unfazed by Florida State's speed. Watkins accounted for nearly double the all-purpose yardage of any other Clemson player against the Seminoles, demonstrating the explosiveness and soft, reliable hands that help him project as a No. 1 receiver in the NFL.
7. OT Cameron Erving, Florida State (6-5, 310, 5.26)* -- Erving played in 13 games as a redshirt freshman defensive tackle, but looked like a natural when moved to left tackle a season ago. Long, balanced and athletic, he's a hidden factor in the dynamic play of freshman quarterback Jameis Winston and could enjoy a "quiet" ride into the top 10 of the 2014 draft just as former Texas A&M left tackle Luke Joeckel did a year ago while blocking for Heisman winner Johnny Manziel.
8. OLB C.J. Mosley, Alabama (6-2, 232, 4.56) -- While a bit undersized, Mosley might be the best pound-for-pound player in the country. Athletic and instinctive, he is a true three-down linebacker capable of making plays against the run and pass. Mosley lacks the bulk scouts want in a pass rusher but his awareness in coverage is special.
9. OLB Khalil Mack, Buffalo (6-3, 248, 4.66) -- With an eye-popping 56 tackles for loss, 18 sacks and 11 forced fumbles already on his résumé entering the 2013 season, rest assured that scouts knew Mack well. The best player outside of BCS schools, he stepped up with dominating efforts against Ohio State and Connecticut this year to establish himself as a legitimate top 20 prospect.
10. WR Mike Evans, Texas A&M (6-5, 225, 4.58)* -- Like his famous quarterback Manziel, Evans is just a redshirt sophomore, but he could have quite the decision to make after the season if he continues to dominate the SEC. Deceptively fast and possessing great body control as well as timing, Evans is an exciting split end prospect who reminds scouts of Tampa Bay Buccaneers star Vincent Jackson.
11. OT Cyrus Kouandjio, Alabama (6-5, 312, 5.12)* -- Some questioned the wisdom of moving Barrett Jones from left tackle (where he won the Jacobs Blocking Trophy as the SEC's best lineman) to center in 2012. The reason for the switch was Kouandjio, a physically blessed athlete who some have compared to former Redskins Pro Bowler Chris Samuels, the No. 3 overall pick out of Alabama in 2000.
12. QB Johnny Manziel, Texas A&M (5-11, 210, 4.45)* -- After the season scouts will poke holes in Manziel's grade due to less-than-ideal size and the distraction he may prove to be off the field. During the season, however, it is impossible not to simply marvel at his magical ability on it, including during his possible swan song at College Station, throwing for 446 yards and five touchdowns in a win over Mississippi State. Showing the same remarkable elusiveness as he did a year ago and improved arm strength, Manziel is a first-round pick whenever he elects to leave College Station.
13. OT Cedric Ogbuehi, Texas A&M (6-5, 300, 5.15)* -- Overshadowed by all of the talent on the Aggies' roster, Ogbuehi is an exciting prospect in his own right. A standout at right guard a year ago, Ogbuehi (pronounced ah-BOO-hee) stands to make a lot of money if he continues his stellar play at right tackle. The junior initially told the media he planned to return to College Station for his senior season, but missing two games with an undisclosed injury may have him reconsidering.
14. TE Eric Ebron, North Carolina (6-4, 245, 4.67)* -- Ebron doesn't get nearly the national attention of Washington's Austin Seferian-Jenkins or other highly regarded tight ends, but scouts are fascinated with his rare combination of size and speed. The UNC staff was so enamored with Ebron's athleticism and physicality that they lined him at defensive end at times last season. The junior needs polish, but is precisely the type of physical mismatch the NFL is looking for in today's tight end.
15. DE Trent Murphy, Stanford (6-6, 261, 4.85) -- Used as a standup outside linebacker as a well as a down defensive lineman for the Cardinal, Murphy is equally impactful in the passing game, running game and on special teams. Eight tackles, including 3.5 tackles for loss, 2.5 sacks, a blocked kick and a pass broken up against Oregon State on Oct. 26 earned Murphy my Top Prospect of Week Nine. Murphy projects best as a 4-3 defensive end.
16. TE Jace Amaro, Texas Tech (6-5, 260)* -- The NFL is looking for seam threats rather than extra blockers at tight end in today's game and there hasn't been a more impressive prospect in the country in 2013 in this role than Amaro. Scouts are beginning to mention the name Jimmy Graham when discussing the Red Raiders' junior, a comparison which could help catapult Amaro into the top spot among all tight ends by May.
17. WR Marqise Lee, Southern Cal (6-0, 195, 4.51)* -- A nagging left knee injury has hampered Lee for much of the 2013 season, robbing the reigning Biletnikof Award winner of his trademark elusiveness and acceleration. Finally healthy, he starred against Stanford Nov. 16, helping guide the Trojans to the upset win and solidifying his draft stock.
18. CB Darqueze Dennard, Michigan State (5-11, 197) -- The success of the Seattle Seahawks' long, physical press cornerbacks could push several into the first round, including Dennard an instinctive, tenacious defender who leads the top-rated Spartans' defense.
19. OG Cyril Richardson, Baylor (6-5, 335, 5.27) -- A dominating drive blocker who projects best at guard but spent the entire 2011 season protecting Robert Griffin III at left tackle, Richardson is massive, powerful and shockingly athletic. Scouts love Richardson's talent, but the extended splits in Art Briles' scheme fooled us before with former first round picks Jason Smith (No. 2 overall in 2009) and Danny Watkins (No. 23 in 2011).
20. OC Travis Swanson, Arkansas (6-4, 318) -- If Richardson is the elite interior lineman of the 2014 senior class, Swanson ranks as a close second. Athletic, powerful and versatile (some view him as a potential guard convert), Swanson will continue former Wisconsin head coach Bret Bielema's tradition of churning out quality NFL prospects along the offensive line.
21. OLB Ryan Shazier, Ohio State (6-2, 226, 4.58)* -- Shazier may be 10-15 pounds lighter than scouts would prefer but his instincts, speed and bone-jarring hits make him a fearful defender that offenses must account for on every snap. The Buckeyes' leading tackler and most consistent defender, Shazier stood out in their comeback win against Iowa.
22. DL Stephon Tuitt, Notre Dame (6-5, 303, 4.89)* -- Offseason sports hernia surgery may have played a role in Tuitt weighing 20 pounds more this season than a year ago, and early on the extra weight seemed to be slowing him. He has played much better of late, however, and is simply too gifted to fall far on draft day should the junior elect to leave South Bend early.
23. DT Ra'Shede Hageman, Minnesota (6-6, 311, 4.95) -- Blessed with an extraordinary combination of size and athleticism, Hageman could join Michael Brockers and Dontari Poe as recent big defensive tackles whose real rise up draft boards doesn't begin until the Scouting Combine. Hageman looked unblockable at times in Minnesota's Oct. 26 upset of Nebraska, logging two tackles for loss, including a sack.
24. CB Justin Gilbert, Oklahoma State (6-0, 200) -- In terms of size, agility and speed, no cornerback offers a more intriguing skill set than the Cowboys star. Gilbert ranks among the nation's leaders with six interceptions this season (through 10 games) and has returned just as many kickoffs for touchdowns during his time in Stillwater.
25. OT Taylor Lewan, Michigan (6-7, 310, 5.04) -- Possessing an impressive combination of size, strength and toughness, Lewan has earned comparisons to former Michigan standout Jake Long throughout his career. Lewan lacks elite athleticism, however, and some feel his NFL future lies on the right side.
26. DT Louis Nix III, Notre Dame* (6-2, 345)* -- Regarded as a potential top 10 prospect heading into the season, Nix has struggled this year. At least some of his struggles can be attributed to a knee injury, which Notre Dame head coach Brian Kelly said would require surgery following the season. After resting his knee against Air Force and Navy the past two games, Nix returned against Pittsburgh November 9 and enjoyed his best game of the year.
27. QB Derek Carr, Fresno State (6-3, 215) -- Carr's staggering production (69.5% completion rate, 32 TDs, four interceptions) is certainly inflated by head coach Tim DeRuyter's QB-friendly spread attack, but there is no denying Carr's talent, including his big-time arm. If Carr follows his older brother David's footsteps and lights up Senior Bowl practices (he has already accepted an invitation), he will erase any doubt as to the identity of the top senior quarterback prospect in the country.
28. CB Jason Verrett, TCU (5-10, 182, 4.49) -- Verrett lacks the size so en vogue in today's NFL, but agility and ball-skills never go out of style for cornerbacks. Verrett led the Big 12 with 22 passes defended and six interceptions in 2012. His stellar coverage (six tackles, two passes broken up) against Oklahoma on Oct. 5 earned him the Top Prospect of Week Six.
29. ILB Shayne Skov, Stanford (6-2, 245) -- I'll be the first to admit, I'm a sucker for instinctive, physical inside linebackers and that is precisely what Skov has proven himself to be over his distinguished career. While Skov may lack elite straight-line speed, his diagnosis skills, power and ability to make big plays have stood out in each of Stanford's biggest games this season.
30. CB Ifo Ekpre-Olomu Oregon (5-10, 190)* -- Lost in the hype of Oregon's offense are a number of highly regarded defenders, including Ekpre-Olomu, who combines great instincts, agility and physicality to shut down his side of the field. Ekpre-Olomu, who has seven career forced fumbles, is earning comparisons to long time Chicago Bears star cornerback Charles Tillman for his ability to tear the ball away from ballcarriers.
31. DT Will Sutton, Arizona State (6-0, 305) -- Perhaps due to concerns about how he would hold up in the NFL, Sutton gained weight for his senior season and hasn't been as dominant as last year, when he recorded an astounding 23.5 tackles for loss and 13 sacks. Though Sutton's production has tailed off (8.5 tackles for loss, two sacks through 10 games), some of this is due to the extra attention he has received after winning the Morris Trophy a year ago as the Pac-12's best defensive lineman (over Dion Jordan and Star Lotulelei, among others).
32. OLB Vic Beasley, Clemson (6-3, 235, 4.55)* -- Beasley led Clemson with eight sacks in limited duty as a sophomore and already has 10 in 2013. Like most of the Tigers, Beasley struggled against Florida State, the most talented team he'll face in the regular season. Beasley is similar to surprise 2012 first-round pick Bruce Irvin for his slim frame and explosive burst, but Beasley also flashes rather than dominates.
Just missed the cut:
WR Jordan Matthews, South Carolina
QB Zach Mettenberger, LSU
OG David Yankey, Stanford
WR Brandin Cooks, Oregon State*
CB Bradley Roby, Ohio State*
OT Brandon Scherff, Iowa*
DT Aaron Donald, Pittsburgh
DE OLB Trevor Reilly, Utah
TE Austin Seferian-Jenkins, Washington*
OT Antonio Richardson, Tennessee*
Rob Rang (@RobRang) is a senior analyst for NFLDraftScout.com (@DraftScout).