Eagles sign OT Demetress Bell to replace injured Jason Peters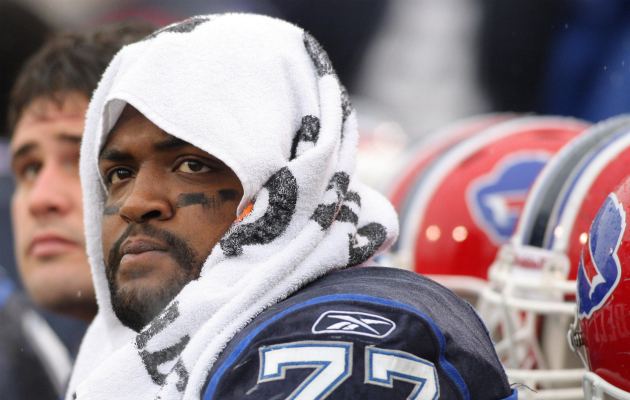 Bell could go a long way to helping replace Peters for 2012. (US Presswire)
With the loss of left tackle
Jason Peters
to a
ruptured Achilles tendon
--an ailment that could keep him out for much or all of 2012 -- and with the prospect of starting newly re-signed
King Dunlap
in his place, the
Eagles
obviously felt they needed to make an additional move to shore up the left tackle spot.
That's exactly what they did Wednesday, signing former Bills left tackle Demetress Bell to a five-year contract (Demetress, the team pointed out in its release, is the correct spelling, though he used to go by Demetrius).
While Peters was ranked No. 1 among all offensive tackles last season by
Pro Football Focus
, Bell was ranked 17th for 2011, a big-time improvement from his No. 51 ranking in 2010.
Bell only played seven games last season because of a shoulder injury, but he also was one of the best free agent options at tackle that remained on the market.
"We are happy to be able to add him to our squad," coach Andy Reed said in a statement. "We had a chance to meet him over the weekend and study him extensively on tape and we came away quite impressed with what we saw and heard. He's a great athlete."
Bell wasn't selected until the seventh round of the NFL draft, but he eventually became the full-time starter at left tackle, and he seemed to improve his overall game during the limited time he was on the field last season.
"Demetress is a guy we've followed since he joined the league," Eagles general manager Howie Roseman said. "He's a big, athletic left tackle and he has quite a few games of experience under his belt with
Buffalo
. He'll excel with our style of play on the offensive line."
But a five-year deal for a player who might only be a one-year replacement? If that sounds weird, it's because, if you take the five-year deal literally, it probably is (unless Bell somehow shows he's the top left tackle in the league). But as many have pointed out, it's impossible to know what the deal really is until we see the actual structure of the contract.
For the 2012 season, though, the deal, at this point, seems like a solid move. Even if we're still unclear on how to spell his first name and why he changed it.
For more NFL news, rumors and analysis, follow @EyeOnNFL on Twitter, and subscribe to our Pick-6 Podcast and NFL newsletter. You can follow Josh Katzowitz on Twitter here: @joshkatzowitz.