Report: Saints owner Tom Benson questioning his apparent heir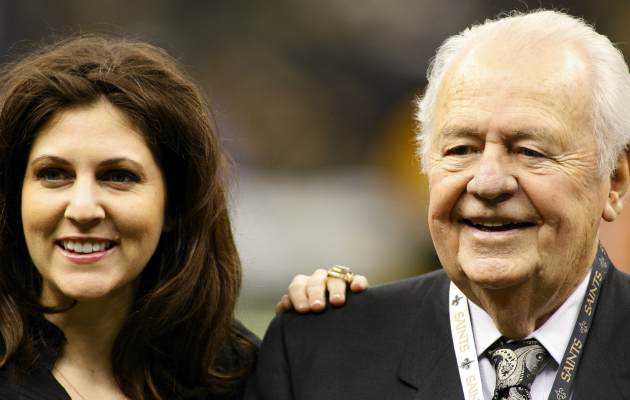 Is Rita Benson LeBlanc still in the plans to take over the for her grandfather, Tom Benson? (US Presswire)
The
Saints
organization is in turmoil (in fact, I used almost this
exact same lede
on Saturday) with coach Sean Payton suspended for 2012, general manager Mickey Loomis suspended for half the season, interim coach Joe Vitt suspended for six games, quarterback
Drew Brees
not willing to sign his franchise tag and a host of players that could (and probably will) be suspended.
Now comes word that the toxicity reaches into the owner's box, as the
New Orleans Times Picayune's
Jeff Duncan reports that Rita Benson LeBlanc, Saints executive vice president and heir to the team, is MIA. According to Duncan's sources, LeBlanc has been put on "some form of unofficial paid administrative leave, imposed by [grandfather and Saints owner Tom] Benson."
Considering LeBlanc is seen as the successor to the Saints franchise, this obviously raises plenty of questions. No. 1 being, what the hell is going on with New Orleans' top decision makers?
Apparently, the 35-year-old LeBlanc has raised question marks in her 85-year-old grandfather's mind with a pattern of behavior he deems unacceptable. For Benson, it's been a "pattern of behavior that needed to be corrected."
More from the paper:
Colleagues and co-workers are quick to compliment LeBlanc for her intelligence, creativity, energy and good taste. However, they're also just as quick to note her lack of focus and abrasive management style, citing the estimated 30 assistants she's gone through in her six-year tenure. She's developed a reputation for stalling projects internally, at Benson Tower and the Mercedes-Benz Superdome. Her penchant for drivers and world travel has irked colleagues and caused some to question her commitment to the job.

Some close to Benson say LeBlanc's sense of entitlement has been a source of conflict with her grandfather, a self-made billionaire from the hardscrabble 7th Ward who shuns the spotlight and still routinely clocks six-day workweeks.

"She's smart and has talent -- but she's just all over the map," said one source, who has worked with LeBlanc. "I think she really enjoys the glitz and glamour of being the owner, but she doesn't really roll up her sleeves and get into the business side of it."
You really should read the rest of
Duncan's article
, if only to wonder if LeBlanc can repair her reputation and get set to take over the Saints and the newly-bought NBA Hornets if and when her grandfather retires. But considering LeBlanc wasn't involved much with Benson's recent takeover of the NBA franchise, you have to wonder how long her road to forgiveness might be.
As Duncan writes, "it's fair to suggest the succession plan is on hold."
For more NFL news, rumors and analysis, follow @EyeOnNFL on Twitter, and subscribe to our Pick-6 Podcast and NFL newsletter. You can follow Josh Katzowitz on Twitter here: @joshkatzowitz.