Anthony Hargrove 'disappointed' at leaked doc; words 'grossly mischaracterized'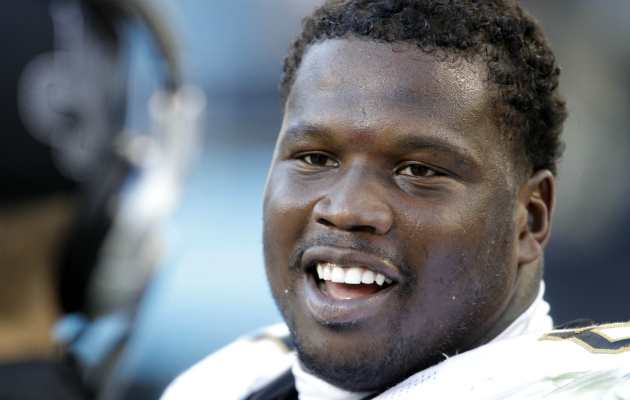 Hargrove's not too thrilled about his declaration getting leaked. (Getty Images)
Anthony Hargrove
got tagged
with an eight-game suspension from the NFL
for his involvement in the
Saints
bounty scandal. Hargrove appealed, but the bigger news is "The Declaration" he made to the NFL,
which leaked out into the public
, revealing that Joe Vitt and Gregg Williams instructed him to lie to the NFL.
Vitt
has since denied that he told Hargrove
to deny and on Wednesday, Hargrove spoke about the leaked declaration, saying he was "disappointed" and that the NFL "grossly mischaracterized" his words.
"I'm disappointed that 'the Declaration' was leaked,"
Hargrove said told ESPN on Wednesday
. "The intent of 'the Declaration' was to let the NFL know exactly what happened in March of 2010. Call me naive, but I did not expect them to publicize the fact that I had sent them 'the Declaration.' But since they did, and because they grossly mischaracterized my words, it obviously became a hot item and subsequently was leaked by someone.
"I do not know who leaked it, but I would have preferred for it to remain private between the NFL and me."
Obviously, the fact that Hargrove's declaration got out into the public wasn't something he wanted to happen. But it was also something that was almost
bound
to happen when it was mentioned in documents that were
publicly distributed by the NFL
.
And there is an argument that Hargrove's comments were misconstrued -- the NFL stated at the time of his suspension that Hargrove's declaration "established not only the existence of the [bounty] program at the Saints, but also that he knew about it and participated in it."
Hargrove's declaration doesn't explicitly say that. However, Hargrove repeatedly used the phrase "deny the existence of" with respect to the bounty program. Why would he be worried about denying the existence of something that doesn't exist?
And further, it's clear in Hargrove's declaration that he's pinning blame on Vitt and Gregg Williams -- Hargrove claims he was instructed to
deny the existence of any bounty or bounty program
-- and there's a clear implication that the two coaches, according to Hargrove, were attempting to cover up any potential bounty program.
So while Hargrove can be upset that the declaration leaked and that his statement potentially bridged a gap in the NFL's mind, the decision to send a signed, physical document into the NFL's office needs come with the understanding that it could potentially become public.
For more NFL news, rumors and analysis, follow @EyeOnNFL on Twitter, subscribe to our RSS Feed and subscribe to our Pick-6 Podcast and NFL newsletter. You can follow Will Brinson on Twitter here: @willbrinson.