Giants unveil Super Bowl rings and allow fans to pose with it on their fingers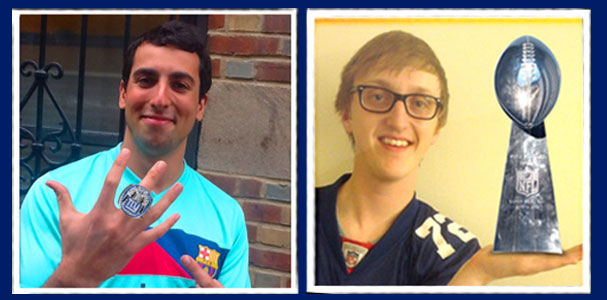 This is what it looks like for a fan to win a Super Bowl ring. (Giants.com)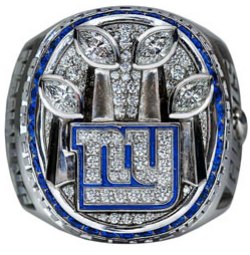 The Super Bowl ring. (Giants.com)
With the Giants set to receive their Super Bowl rings in a ceremony Wednesday night, the team is allowing its fans to pose with either the Lombardi Trophy or to try on some of the heavily-jeweled hardware -- virtually, of course.
As
the team website
informs us, fans can download the free GoldRun application to their mobile device and superimpose the ring or trophy around their own image.
So, fans can pretend like they're part of the team, even if they've done nothing more than contributing to the franchise's bottom line by buying season tickets and imbibing expensive beers.
"Giants fans are the best fans in the world and a tremendous part of our success," Giants senior vice president and chief marketing officer Michael Stevens said in a statement. "We're always striving to become pioneers in social media and to find new and interesting ways to engage our fans. What a cool way of allowing all Big Blue fans -- whether they're local or abroad -- to experience this special moment."
And in keeping the wheels of capitalism well-oiled, Giants fans also can "instantly purchase limited-edition Tiffany & Co. Super Bowl XVLI commemoratives, including
New York
Giants' logo cuff links and a set of crystal Riedel tumblers, through their mobile device."
So, there's that.
But the Giants who actually played on the field in 2011 are set to receive their non-virtual rings tonight, and the design (as you can see above) is perfect for defensive end
Justin Tuck
.
"When Tiffany brought (the design) in the last day, there was silence because everyone was thinking, 'Wow,'" Tuck said in a statement. "It really captured everything we wanted to capture in the ring."
More from Tuck: "We wanted it to represent the four trophies and have that feeling that you made the best ring that you could have made. I think we captured that."
For more NFL news, rumors and analysis, follow @EyeOnNFL on Twitter, and subscribe to our Pick-6 Podcast and NFL newsletter. You can follow Josh Katzowitz on Twitter here: @joshkatzowitz.