NFL owners could vote to mandate thigh, knee pads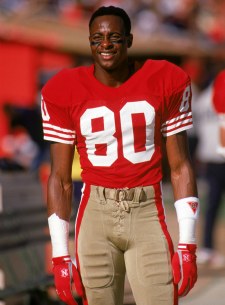 Check out the thigh pads worn by Jerry Rice before they were made voluntary in 1995. (US Presswire)
Watching old NFL films, a couple observations are evident immediately. The hairstyle that many of those players wore are ridiculous by today's standards, the facemasks seem laughably inefficient and players have pads covering their hips and legs.
Like the hair and the one-bar facemasks, the hip, thigh and knee pads have fallen out of fashion, especially for those who feel like they need extra speed (for example, receivers and defensive backs). It's not surprising then when those players come down with leg injuries that might have been prevented by taking the preventative measures that their forefathers did.
That, however, could change.

Fox Sports'
Alex Marvez reports that the NFL owners will vote this week during the owner's meetings in
Atlanta
on making thigh and knee pads mandatory for all players beginning in the 2013 season. Hip pads, though, still would be voluntary.
In order for the rule to pass, 24 of the 32 owners would have to vote in favor of the change. Like the new rules preventing concussions, it's doubtful the players would be in favor of changing the laws for safety, especially since the league made the wearing of leg pads voluntary in 1995.
The owners discussed the rule last August, but at the time, the proposal was tabled, meaning the players in 2012 will have the option to continue suffering unnecessary leg injuries for at least another season.
For more NFL news, rumors and analysis, follow @EyeOnNFL on Twitter, and subscribe to our Pick-6 Podcast and NFL newsletter. You can follow Josh Katzowitz on Twitter here: @joshkatzowitz.