Jaguars GM Gene Smith says no new contract for Maurice Jones-Drew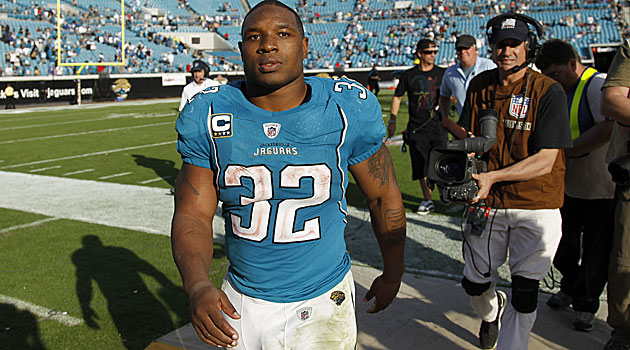 The Jags don't have any interest in giving MJD a new deal. (Getty Images)
Maurice Jones-Drew
, the NFL's leading rusher in 2011 and
the 19th-best player in the league according to Pete Prisco
, isn't currently participating in
Jaguars
activities.
As
Prisco reported in April
-- and as
Jags coach Mike Mularkey later confirmed
-- that's because MoJo wants to re-work his current contract, which has two years remaining. Jacksonville general manager Gene Smith, however, doesn't sound like he has any interest in doing that.
"He has expressed that he would like to renegotiate and we have expressed, again, that we feel he has a contract with two years left and we expect him to fulfill those obligations," Smith said,
per Tania Ganguli of the Florida Times-Union
.
Jones-Drew is set to make $4.45 million in 2012 and $4.95 million in 2013; as far as his worth among running back goes, he's certainly due some sort of bonus.
But it's also hard to expect the Jags to go out and break the bank on a player with some wear-and-tear, particularly when they have the leverage of fining him if he doesn't show up for mandatory offseason activities. Those fines -- which could total $60,000 if MoJo misses the entire minicamp -- are something that Smith said he'd support.
"That's a decision that certainly is the head coach's decision," Smith said. "And I would support that."
The Jags mandatory minicamp begins on Tuesday, so it's possible that MJD could start racking up fines pretty quickly. If the Jags hold him to those fines, it's also possible that this contract situation could become contentious fairly quickly as well.
Jacksonville desperately needs their star running back in camp and prepped for the season -- he's the only reason they even found the end zone in 2011, and losing Jones-Drew for any length of time could stunt the growth of second-year quarterback
Blaine Gabbert
.
Ultimately, though, Jones-Drew doesn't have a ton of leverage, considering his current contract status and the current trend of not giving workhorse backs with years of carries big-time money.
But, hey, on the bright side,
JAGUARING
.