Does Kim Kardashian have interest in Robert Griffin III?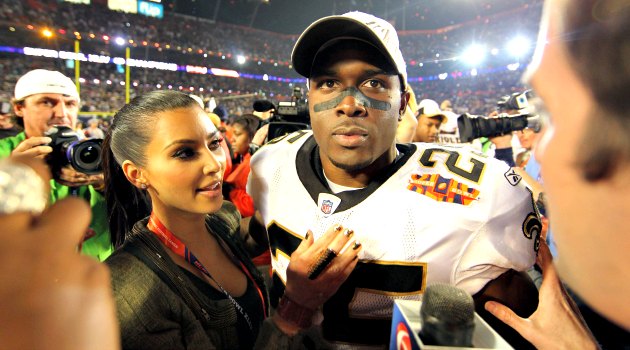 Kim Kardashian, shown here with former beau Reggie Bush, reportedly is on the prowl for RG3. (US Presswire)
Robert Griffin III had better watch out. Not just for defenders when he takes over the Redskins starting quarterback spot. No, for predators who are even more deadly. Namely Kim Kardashian.
According to 30 Rock executive producer Jack Burditt, who was on the Rich Eisen Podcast (h/t to the Washington Post), Kardashian was taping the season finale of that show in April when she happened to catch a glimpse of Griffin, who had just been taken No. 2 by the Redskins but had managed to make the live 30 Rock taping.
"She sat next to me while we were watching the show on the monitor and RG3 is a few seats down, and during the commercial break she starts asking me questions about him," Burditt said. "Like, 'Now he's a football player, right?' I'm like, yeah, yeah, yeah. And [Kardashian asks] 'And he just … something big happened, right?' And I'm like, well yeah, he just was the No. 2 overall pick tonight. [Kardashian asks] 'And what team?' Washington. [Kardashian asks] 'What's Washington?' Redskins. She goes, 'I don't know much about football, but, so what's his deal?' And I'm thinking, you stay away from him. This is a nice young man."
You will recall that Kardashian had a long-term relationship with now-Dolphins running back Reggie Bush and a short-term marriage to NBA player Kris Humphries that ended rather disastrously. Apparently, she also had a thing with Cowboys receiver Miles Austin (for a full dating history of Kardashian, click here).
So, what's the deal with RG3 -- who, by the way, is already engaged? And what's the deal with her lack of football knowledge?
"She wasn't quite sure who he was," Burditt said. "But her inner alarm was going off."
And as we all know, that's potentially even worse than having to face the Giants defensive line for four quarters.

For more NFL news, rumors and analysis, follow @EyeOnNFL on Twitter, and subscribe to our Pick-6 Podcast and NFL newsletter. You can follow Josh Katzowitz on Twitter here: @joshkatzowitz.