Report: Colts, Andrew Luck hung up on contract over marketing opportunities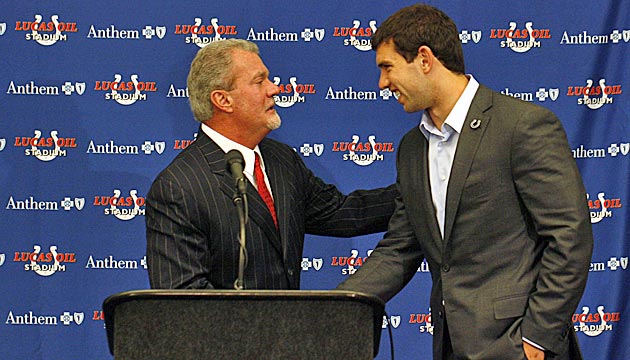 Is Indianapolis really trying to stifle Luck's marketing abilities? (US Presswire)
Though slightly more than half of the 2012 first-round draft picks have signed their rookie contracts, none in the top-eight have done so. That, of course, includes Colts quarterback Andrew Luck, who's looking to make slightly more than the four-year, $22.025 million deal that 2011 No. 1 pick Cam Newton signed with the Panthers last year.
But, as Sports Xchange's Len Pasquarelli explains it, the reason Luck and the Colts haven't agreed to terms doesn't have anything to do with what Indianapolis will pay him.
Instead, it's about how much Luck can make with marketing deals. As Pasquarelli writes, "One of the stumbling blocks in negotiations between Indianapolis and the top overall choice in the draft ... is the proposed inclusion of marketing language that Luck and his representatives, at least so far, regard as strident. One source with knowledge of the talks even suggested that Luck would 'have to clear' marketing proposals with the club."
Peyton Manning, also a No. 1 draft pick for the Colts who went on to become a huge poster-boy for a massive amount of different products, apparently didn't have that kind of clause in his rookie contract.
So, if all this is true, it seems unfair for Indianapolis to try to limit Luck's potential to make money on the side, especially with the rookie cap in its second year. At the same time, some in the Colts organization (according to Pasquarelli) believe that Manning was overexposed, which could be why the franchise is trying to exert some control over this matter.
All of this just makes the Colts look stingy and, well, controlling over the man who's supposed to be the next savior of Indianapolis.
UPDATED (9:41 a.m. ET; June 23): Here is Irsay's response to Pasquarelli's report.
As much as I respect my friend Lenny Pasquarelli;the"One Source"is completely wrong/We're close on #12 n final details unrelated 2 marketing
— Jim Irsay (@JimIrsay) June 23, 2012
It's ludicrous 2say we thought#18 was overexposed;he did a great job of focusing on football n "Branding"incredibly positive Image4Franchise

— Jim Irsay (@JimIrsay) June 23, 2012


For more NFL news, rumors and analysis, follow @EyeOnNFL on Twitter, and subscribe to our Pick-6 Podcast and NFL newsletter. You can follow Josh Katzowitz on Twitter here: @joshkatzowitz.