Former Vikings GM Mike Lynn, in sweetheart deal, making millions off Metrodome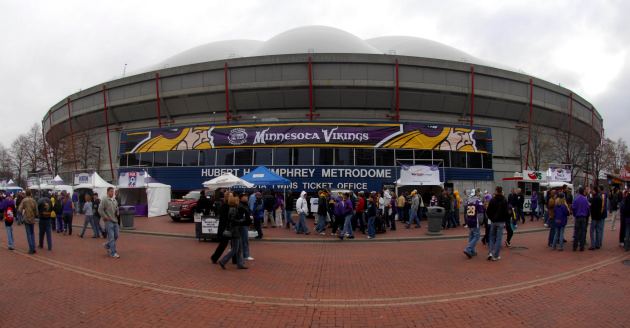 The Metrodome has been awfully good to Mike Lynn. (US Presswire)
When the Vikings move into their new stadium in 2016, at least one former Minnesota resident will miss the confines of the Metrodome. That's because he made a ton of money from a pretty sweet arrangement that has lasted the past 30 years and the past two decades since he left the team.
Make sure to check out this story from the St. Paul Pioneer Press, as author Brian Murphy tells the tale of how former general manager Mike Lynn continues to profit from the team, to the tune of millions of dollars, years after he left the organization.
As Murphy points out, Lynn is probably best remembered as the Vikings executive who dealt a rash of draft picks (seven) and five players to the Cowboys for the opportunity to employ running back Herschel Walker. Dallas went on to win three Super Bowls. Minnesota watched Walker gain less than 2,300 rushing yards in 42 games in parts of three seasons (he did score 20 touchdowns, though).
And while that deal didn't work out so well for Minnesota, Lynn made out fabulously when, early in his 15-year reign as the team's general manager, he negotiated a contract that gave him 10 percent of the luxury suites revenue for every event that occurs inside the Dome. That's not just football games, mind you. Any event that occurs pays him more money. Including University of Minnesota games, Twins games, high school contests, tractor pulls, concerts, etc.
The paper reports that Lynn has profited between $14 million and $20 million for the deal that began in 1982 -- and has continued the 22 years since he left the team. Until the Vikings take leave of the Metrodome after the 2014 season, Lynn will continue to earn between $750,000 and $1 million per year.
So, just how bad has this deal been for the Vikings (and conversely so damn good for Lynn)?
"It's one of the worst sports deals anybody ever did," Marc Ganis, president of Chicago-based SportsCorp consulting firm, told the paper. "You can't have somebody taking 10 percent of significant revenue clubs do not have to share with the league. It's untenable and one of the contributing factors for why the Vikings have needed subsidies from teams all these years."
Lynn apparently was offered a buyout from the deal at least once. Not surprisingly, he turned down that offer.
Make sure to read the rest of the story. It's an interesting and well-researched look at how sometimes the NFL owners are the ones who get screwed.

For more NFL news, rumors and analysis, follow @EyeOnNFL on Twitter, and subscribe to our Pick-6 Podcast and NFL newsletter. You can follow Josh Katzowitz on Twitter here: @joshkatzowitz.