Former Bucs G Arron Sears, 27, suffering from neurological problems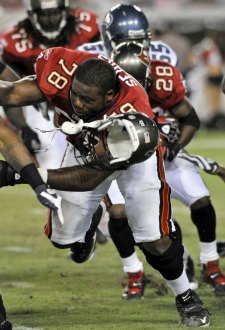 Sears is now under the guardianship of his parents. (US Presswire)
When Chris Henry died in December 2009, the posthumous study of his brain revealed some scary marks. As we told you in this June 2010 post, Henry's brain showed disturbing patterns of Chronic Traumatic Encephalopathy (CTE), and though he was only 26 years old and apparently never had a concussion at West Virginia or in the NFL -- though he did have two in high school -- he had sustained significant brain damage.
One researcher at the time said Henry's brain resembled that of an older person with dementia, and one had to wonder if the early onset of CTE contributed to Henry's often flighty behavior.
Now, the Tampa Bay Times updates us on Arron Sears, a former Buccaneers guard who was selected in the second round of the 2007 draft but lasted only two years before disappearing from the league.
This week, Sears' parents, Calvin and Henrietta Woods, filed a lawsuit in Hillsborough County, Fla., accusing the Buccaneers, the NFL and helmet manufacturer Riddell with being negligent and withholding information about head injuries. The Woods' are obviously not the first to take their cases to the courts -- more than 2,000 former NFL players have joined in lawsuits.
But it does highlight Sears' life these days. More from the Times:
It says Sears, who left the club in 2009, is experiencing "various neurological conditions … related to head trauma.

"Sears has almost total loss of function, is unable to care for himself and cannot take (care) of his day-to-day activities. Further, Arron Sears has extreme displays of temper and anger with the appurtenant risk of causing harm to himself and others."

The suit also says Sears, "sustained repetitive traumatic impacts to his head and concussions on multiple occasions while playing professional football."
The Buccaneers apparently first noticed a change in Sears' behavior after the 2008 season when he eventually stopped communicating. He returned home to Alabama to get the problem fixed, but he never received a diagnosis.
"Judging by the description of Sears in the suit, there has been little, if any, improvement in his condition," the Times writes. "He has repeatedly been taken into protective custody by police under the Baker Act (a Florida law that allows for involuntary examination at the behest of police, judges and mental health professionals) over the past two years and, according to the suit, is under the guardianship of his parents."
It is perhaps yet another reminded of just how brutal this game can be and how some players will experience a terrible post-career outcome -- even at such a young age.

For more NFL news, rumors and analysis, follow @EyeOnNFL on Twitter, and subscribe to our Pick-6 Podcast and NFL newsletter. You can follow Josh Katzowitz on Twitter here: @joshkatzowitz.