Christian Ponder has come 'light years' since last year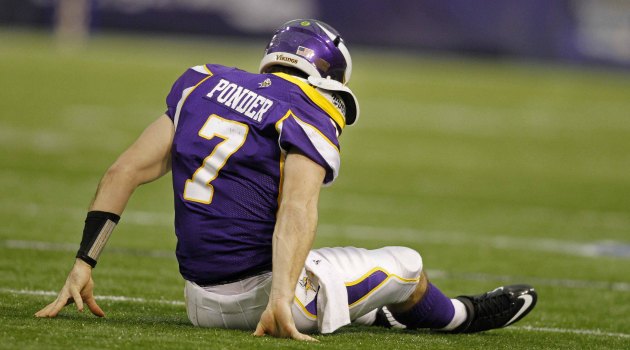 Christian Ponder apparently has improved 'light years' from last season. (US Presswire)
The idea that Joe Webb, despite standout performances in 2011 when he had to replace Christian Ponder, could compete for the Vikings starting job in 2012 has been upended. Coach Leslie Frazier said so last month. Therefore, it's good news what Minnesota quarterbacks coach Craig Johnson has seen out of Ponder lately.
Namely, a large improvement since the end of last season.
"I think there's no question, he's come light years," Johnson told 1500 ESPN. "Obviously getting a chance to work out a lot of the kinks, a lot of the problems that you find out as a young player, that's when you get a chance to work on them is usually in the first offseason afterwards. Having been through this with a couple of other quarterbacks, I kind of know how it goes.
"They go back (and say), 'I can't believe I did this,' or, 'Oh my God, this is so clear now.' You kind of have to put them through the paces for them to understand what's good and bad about each play. I think he's really done a good job with that. ... He's making the mistakes like other guys do, but as he's going through them he learns how to work through them and he's making many fewer mistakes because the game is starting to slow down. That's what you look for."
Though other rookie quarterbacks like Cam Newton (obviously) and Andy Dalton didn't seem to be affected by last offseason's lockout, the same couldn't be said of Ponder. He didn't begin the season as the starter -- that honor went to Donovan McNabb -- and once he became the No. 1 guy, Ponder struggled, completing 53.4 percent of his passes for 13 touchdowns and 13 interceptions.
Pro Football Focus ranked him No. 32 out of the 38 quarterbacks the site measured in 2011, and he was the fourth-worst in the league with a 70.1 quarterback rating.
So, yeah, plenty of room for improvement.
"You always look for your touchdown to interception ratio to get better because you're trying to make sure you make better decisions and don't try to force the ball and get the ball in there all the time," Johnson said. "... Hopefully you're completion percentage goes up and as you get more comfortable, those two things, along with your yards per attempt (goes up), because now you can hit guys more in stride."
But Johnson acknowledges Ponder could continue to struggle this year.
"We're going to try to lift him to another level and I think that's going to happen," Johnson said. "But he's going to still be a work in progress. It takes a couple, three years before you really find out about guys but we're definitely going to try to get him, and the rest of our team, to bring it up a notch this year."
And if Ponder can't, it's a decent bet Webb will be ready to take over.

For more NFL news, rumors and analysis, follow @EyeOnNFL on Twitter, and subscribe to our Pick-6 Podcast and NFL newsletter. You can follow Josh Katzowitz on Twitter here: @joshkatzowitz.