Doug Flutie supports short QBs trying to succeed in NFL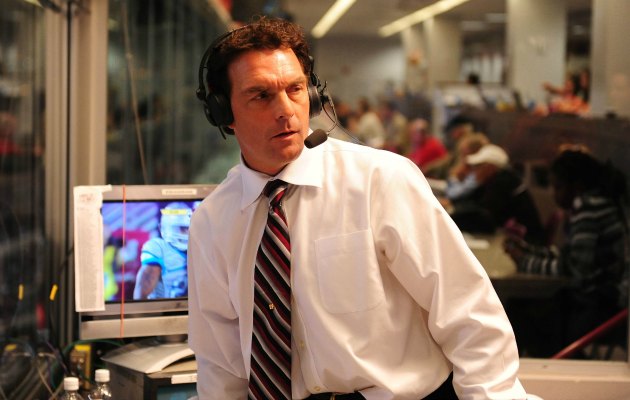 Doug Flutie never got past 5 feet, 10 inches. (US Presswire)
My all-time favorite question to Doug Flutie has to be, "So, Doug, how long have you been a short quarterback?" OK, I'm just kidding. That question was to Doug Williams on another topic altogether. Actually, I don't know of anybody asking Heisman Trophy winner that query when he played for 12 seasons in the NFL (and for eight years in Canada). But if Flutie is known for anything in his NFL career, it's how he found success despite being 5 feet 10.
And since there is a stigma against quarterbacks shorter than, say, 6-1 (and that includes 6-0 Drew Brees), Flutie has talked with and supports Seahawks rookie quarterback Russell Wilson (5-11) and empathizes with Lions rookie quarterback Kellen Moore (6-0).
After all, Flutie knows what they're going through, even if Brees is the one who's, um, risen above his own lack of height.
"Absolutely, I pull for Drew because he and I worked together for four years and I love Drew," Flutie told NFL.com. "Russell Wilson, I've actually been in contact with over the past few years. Would love to see him be successful. Kellen Moore, it's tough to doubt [him]. More than anything, I root for them to get a legitimate opportunity. And if things don't work out, they don't work out. But I just want to see them get a legitimate look."
Flutie had a respectable career in the NFL (and he's a CFL Hall of Famer), and hardly anybody sneers at Brees' height these days. Although Wilson will get a legit chance to earn a backup quarterback spot behind Tarvaris Jackson and Matt Flynn, the road will be tougher for Moore (his lack of arm strength also isn't a positive).
That makes Moore's dad mad. Especially considering his son went 50-3 in his college career at Boise State.
"Let's face it, the No. 1 job of a scout is to keep your job so you can feed your wife and kids," Tom Moore said before the draft. "If you pick a 6-5 quarterback and you make a mistake, you probably won't get fired. If you take a chance on a 6-foot quarterback, you're taking much more of a risk. ... If you take your thumb and forefinger and place them two inches apart, that's what you're basing a decision on. What would his draft situation be if he was 6-2?"
And because Moore and Wilson are not 6-2, they'll face the same problem Flutie had to manage. Having to perform well immediately.
"If he were the 6-4 guy who was a true pocket passer, drafted in the first round and the franchise decided this is our guy, then he goes out and loses his first three or four starts -- well, there is a learning curve involved," Flutie said. "And they have patience with him. And that's my frustration with it."
Because guys who are 5-11 don't get the same courtesy.

For more NFL news, rumors and analysis, follow @EyeOnNFL on Twitter, and subscribe to our Pick-6 Podcast and NFL newsletter. You can follow Josh Katzowitz on Twitter here: @joshkatzowitz.