Ten offseason transactions that could make a huge difference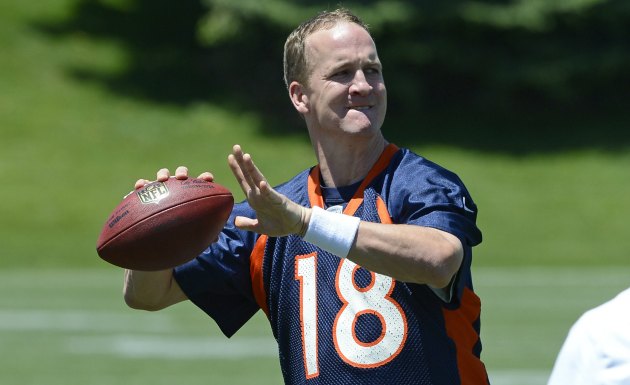 Manning will be, for better or worse, the most important transaction of the offseason. (US Presswire)
In preparation for 2012, we've already looked at the impact rookies, the best bargains and worst contracts, those who will take a step back, the top comeback candidates and the coaches most on the hot seat. So, what haven't we talked about?
Today is when we turn our attention to the most important transactions of the offseason. We're talking about coaches leaving for other jobs, coaches returning to old ones, legendary players leaving for new pastures (this doesn't include Tim Tebow, by the way) and good old-fashioned trades. Sometimes, teams just need one more piece of that puzzle to make a great work of art and maybe win a Super bowl. Maybe the following are just that piece.
Looking ahead to 2012
Related content
We all know Garrard isn't long for the starting quarterback job. Really, he might not even be there by Week 1. But with the news last week that first-round pick Ryan Tannehill hadn't yet put himself in a position to compete for the starting job, that leaves Garrard and incumbent starter Matt Moore. Sure, Moore was better than expected last season, and, yes, Garrard hasn't played in a year because of back problems. But if Garrard does take over the team, this acquisition could be fruitful for Miami. Garrard has been solid in his career, and he's a good guy from whom Tannehill can learn. Besides, he's only making $1 million guaranteed, a cheap veteran who should make the offense better.
Okay, this is already the second Dolphins pick in this post, but I promise that I'll deliver no more for the rest of the list (I won't even mention the hiring of coach Joe Philbin). But, like Garrard, Ochocinco is a cheap investment -- his one-year contract is worth $925,000 with other incentives -- so even if he flames out and proves that he's no longer an NFL receiver, this won't cost the team much. But if Ochocinco shows that his last couple of unfruitful years in the league were anomalies, he could again be a No. 1 receiver. Especially with this group, which lost Brandon Marshall to the Bears and features the underwhelming trio of Davone Bess, Legedu Naanee and Brian Hartline. At the very least, Ochocinco will bring some much-needed attention to his hometown team.
Tice should make Cutler feel happier than Martz ever did. (US Presswire)
8. Mike Tice, OC, Bears
With the way former offensive coordinator Mike Martz treated quarterback Jay Cutler last year (Martz didn't seem all that interested in keeping Cutler from getting killed by a porous offensive line) and with the F-bombs Cutler threw back at Martz, it was clear that Martz couldn't continue on as the man running Chicago's offense. Not if Cutler remained in town. So, Martz retired, and Tice was promoted from his offensive line coaching job. Tice has the experience, and though the offensive line was so bad early in 2011 that Cutler said on the record he wasn't sure he could make it through the season if he kept getting crushed, the line also improved throughout the year. Unlike Martz's theory that passing all the time is an awesome idea, Tice likely will rely more on running backs Matt Forte and Michael Bush. Which is probably good news for Cutler and his health.
7. Reggie McKenzie, GM, Raiders
Almost immediately after McKenzie was hired for this job, he began sweeping Al Davis' leftovers out the door, including Hue Jackson, who had been head coach in Oakland for a single season. What's evident in this move by owner Mark Davis is that the Raiders aren't simply going to worry about offense -- which is what Al Davis knew and loved (even if he did try to chime in on the defensive schemes). Instead, McKenzie hired a coach -- Dennis Allen -- who was a defensive coordinator in Denver and who indirectly made Tebow look extraordinarily good. The Raiders didn't draft until the third round this year, so it's up to McKenzie to begin turning around a team that surprisingly had a shot at the playoffs last season. So far, McKenzie is making sure everybody knows that this is his team.
Although Dallas selected Morris Claiborne with the No. 6 pick in the 2012 Draft, Carr is the most important cornerback the team will welcome into camp. He won a $50 million contract, and if he plays like it, Dallas will have a better chance at the NFC East title. Just how good has Carr been in a Cowboys uniform? "He's outstanding. I knew he was great, but the guy is special," said defensive coordinator Rob Ryan in May. Along with Claiborne, the Cowboys also expect to play with the disgruntled Mike Jenkins, and if that's the case, the Cowboys can go against divisional quarterbacks like Eli Manning, Michael Vick and Robert Griffin III and can figure their secondary will have a good shot at winning those battles.
5. Josh McDaniels, OC, Patriots
Since McDaniels left the Patriots following the 2008 season, he had a disastrous two-year run as the Broncos coach, winning five of his last 22 games before he was fired after Week 13 in 2010. Then, he spent 2011 with the Rams, where quarterback Sam Bradford regressed dramatically from his rookie season and the team ranked 31st in the league in yards and 32nd in points scored. That's probably why, when New England had an opening for their offensive coordinator, McDaniels didn't hesitate to return. But the Patriots had plenty of offensive success under former OC Bill O'Brien -- hey, New England nearly won Super Bowl XLVI with one of the worst defenses in the league -- and McDaniels' return to the Patriots might be a bigger deal to him than to the team. In 2010, the Patriots led the league in points, and last year, they were No. 3. It'll be a happy reunion for McDaniels and his former team, but it might also be an unnecessary one.
4. Jeff Fisher, HC, Rams
Lost in all the hoopla of the offseason Fisher Sweepstakes was the fact, though a number of teams were after Fisher following his one-year vacation, he really doesn't have a great coaching record. In 17 seasons with the Oilers/Titans, he was 142-120 (.542) and although that's obviously higher than the average, he has led his team to the playoffs only six times. But damn if he hasn't injected some excitement into the organization (minus, of course, the hiring of Gregg Williams as defensive coordinator), and although the Rams have a large talent gap to make up with the likes of the 49ers (though adding his old cornerback Cortland Finnegan will help), St. Louis should not be the second-worst team in the league next season. Fisher will have much to do with that.
3. Brandon Marshall, WR, Bears
Like anything associated with Marshall, the Bears trade for him is a risk. Not a huge one -- the Dolphins received two third-rounders -- but not a tiny either. And though he's had his off-the-field issues, Marshall is a top-flight receiver. As a full-time starter, he's never caught fewer than 81 passes in a season, and he's never gained fewer than 1,014 receiving yards. Only once has he caught fewer than six touchdown passes in a year. Plus, he's reuniting with former Broncos teammate Jay Cutler, so there will be familiarity. Even if, as we mentioned above, the Bears move toward more of a run-based offense, there should be opportunities for Marshall to be a big contributor in what should be another tough NFC North division.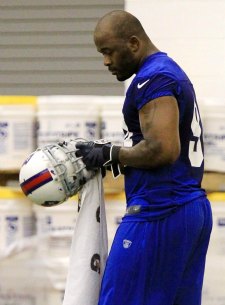 Williams is looking to make a big impact in the AFC East. (US Presswire)
The Bills, after years of being badly overshadowed by the Patriots and Jets, took a major step toward competing for the AFC East crown (or at least showing their fans that's what they want to do) when they plunked down $100 million over six years for Houston defensive end Mario Williams. Despite missing the final 11 games of 2011 because of a torn pectoral muscle, Buffalo clearly was ready to gamble that the form allowing the former No. 1 pick to get 53 sacks in six seasons would transfer to the northeast. Just look at the way the Bills courted him when Williams visited during the free-agent period. Simply put, Buffalo officials would not let him leave the city, and two days after he arrived, Williams was filling his bank account, making some lucky quarterbacks wipe their brow (Aaron Rodgers tweeted, "Congrats to Mario Williams signing in buffalo... far away from the NFC north, thanks big guy") and possibly jump-starting the transformation of the Bills to a playoff contender.
The most important free agent in two decades decided on Denver, and immediately, the Broncos became the favorite to repeat as AFC West champions. And with a defense that rapidly improved in the latter half of last year, Denver could be a contender for the AFC title. All because of Manning. If he's healthy, that is. Which we won't know until the games start. Only then, will we see how good/bad this move really was and whether Manning's five-year $96 million contract will be one of the worst an NFL team ever offered. Or if it was brilliant.

For more NFL news, rumors and analysis, follow @EyeOnNFL on Twitter, and subscribe to our Pick-6 Podcast and NFL newsletter. You can follow Josh Katzowitz on Twitter here: @joshkatzowitz.