Report: Brees won't report without long-term deal, sides $10M apart on guarantees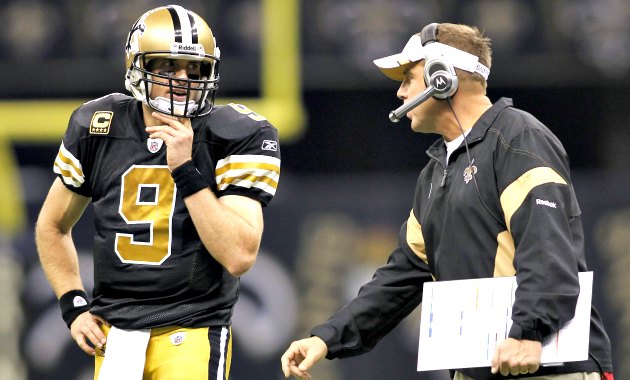 Sean Payton certainly won't be at Saints training camp, and Drew Brees might not be there as well. (US Presswire)
If Drew Brees doesn't get the long-term deal he and the Saints have been haggling over, one report says he won't sign his franchise tag and will not report to New Orleans training camp. And according to an Associated Press source, the two sides must close a significant gap in guaranteed money if there is to be a five-year deal worth roughly $100 million. The source told the AP that, as of Wednesday, Brees and the Saints were more than $10 million apart on guarantees.
On Tuesday, ESPN's Chris Mortensen reported that the Saints had offered a contract to Brees that would average $19.25 million per season, which would make him the highest paid player in history (Peyton Manning's deal with the Broncos averages $19.2 million per year).
But Mortensen writes that Brees wants $20.5 million per year.
The two sides have until Monday to strike a long-term deal before Brees has to play under the $16.6 million franchise tag. But if that doesn't happen and Brees actually holds out from training camp, there's no telling how long he'll stay away from the team.
A few weeks ago, Brees said he'd never sit out the season because he loves the game too much -- which, at the time, seemed to give away some of his leverage (I personally thought it meant that the two sides were close enough to a new deal that Brees saying that wouldn't make much of a difference).
During an appearance Wednesday evening at the ESPYs, Brees sounded hopeful.
"I'm an eternal optimist, so I'm still very confident a deal will get done by Monday," he said via NFL.com. But Brees also sounded realistic about the business side of his profession.
"I think I've been around this league long enough to understand how this works at times," Brees said. "In a lot of cases, it does go down to the wire, and you need a stopping point in order to bring everyone together and make sure it can get done. That stopping point is Monday, so let's hope we get something done by then."
According to Saints Rapid Reporter Larry Holder, the team hasn't heard from Brees' agent, Tom Condon, since early June after the Saints offered the latest contract.
With so much money on the table for Brees, it's hard to fathom any NFL player walking away from that kind of franchise-tag cash (thank goodness, though, that Brees does have other employment options).
Unless Brees really believes in the principle of this stand-off. And if that's the case, the Saints might have to choose between Chase Daniel, Luke McCown or Sean Canfield as the 2012 starting quarterback.
Hey, at least they'd be cheap.

For more NFL news, rumors and analysis, follow @EyeOnNFL on Twitter, and subscribe to our Pick-6 Podcast and NFL newsletter. You can follow Josh Katzowitz on Twitter here: @joshkatzowitz.