Inspirational Eric LeGrand retires from Bucs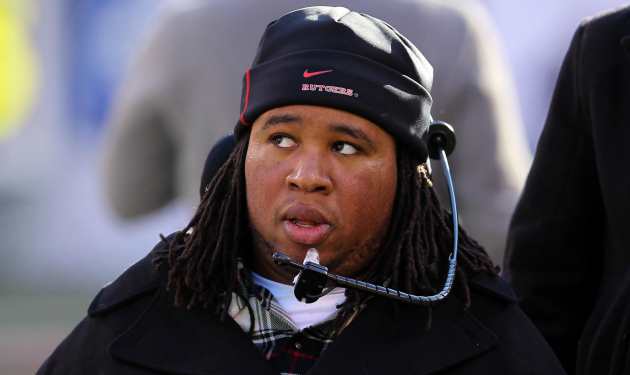 LeGrand was officially a member of the Bucs organization. (US Presswire)
What had become a very cool story -- perhaps the most positive one in an offseason that was marred with nasty news out of New Orleans and plenty of players arrested -- is now coming to an end. The team has announced that Buccaneers defensive tackle Eric LeGrand is officially retiring.
This day, we knew, was coming before the season began and the moment LeGrand signed his non-paying contract. LeGrand is the former Rutgers player who was paralyzed from the neck down in October 2010 after suffering a neck injury against Army. Though doctors originally told him he'd have to remain on a ventilator with the inability to walk, LeGrand began breathing on his own five weeks later. Since then, he's tweeted pictures of himself standing upright, and he can sit up by himself for long periods of time.
In what was a heartwarming move, his former coach at Rutgers, Greg Schiano -- now the man in charge in Tampa Bay -- signed him to a contract so LeGrand could make his NFL dream come true.
"My goal is to walk," he said in May after signing the deal with the Buccaneers. "I know it's going to happen. I believe this happened for a reason. My goal is to get back on my feet. I'm going to keep on fighting. I don't know when it will happen, but down the road, it will happen. If you believe in the man upstairs, anything is legit to happen."
Now, LeGrand will forever hold Tampa Bay in his heart.
"Making it to the NFL was my dream. But now I want to see my team as strong as possible at the start of training camp," he said in a statement. "I'm a Buc for life."
And here was his follow-up on Twitter.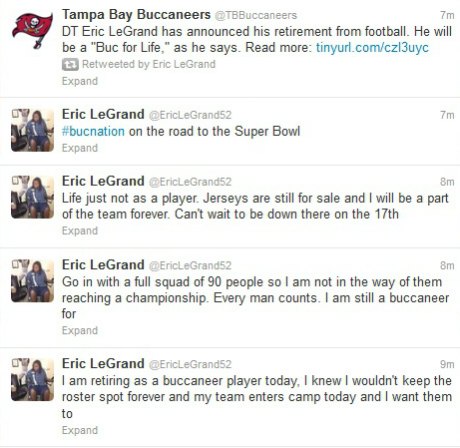 Though he's done as an official NFL player, here's hoping LeGrand can continue to inspire. And here's hoping one day he'll reach his biggest goal and walk again.

For more NFL news, rumors and analysis, follow @EyeOnNFL on Twitter, and subscribe to our Pick-6 Podcast and NFL newsletter. You can follow Josh Katzowitz on Twitter here: @joshkatzowitz.