Josh Gordon admits to 3rd failed drug test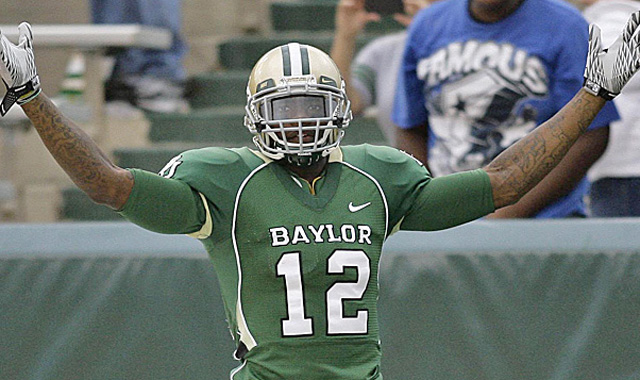 Gordon last played in 2010 before Baylor dismissed him for a marijuana charge. (Getty Images)
When the Browns took receiver Josh Gordon in the second round of the supplemental draft earlier this month, they knew he had been caught with marijuana at least twice in his college career (even Gordon said he had a "spotty background").
But Gordon also said that while he had tested positive twice while at Baylor, he had been completely clean during his time at Utah. Gordon admitted Wednesday that his statement wasn't exactly true.
"Yeah, there was a failed test [at Utah]" Gordon admitted to the Cleveland Plain Dealer. "But definitely something I want to get past. Coming out here, I have a new experience, a new foundation to get started and I don't really plan on looking back in the past anymore. I only look toward my future."
In case you're interested in the past as well, here's the lowdown. Gordon admitted to two failed drugs tests: one occurred in October 2010 and the next happened nine months later. He transferred from Baylor to Utah where he had to sit out because of NCAA transfer rules. Then, despite telling the media he stayed clean at Utah, he actually failed another drug test.
Now, though, Gordon promises to be clean, and coach Pat Shurmur believes in him. As does general manager Tom Heckert, who said in the past that he "talked to a zillion guys at both Baylor and Utah" and nobody had a bad thing to say about Gordon.
"We don't expect that to happen again and when we go through the process of deciding that we are going to draft this player, we have to come to the conclusion that we feel like this is behind him,'' said Shurmur.
"Now, I will say this and it may apply to you, me, everybody, people have things that happen in their background, some adversity and I think it's fair to say that if they can overcome that it makes them stronger in some ways. We anticipate that this will not be an issue, we are going to watch it closely and I think he understands how important it is to be a good teammate and be a good pro. That being said, I hope we don't have to discuss it anymore."
If Gordon actually follows through and stays drug-free, Shurmur's wish likely will come true. But if there's another positive drug test in the future, the second-round selection by the Browns will look awfully naïve. And there will be plenty to discuss.

For more NFL news, rumors and analysis, follow @EyeOnNFL on Twitter, and subscribe to our Pick-6 Podcast and NFL newsletter. You can follow Josh Katzowitz on Twitter here: @joshkatzowitz.