Connor Barwin gets a haircut, defends his jorts
You might remember the Cosmo Kramer hair that Texans linebacker Connor Barwin sported last year. If not, here's a reminder.
Kramer vs. Barwin.
Now, as the 2012 training camp gets under way, Barwin is taking his follicle growing on a different adventure. Basically, he's going the way of his coach Gary Kubiak. Here's what we're talking about: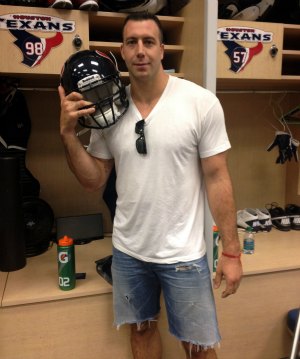 Barwin's going high and tight. (Houston Texans)
Barwin is actually calling his new 'do the "Kubs Cut" in honor of Kubiak.

"I got my high-and-tight flat top for training camp," Barwin said, via the team's official website. "This is a Gary Kubiak-inspired haircut, so I can't wait for him to see me."
Don't expect the haircut to last long, though.
"The guy was cutting my hair and he literally was like, you look like a completely different person," Barwin said. "(But) this haircut's only training camp. Once it grows back up, it's going back to how it used to be."
All of which is fine. The haircut looks decent enough, but that's not what struck me when I first glanced at the picture. My first thought: what the hell is going on with those cut-offs?
Barwin's response:


@Tommy_G @joshkatzowitz I'm all about sustainability

— Connor Barwin (@ConnorBarwin98) July 27, 2012


My initial thought: efficiency doesn't outweigh such a fashion no-no. Luckily for Barwin, his agency came to the rescue.
Jorts r the new black josh RT @ConnorBarwin98 @Tommy_G @joshkatzowitz I'm all about sustainability

— Shawn Smith (@1stLadyXAMSport) July 27, 2012

A questionable point, but if Barwin pulls off another 11 ½ sack season, I suppose he can wear whatever he wants.

For more NFL news, rumors and analysis, follow @EyeOnNFL on Twitter, and subscribe to our Pick-6 Podcast and NFL newsletter. You can follow Josh Katzowitz on Twitter here: @joshkatzowitz.