Clint Session still having post-concussion symptoms; worries about future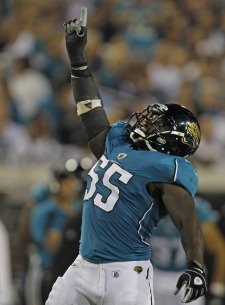 Session has continued to face symptoms from the concussions he suffered last year. (US Presswire)
In yet another edition of why the NFL (and its employees) need to be extra vigilant about making sure concussed players don't return to the game until they're absolutely symptom-free, we bring you the story of Jaguars linebacker Clint Session.
As the Florida Times Union writes, Session suffered two concussions in the same game last year (and three overall during 2011), and seven months later, he's still feeling the effects of those head injuries.
And yes, he regrets not telling anybody about the first head injury he sustained in that November game against the Browns.
"I kind of knew it was pretty serious, but I just figured, I wanted to win," Session said. "It was a big game. We wanted to win the game. I wanted to contribute. I just didn't want to leave the game. I ended up getting another one. I couldn't stand anymore, the trauma, so I went on out of the game."
As we wrote in April, Session "had a tough time sleeping, eating without becoming nauseous and controlling his headaches" two months after his final and season-ending concussion. He enrolled in a concussion treatment program at the University of Pittsburgh Medical Center, and immediately he began to feel better.
Until he went back to work at offseason workouts. That's when, with the classroom work and the physical labor, he began to feel symptoms again. Which is freaking frightening.
"They didn't know anything, they didn't know anything," Session said, referring to the Jaguars realizing he had suffered the first concussion that day. "It was one of those things I kind of shook off, like a lot of players do I'm sure. I think if I would have came out of the game on the first one, I probably would have been not in this situation that I'm in right now. It was two back-to-back traumas. I guess in that regard, I do regret that."
Session, as could be expected, still wants to play. This season, in fact. But he was asked if he was worried about the consequences of head injuries he's seen former players deal with after retirement.
"I think that is probably something that is already probably going to happen," Session said. "I can't control that. Probably too late for that right there."
In a word, Wow.

For more NFL news, rumors and analysis, follow @EyeOnNFL on Twitter, and subscribe to our Pick-6 Podcast and NFL newsletter. You can follow Josh Katzowitz on Twitter here: @joshkatzowitz.