Eagles WR Riley Cooper fractures collarbone; DE Jason Babin strains calf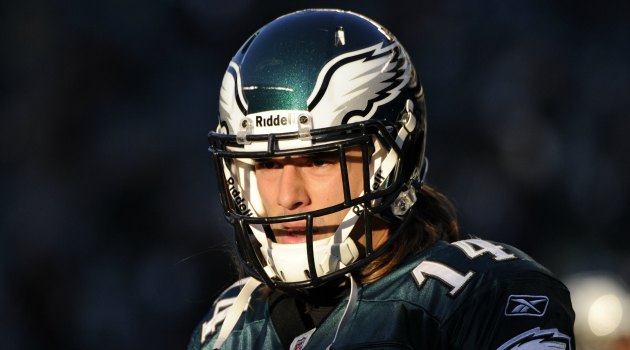 Cooper has suffered a fractured collarbone. (US Presswire)
UPDATE (July 29; 11:31 a.m. ET): The Philadelphia Inquirer writes that Eagles receiver Riley Cooper will have surgery to repair his fractured collarbone and is expected to miss six weeks. Meanwhile, defensive end Jason Babin should be back in a week with his strained calf.
Originally, Babin was supposed to undergo an MRI on Sunday morning, but that didn't actually transpire.
"He had swallowed a thermometer and you can't go through the MRI with that in your system," Reid said.
What Reid meant is that Babin swallowed a pill that takes the temperature of his body. If Babin had actually eaten a thermometer, he'd have more problems than just a calf injury.
----------
Eagles receiver Riley Cooper suffered a fractured collarbone in practice Saturday, the team said, and it appears he won't be ready to practice again for quite a while.
Meanwhile, in an injury that doesn't appear to be as serious, defensive end Jason Babin -- coming off his 18-sack season -- strained a calf muscle. He'll have an MRI on Sunday, but the team made sure to point out that the injury was not related to his Achilles tendon.
With 13 receivers on the roster, Eagles general manager Howie Roseman said, via the Philadelphia Daily News, that the team wouldn't make a move in order to replace Cooper -- who could be out until the regular season. Cooper hadn't had a big impact on the team offensively in his first two years in the league -- though he is key on special teams -- and going into 2012, he was looking to be the No. 4 receiver behind DeSean Jackson, Jeremy Maclin and Jason Avant.
The injury occurred when Cooper went in the air for a long pass and cornerback Curtis Marsh landed on him.
"He'll recover from it. He's had a very good offseason," Roseman said.
For more NFL news, rumors and analysis, follow @EyeOnNFL on Twitter, and subscribe to our Pick-6 Podcast and NFL newsletter. You can follow Josh Katzowitz on Twitter here: @joshkatzowitz.