Impressive in 1st practice, Ryan Tannehill thinks he's in mix for starting QB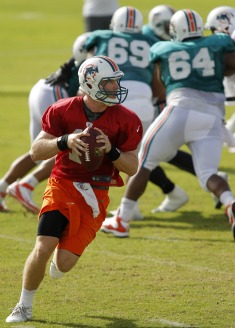 Tannehill got good reviews for his first training camp practice. (US Presswire)
Now that quarterback Ryan Tannehill has signed his contract and has begun to practice with his new Dolphins teammates, he's not interested in taking off his rookie year and treating it like a redshirt-type season.
No, Tannehill -- who, according to reports, took the majority of the snaps during Sunday's practice, albeit with the second team -- wants to be in the mix to start. It might be tough to beat out David Garrard, a longtime starter with the Jaguars, and returning Dolphins starter Matt Moore, but Tannehill is damn sure going to try.
"I feel like I'm in it," Tannehill said, via the South Florida Sun Sentinel. "I may be naive, but the coaches haven't given me any indication that I'm not so I'm going to go out there every day and do my best to win the job."
This report from early July says otherwise, but whatever.
If Tannehill feels like he's in it, there's no reason not to believe him. And a day after signing his four-year, $12.688 million contract and after getting only five hours of sleep, he seemed to perform well at practice. Even though defensive coordinator Kevin Coyle's practice plan was to work on a variety of blitzes, which made head coach Joe Philbin a little nervous in regards to his No. 8 pick, Tannehill impressed his old head coach (at Texas A&M) and new offensive coordinator (in Miami).
"I thought he'd be a little rusty today, but I thought he was pretty much on task on just about everything he did," Mike Sherman said. "He didn't seem to miss a beat. Obviously, he's been working hard here with the receivers all summer on their own and throwing, so I think he was ahead of where I thought he'd be -- particularly after a long night and a tough couple of days."
But that wasn't the most exciting thing a Tannehill did Sunday. Nope, instead, it was newsworthy (and photoworthy, I imagine!) that Tannehill's better half was at the field and taking in all the action.

For more NFL news, rumors and analysis, follow @EyeOnNFL on Twitter, and subscribe to our Pick-6 Podcast and NFL newsletter. You can follow Josh Katzowitz on Twitter here: @joshkatzowitz.