Report: Joe Banner will join new owner Jimmy Haslam in Cleveland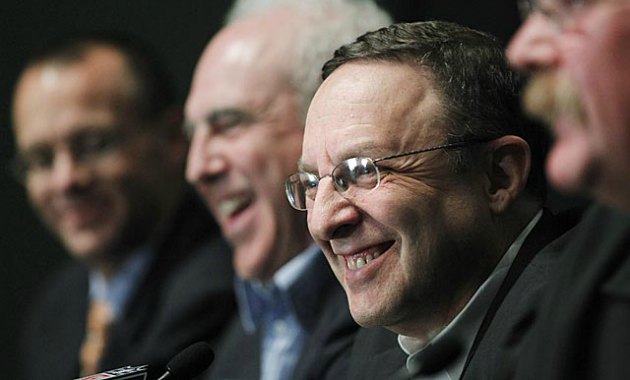 Joe Banner apparently will move to Cleveland. (AP)
One big question emerging from the impending Browns sale to Jimmy Haslam from Randy Lerner -- which could reach one … billion … dollars -- is whether former Eagles president Joe Banner would join the team.
And if that happens, what would happen with current team president Mike Holmgren?
It seems like we have the answer to that first question, as the Cleveland Plain Dealer is reporting that Banner WILL join Haslem in Cleveland when the sale is approved by the rest of the league owners.
Which doesn't sound good for Holmgren, who has reigned over the team since before the 2010 season and watched the Browns go 9-23 during his tenure. But considering we don't know when the owners will approve the sale, it's hard to know whether Holmgren, even if he's on his way out, will stay on for the rest of this season.
As CBSSports.com's Jason La Canfora reported, Holmgren could stay in Cleveland through the 2012 season if the sale doesn't go through until, say, October. Earlier Thursday, Holmgren touched on his future.
"Honestly, my focus is to have guys here concentrating on football, making it business as usual," Holmgren said. "The what ifs and hypotheticals, I have to stay away from."
Banner left the Eagles organization two months ago after apparently losing a power struggle to coach Andy Reid. He termed it differently, telling CBSSports.com's Clark Judge that he needed "something more intense and competitive and challenging" in his next job.
"What excites me," Banner told Judge, "is doing those things people think are hard or difficult. It's more about waking up in the morning and [asking], 'What are you doing the next 8, 10, 12 hours?' Are you excited about what you're doing? Is it challenging? Are you making a real difference? Are you taking something and turning it around? Are you taking something that maybe was headed in the wrong direction and getting it in the right direction? It's just about what drives me personally."
Turning around the direction of the Browns -- who have only one winning record in the past nine seasons -- certainly would qualify as a challenge.

For more NFL news, rumors and analysis, follow @EyeOnNFL on Twitter, and subscribe to our Pick-6 Podcast and NFL newsletter. You can follow Josh Katzowitz on Twitter here: @joshkatzowitz.