2012 Hall of Fame: Cortez Kennedy quietly makes his way into Canton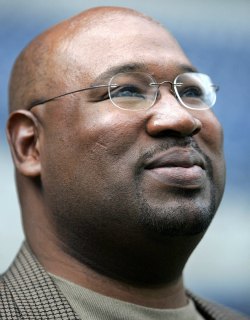 Kennedy only missed nine games in his 11-year career. (AP)
Since he retired in 2000 after an 11-year, eight-time Pro Bowl career, you haven't seen a ton of Cortez Kennedy. He's not a flashy network NFL analyst, and he doesn't make daily pithy observations on Twitter. No, he's a quiet man from a quiet town, and he's not looking to be a celebrity in his post-football life.
"I've got a street named after me, I'm in the Arkansas Hall of Fame, I've got my jersey retired, everybody knows me in my hometown," Kennedy recently told the AP.
That seems to be good enough for the dominant defensive tackle who was with the Seahawks for his entire career and who finished with 58 career sacks. In fact, he recruited some help to craft the Hall of Fame induction speech he'll give Saturday. His co-speech writers included Dave Pearson, the Seahawks vice president of communications, and Mike Sando of ESPN.com.
"The wonderful thing is that those guys know when I talk from the heart, I'm better," Kennedy said (via the Seahawks team website). "That's what I am going to try and do Saturday night, just speak from the heart, just look at my notes and just roll with it."
When he was just rolling with it during his career, he was a scary force.
He was the No. 3 draft pick in 1990, and after starting only twice in his rookie season, he took over a starting defensive tackle position the next season and never let it go (he missed only nine games in his career). In his third season, he roared to 14 sacks (an awfully high figure for an interior lineman).
Although the team was 2-14 that season, he was still named the league's defensive player of the year. In 1999, he had one last shining hurrah, recording 73 tackles, 6.5 sacks and two interceptions as the Seahawks went 9-7 and made the playoffs for the first time in more than a decade.
An impressive career, all with the same team.
2012 Pro Football Hall of Fame
Other inductees:
"I didn't want to go anywhere else," Kennedy said. "You know, I could have played for a couple other teams, but that Seahawks organization, ever since I was there until today, has just been outstanding. They treated me right and I know some of my teammates that played there, everybody likes to come back to Seattle. Like I said, players move around, I guess they get better contracts, but one thing I can say is that the Seahawks wanted me there."
So, what made him so darn good?
"What made Kennedy so difficult to stop [were] his low center of gravity, unexpected quickness and remarkable strength packaged in a 6-foot-1, 300-pound frame," the AP wrote. "If he was asked to hold the line on a running play, he would regularly eat up two or three potential blockers. But he could also rush the passer up the middle, a rarity for an interior defensive lineman."
Kennedy was a finalist three other times before he finally was voted into the Hall this year. With Kennedy's low-profile, you might not have noticed his absence anyway. But, even with his other accolades (the Arkansas Hall of Fame, for example) he also knows this latest honor is a special one.
"It," he told the Canton Repository, "is the icing on the cake of my football career,"



For more NFL news, rumors and analysis, follow @EyeOnNFL on Twitter, and subscribe to our Pick-6 Podcast and NFL newsletter. You can follow Josh Katzowitz on Twitter here: @joshkatzowitz.