2012 Hall of Fame: Jack Butler leaned on help from others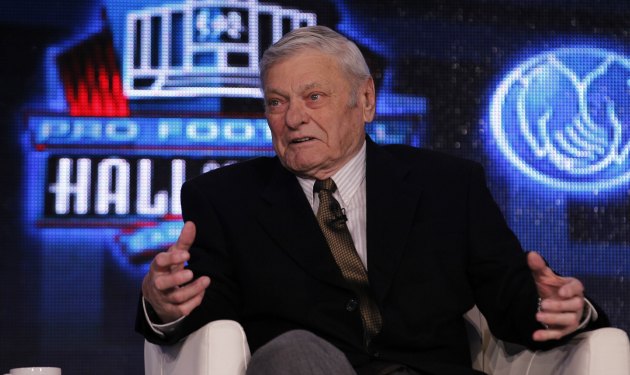 Butler didn't play high school football. (AP)
Jack Butler didn't seem destined for a career in pro football. He didn't play the game in high school, and though he was a standout in college at St. Bonaventure, he thought about becoming a Catholic priest. Either that or an electrician.
2012 Pro Football Hall of Fame
Other inductees:
Clearly, though, Father Silas Rooney, who was St. Bonaventure's athletic director and who happened to be the brother of Steelers founder Art Rooney, saw something in Butler and suggested he go out for the Bonnies football team. Turns out, that was a pretty good move.
By the time Butler retired from the NFL, he had played nine seasons, recorded the second-most career interceptions to that point with 52 and earned four Pro Bowl berths.
He didn't play in high school, manned a receiver position in college and didn't hear his name called out during the 1951 draft, but he became one of the best cornerbacks in the game's history. He was lucky, because even though he wasn't drafted, his old athletic director called his brother and told Art Rooney that he should take a look at Butler.
"If Fr. Silas had never called Mr. Rooney and said 'Take a look at this guy,' that would have been the end of it," Butler told the Buffalo News.
When he got to training camp in 1951, even though there were times he asked the Steelers to cut him, he made quite an impression, and soon after arriving, coaches moved him from receiver to defensive back.
"He hit so hard he would hurt himself," Art Rooney Jr. has said, via the St. Bonaventure website.
Obviously, it has taken Butler many years to reach the Hall of Fame (he was let in as a senior nominee), and that kind of delayed reward was a theme in his career. He didn't get his first Pro Bowl bid until 1955, after he aleady had recorded five interceptions in 1951, seven in 1952, nine in 1953 and four in 1954 (he had exactly zero picks in 1955). And remember, these weren't the Steelers of the 1970s. During Butler's time in Pittsburgh, the team went 48-57-4.
He seemed to get better as he got older, though, intercepting a career-high 10 passes in 1957 and nine more the next year. But late in the 1959 season, he suffered a bad knee injury against the Eagles, and he had to retire (he also later underwent 10 surgeries on that knee).
"I don't think it will really sink in until I get down there and take in the atmosphere," Butler said, via ESPN.com. "Then it will probably hit me. Right now, I don't know. I just know it sounds pretty good."
And not too bad for a guy who had to learn how to put on football pads by watching how the other guys in the St. Bonaventure locker room did it.
"I look back on my life, and I can't believe how fortunate I've been," Butler said, via the News. "I don't care where I was. Everything just seemed to fall into place, no planning, no nothing. Everything worked out. I don't know how or why, but I'm grateful."



For more NFL news, rumors and analysis, follow @EyeOnNFL on Twitter, and subscribe to our Pick-6 Podcast and NFL newsletter. You can follow Josh Katzowitz on Twitter here: @joshkatzowitz.