Cardinals QB Kevin Kolb leaves Hall of Fame Game with rib contusion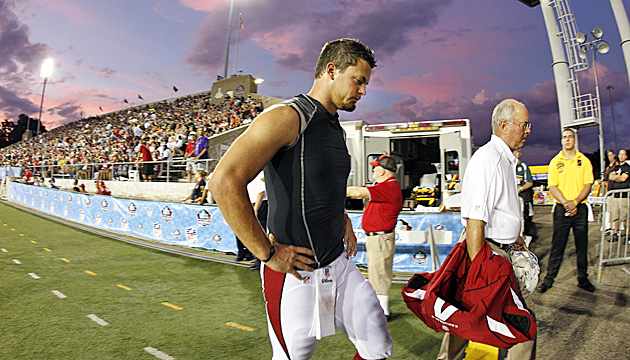 Kolb attempts only four passes Sunday before leaving with a rib injury. (AP)
Cardinals quarterback Kevin Kolb didn't last three series in Sunday's Hall of Fame Game against the Saints. Typically, that's how it works with starters during the preseason. They take a few snaps, make some handoffs, and complete a handful of high-percentage passes before heading to the sidelines for the night.
Latest Cardinals News, Notes
But Kolb, who was traded to the Cardinals last July and promptly signed a $63 million extension, threw an awful interception on his first pass of the game. And then, on the first play of Arizona's third drive, a first-and-10 from their own 12-yard line, Kolb was flushed right, avoided a sack in the end zone, and was able to complete a short pass to fullback Anthony Sherman. But the Cards quarterback was hit by Saints defensive lineman Sedrick Ellis as he got rid of the ball, and he stayed on the ground for several seconds after the play.

The replay looked like Kolb came down hard on his right arm or shoulder but was later diagnosed with a rib contusion. His night ended with a 1-for-4 showing for four yards and a pick. He was replaced by John Skelton, who is in the mix for the starting job even though coach Ken Whisenhunt said in June that "I want [Kolb] to be our quarterback, but I'm not going to ignore the fact that John Skelton worked pretty hard and did a good job in there when he was playing, too."

Kolb has never played more than nine games in a season, and he missed seven games a year ago because of various injuries. Skelton, who in 2011 helped lead the Cards to an 8-8 record after a 3-7 start, put up similar numbers to Kolb. The former threw for 1,913 yards, 11 TDs, 14 INTs, with a 54.9 completion percentage, while the latter went for 1,955 yards, including 9 touchdowns and 8 interceptions, and had a completion percentage of 57.7.

For more NFL news, rumors and analysis, follow @EyeOnNFL on Twitter, like us on Facebook, and subscribe to our Pick-6 Podcast and NFL newsletter. You can follow Ryan Wilson on Twitter here: @ryanwilson_07.