Cowboys exec Jones criticizes Morris Claiborne's injuries, tries to take it back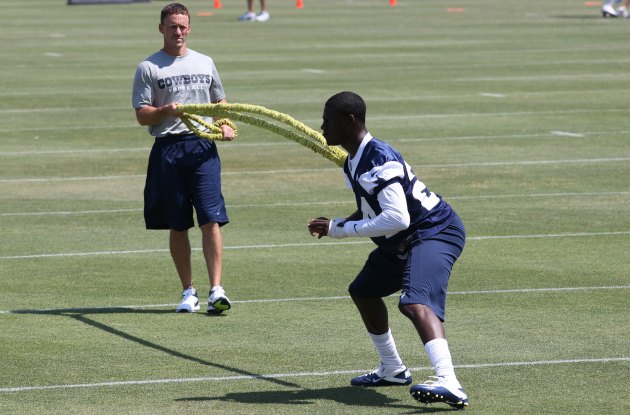 Claiborne has spent a lot of time in the offseason rehabbing his injuries. (US Presswire)
It's not often you hear a team executive apparently go out of his way to criticize the organization's most recent first-round pick a mere two weeks into training camp, but that's exactly what Cowboys executive vice president Stephen Jones accomplished in a radio interview Friday in which he seemed to wonder aloud about No. 6 overall pick Morris Claiborne.
Latest Cowboys News, Notes
"Mo Claiborne's got to get out there," Jones told KRLD, via the Dallas Morning News. "The times he's been out there, it's been impressive. But he certainly can't make the club in the tub, if you will. He's got to get out there. It's time. We got to start having a mentality that we're going to play through things."
So, um, wow.
Jones is right that Claiborne hasn't been seen much on the field (although the "club in the tub" cliche in this case is ridiculous). Claiborne had offseason wrist surgery that kept him out of rookie camp, OTAs and mini-camp. Earlier this month, he was diagnosed with a minor knee sprain, and after missing about a week, he returned to practice Thursday.
Still, that doesn't mean Jones isn't frustrated with Claiborne -- who isn't expected to play in the Cowboys preseason opener Monday but will not be cut from the team anytime soon.
"You don't ever see Jason Witten missing practice, and he's going on 10 [seasons]," Jones said. "He just won't miss. So, we got to have the young guys step up and play better."
Is Jones calling Claiborne soft, or is this just a little extra motivation to make sure Claiborne understands what's expected of him? Probably more of the latter, but still, Jones' comments illustrate the front office's feelings at this point.
On Saturday, though, Jones tried to control the damage (you can read more about that via Rapid Reporter Nick Eatman).


Steve jones was angry about how his comments about mo Claiborne were interpreted. He says he has no problems with mo.

— Clarence Hill (@clarencehilljr) August 11, 2012


And not only that:
Stephen jones used curse words to express his anger over how the mo comments were misconstrued

— Clarence Hill (@clarencehilljr) August 11, 2012
As we discussed last month, the Cowboys weren't screwing around this offseason when it came to revamping their secondary, picking Claiborne, signing Brandon Carr to a $50 million deal and not letting an aggravated Mike Jenkins walk away from the team (though Jenkins is out for the time being with shoulder problems).
In that division, a strong secondary could be one way the Cowboys could overtake the Giants, Eagles and Redskins, but if Claiborne isn't ready to play, the defensive backfield isn't quite as good.
Defensive coordinator Rob Ryan knows what he's got in Claiborne, even if he hasn't seen much of him in practice.
"Obviously, this guy's a unique talent," Ryan said in May. "We didn't move up in the draft to get a guy that's not going to play. We've got an outstanding guy here."
As long as he gets (and stays) on the field.

For more NFL news, rumors and analysis, follow @EyeOnNFL on Twitter, and subscribe to our Pick-6 Podcast and NFL newsletter. You can follow Josh Katzowitz on Twitter here: @joshkatzowitz.