Marvin Lewis called Rex Ryan, asked him not to use Wildcat offense vs. Bengals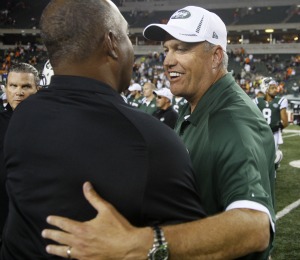 Rex Ryan and Marvin Lewis had an agreement before their teams' game Friday. (AP)
And now a word from the "OF COURSE NFL preseason games are competitive and fans shouldn't complain about being charged regular-season prices for contests that are exhibitions at best" department.
A day before the Bengals played host to the Jets in the preseason opener for both teams on Friday, Cincinnati's Marvin Lewis called his old pal, Rex Ryan, on Thursday morning to ask a favor. Don't run any Wildcat plays against the Bengals, Lewis requested. No problem, said Ryan.
The agreement was beneficial for both parties. Lewis most likely didn't want to prepare for it, and Ryan didn't want to give future opponents a hint of what it might look like (though we're all pretty sure Tim Tebow will have a big role in it).
While this pregame agreement might seem somewhat shady, it's the preseason … so, um, who really cares? And the phone call proved something else to Ryan. No matter how many critics attack the Wildcat scheme as a gimmicky and irrelevant, Ryan disagrees with the notion.
"I know nobody's worried about Wildcat and all that stuff. It's real easy to stop," Ryan said sarcastically, via the NY Post. "That's why I got a call at 7 a.m. the day before we played by Marvin not wanting to see the Wildcat. I guess I'm the only guy who thinks it has a place in the NFL, me and every defensive coach in the league."
We just might not see it from the Jets until the regular season begins.

For more NFL news, rumors and analysis, follow @EyeOnNFL on Twitter, and subscribe to our Pick-6 Podcast and NFL newsletter. You can follow Josh Katzowitz on Twitter here: @joshkatzowitz.