VIDEO: Chad Johnson bond set at $2,500; judge tells him to stay away from wife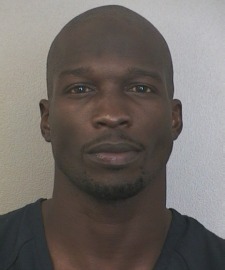 Johnson. (Broward County Sheriff)
Dolphins receiver Chad Johnson, arrested Saturday night on a domestic violence charge after allegedly head-butting his wife during an argument, appeared in Broward County court Sunday morning where his bond was set at $2,500.
Charged with misdemeanor battery and domestic violence, Johnson is expected to be released from the county jail within a few hours, according to a South Florida Sun-Sentinel report.
Judge Mindy Solomon also told him not to have any contact with his wife, Evelyn Lozado, until after this incident is resolved.
During his hearing Sunday morning, Johnson's lawyer, Adam Swickle, said, "Mr. Johnson has been a resident of the state of Florida for pretty much his entire life. He has no prior offenses, and essentially, we're asking for the court to set a standard bond."
The state asked for a bond of $5,000 or more.
"I think you're aware I couldn't discuss anything that I've discussed with my client. At this point in time we have no comment," Swickle told the Sun-Sentinel after the hearing.
The argument between Johnson and his wife allegedly started in their vehicle when they were returning from dinner. Lozada apparently found a receipt for a box of condoms. Lozada told police that as the couple argued, Johnson head-butted her, causing a laceration that needed to be treated. Johnson told police they accidently knocked heads.
"It gets pretty heated," Davie police captain Dale Engle told the Sun Sentinel. "By the time they get home here in Davie, it's pretty heated. She alleges he leaned over and head butted her. He says she leaned towards him and that they butted heads. Needless to say she has a good laceration on her forehead."
The Dolphins are scheduled to practice Sunday at 1 p.m. ET, but it's unclear whether Johnson will be there.
"We are aware of the situation and are in the process of gathering all the relevant information," the Dolphins said in a statement late Saturday night.
Below is the video from Johnson's brief court hearing Sunday (H/t Blacksportsonline.com).



For more NFL news, rumors and analysis, follow @EyeOnNFL on Twitter, and subscribe to our Pick-6 Podcast and NFL newsletter. You can follow Josh Katzowitz on Twitter here: @joshkatzowitz.