Steve Gleason says HBO misquoted him; network reportedly to change subtitles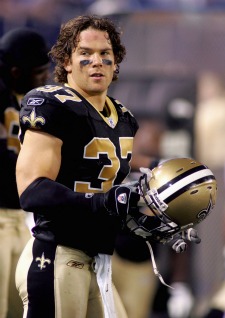 Gleason says he was misquoted, and HBO apparently ageres. (Getty)
Despite his arguments with documentary filmmaker Sean Pamphilon and whether it was appropriate for him, without Steve Gleason's permission, to release the infamous Gregg Williams pregame rant that helped bring down the Saints bounty program story, it was somewhat refreshing to read Gleason's comments about Williams' speech.
In an HBO "Real Sports" segment that will run Tuesday, Gleason said, "When [Williams] specified the other players' injuries, that to me, was over the line. … The real problem was no one seemed shocked. There was no discussion of, 'Wow, did we just hear that?'"
Or did Gleason really say that at all?
According to the New Orleans Times Picayune, Gleason is now claiming that HBO misrepresented his comments. In response, HBO will amend those subtitles.
"I feel I was misquoted," Gleason told the Times Picayune late Monday night. "I don't know if they misunderstood me because I don't speak that clearly or what, but they misquoted me."
When Gleason told HBO that "no one seemed shocked," he now says he wasn't referring to the team in general but only the non-NFLers that were with him. He also says he made that clear to correspondent Jon Frankel.
From the transcript obtained by the T-P:
Frankel: "Was there any discussion afterwards when the meeting was over and those players saw you? Did anybody say, 'Wow, that was kind of tough, Steve, I'm sorry you had to hear that?'"

Gleason: "No, the group I was with, no one seemed shocked."

Frankel: "Nobody seemed shocked to hear that come out of a coach's mouth?"

Gleason: "No, there was no discussion of, 'Wow, did we just hear that?'"

Frankel: "There was no discussion about that speech?"

Gleason: "No."

Frankel: "You're a bright guy. Do you think somehow you had been desensitized to the violence of the game?

Gleason: "Wait, I'm not sure what you mean?"

Frankel: "That, because you played the game at the highest level, that maybe even you, given your condition, had become sort of numb to the idea that coaches were advocating to kill the head?"

Gleason: "No. What I'm saying is that I was with people that never played in the NFL and those people never said anything to me about them being shocked. That's all I'm saying."
According to PFT, HBO will change the subtitles to reflect what Gleason said he meant.
Apparently, what Gleason said upset Saints fans. If he really didn't mean his interview as an indictment on his former team, hopefully his latest explanation will suffice.

For more NFL news, rumors and analysis, follow @EyeOnNFL on Twitter, and subscribe to our Pick-6 Podcast and NFL newsletter. You can follow Josh Katzowitz on Twitter here: @joshkatzowitz.