Again, Jerry Kramer denied by HOF voters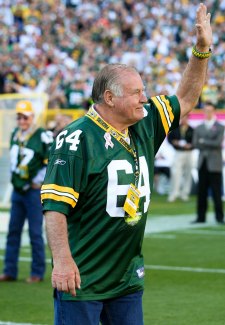 Once again, Jerry Kramer won't make the Hall of Fame this year. (US Presswire)
It's no secret that Jerry Kramer, Jerry Kramer's family and Jerry Kramer's fans want hunger to see him make the Pro Football Hall of Fame.
He's already been a finalist for the Hall 10 times, and though he's always fallen short, that hasn't stopped Packers supporters from around the country to continue screaming out Kramer's name (in support and, when he doesn't make the HOF cut, in rage).
On Wednesday, Kramer could have been nominated by the HOF's senior committee as one of two senior finalists for the full slate of voters to consider next February. As Joe Horrigan, the vice president of communications for the HOF, told NWCN.com, "Obviously he's still a rather strong and reliable candidate. My guess is that will continue."
Well, it won't continue in 2012, because the Hall of Fame announced the two senior finalists, and Kramer's name wasn't one of them -- instead, it's Packers linebacker Dave Robinson and Oilers defensive tackle Curley Kulp. Adding further insult to the injury, Robinson was Packers teammates with Kramer.
So, that'll be awkward at the next Vince Lombardi-era reunion of Packers greats.
There will be plenty of time to discuss the merits of Robinson and Kulp, but for now, it's difficult for Kramer's supporters to understand why he continues not to merit inclusion into the Hall. Especially after his daughter, Alicia, waged an online campaign to get her father nominated for the first time since 1997.
"He's been through this 10 times before and he didn't want to do it again," she recently told NWCN. "This has been something our family has been through. But he understands where I was coming from, and so he thought if I could drum up enough support, he would support me."
And if he didn't make it this time?
"Dad asked me if this doesn't happen this year then that's it," she said last month. "Let's not do anything else. Dad has never seen this support all at once from the Packers to Idaho. Whether this happens or not it's been a very good process for dad … This has been so emotional for me. Just seeing the support... I can't even imagine what it would be like in February. Just to see the smile on my dad's face will be reward enough."
And now that he hasn't made it?


Dad and I are going fishing. Thank you everyone for your support. Hope you will champion Dave Robinson. He deserves.

— AliciaE. Kramer (@JerryKramer4HOF) August 22, 2012
Dad said don't be sorry. We got more love in the last year than we got in the last 10 years :) We are thankful for it and all <3

— AliciaE. Kramer (@JerryKramer4HOF) August 22, 2012


For more NFL news, rumors and analysis, follow @EyeOnNFL on Twitter, and subscribe to our Pick-6 Podcast and NFL newsletter. You can follow Josh Katzowitz on Twitter here: @joshkatzowitz.