Texans DL Antonio Smith on Fins G Richie Incognito: 'A dirty player being let to play dirty'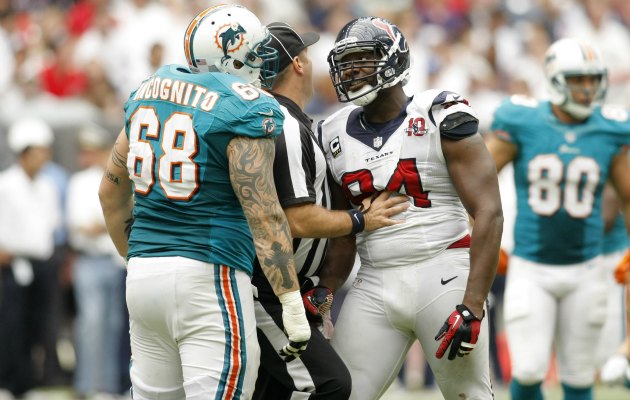 It certainly doesn't look like Antonio Smith was maintaining his cool against Richie Incognito. (US Presswire)
It's not surprising that players -- especially players on losing teams -- have complained about the replacement referees, but Houston's Antonio Smith put a new spin on the same old complaint. That's because the Texans defensive lineman blasted Dolphins guard Richie Incognito for being a dirty player and then blasted the fake refs for being too incompetent to stop it.
"A dirty player being let to play dirty … Ricky Incognito," Smith said, via the Houston Chronicle. "Everything that's illegal that can be done on the football field he does it, but mainly he was hitting people after the play, sliding down on your leg grabbing your ankle and trying to twist to break your ankle, and he was doing it right in front of the referees and he was still in the game."
Yes, there was speculation Smith got Incognito's first name wrong on purpose (for some reason). But Smith was not mistaken in his own mind about his beliefs that Incognito was indirectly aided by the replacement refs.
"It's the referees' job to stop him from doing it, because everything that I would do to stop him I would get a penalty for," he said.
Oh yeah? And what would that be?
"There were so many times that I would have loved to just be like hockey," Smith said. "Drop the helmets off, drop the gloves, go fisticuffs. We're men. Let's go at it."
Luckily for the Texans, Smith kept himself stable. Besides, Houston won 30-10, and there's an awfully good chance Incognito feels worse about that then Smith does about Incognito's alleged dirtiness.

For more NFL news, rumors and analysis, follow @EyeOnNFL on Twitter, and subscribe to our Pick-6 Podcast and NFL newsletter. You can follow Josh Katzowitz on Twitter here: @joshkatzowitz.