Raiders prove they should practice with backup long snapper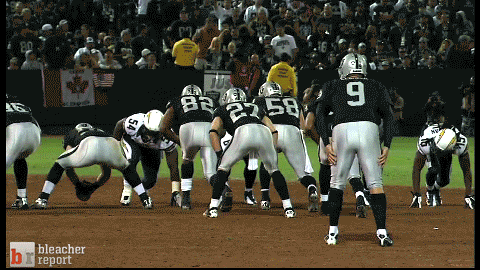 So, this is what happens when a team loses its long snapper, eh?
And by "this," I mean, a special teams disaster where an NFL team can't get off a simple punt. We talk about how brutal the replacement referees have been, but they've got nothing on the Raiders replacement long snapper.
That'd be Travis Goethel, a third-year linebacker who was thrust into the long-snapping role Monday night after regular snapper Jon Condo had to leave the game after taking an accidental knee to the helmet by a teammate.
On Goethel's first long-snapping attempt, he rolled a groundball to punter Shane Lechler, who couldn't field it cleanly and got swallowed up by the Chargers. The next attempt was fine by Goethel, but San Diego's Dante Rosario went up the middle and blocked Lechler's punt. The third attempt might have been the saddest: another ground ball, another unclean fielding, another punting failure.
The next time the Raiders faced fourth down, they just went for it. And with a defensive penalty, they converted the first down. Which leads us to believe that Oakland should have taken that approach the entire time.
In related news: the Raiders lost 22-14.
Unfortunately, Goethel's shortcomings weren't as hysterical as what James Harrison accomplished when he was pressed into emergency snapping duties a few years back for the Steelers.
Luckily, the Raiders fans took the Raiders' punting miscues quite well.




For more NFL news, rumors and analysis, follow @EyeOnNFL on Twitter, and subscribe to our Pick-6 Podcast and NFL newsletter. You can follow Josh Katzowitz on Twitter here: @joshkatzowitz.