Ken Whisenhunt's job safe for now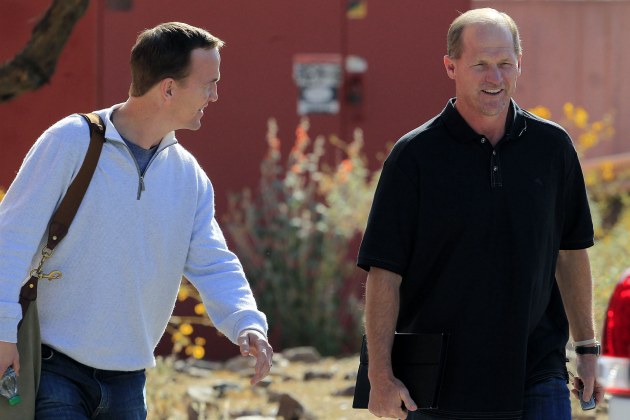 Maybe if Whisenhunt (right) had convinced Manning to play in the desert, the Cardinals wouldn't be so bad. (US Presswire)
Although the Cardinals are in the middle of a nine-game losing streak and have a pretty good chance to lose the last 12 of the season after starting 4-0, it sounds like coach Ken Whisenhunt won't lose his job for now.
"Obviously, it's very disappointing the way it has gone and (Sunday's) loss was extremely disappointing," team president Michael Bidwill said, via the team website. "It is unacceptable. It's one of those things, people inside this building, outside this building, our fans, we are living and dying with each of these losses and it's extremely hard to watch. I know we can do better.
"I know there is a lot of emotion around [Sunday] but I don't intend to make any decision based on emotion. I have been evaluating things all along and expect to continue to do that, and want to have a complete set of facts as I evaluate what went wrong, what went right. And as things move forward, I want to make sure we do what is in the best interest of the team and that means getting ready for each game, week in and week out. That means getting ready for the Detroit Lions. That's what I want everyone to stay focused on, top to bottom."
Still, it's hard not to think Whisenhunt -- who watched his squad take a 58-0 beating Sunday from the Seahawks -- will be dismissed after this season. The team's free-agent splash from 2011 when the Cardinals signed Kevin Kolb to a $63.5 million contract has been a disaster for the squad -- even when he is healthy (which isn't often) -- and the other quarterbacks the team has tried haven't worked either (John Skelton, Max Hall and Ryan Lindley).
The best player on the team, receiver Larry Fitzgerald, barely registers because the quarterbacks can't get him the ball, and two players on the defense reportedly argued about whether to let opponents score.
"When you have lost nine in a row there is plenty of responsibility to spread around," Bidwell said. "Obviously injuries have been a factor, but even with that, we expected a much different season than what we have got right now."
So, Whisenhunt is safe through the end of the 2012 season?
Said Bidwell: "I plan to make sure the best thing we can do is focus on week in and week out and not make a decision based on the heat of the moment. ... I think not making a rushed decision is the right way to go."

For more NFL news, rumors and analysis, follow @EyeOnNFL on Twitter, and subscribe to our Pick-6 Podcast and NFL newsletter. You can follow Josh Katzowitz on Twitter here: @joshkatzowitz.